Indice - Table of contents
New Stuff
[hide]
Photos of the Day
[hide]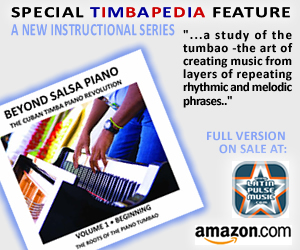 1994 - La Bruja - "La Bruja" was the final undisputed NG masterpiece. They produced a number of great tracks after it, but the listener must sift through the cross-over experimentation to find them. As NG began to move away from the Timba mainstream, most of the other bands, including Van Van, were just starting to hit their stride, but in 1994, although La Charanga Habanera was rising rapidly, NG was still on top of the Timba world and made it clear with this great album. Tony Calá, who sings 8 of the 11 tracks, is brilliant throughout, and it's probably the best and most consistent songwriting from Tosco who seems at the very peak of his creative powers.
This album is the most direct path understanding the full meaning of the apodo "Los Metales de Terror". El Tosco's horn arranging reaches its zenith here and it's very rewarding to sit down and listen to the whole CD with headphones, focusing on the horns. The voicings are masterful and the ideas are inspired and full of surprises and sly references to the American Jazz. The opening phrase of "Te Pongo Mal" echoes "Exactly Like You"; at 0:11 is a little piece of "There Will Never Be Another You"; and at 1:14 "If You Could See Me Now". The references are never gratuitous; NG has fully digested its Jazz influences and made them part of its own musical vocabulary. "Te Pongo Mal" is a beautiful song with shades of Jobim and Tin Pan Alley, but still very Cuban and very NG. The most amazing jazz reference of the bunch comes at 1:22. It starts out as a direct quote from the Dizzy Gillespie/Charlie Parker classic "Be-bop", but starting a beat late! This idea itself was one of Charlie Parker's favorite tricks - taking a familiar phrase and starting it on the wrong beat to toy with the listener and it shows that NG's "fusion" of Jazz with Cuban music was done with a very deep level of understanding. The horns start the "Be-bop" phrase a beat late and then veer off into an original phrase of their own and land in what seems to be the middle of a Peruchín montuno, but it's actually the beginning, and we've changed from 2:3 to 3:2 clave in a strange and very Cuban way, by "jumping the clave" (See "Clave License" in the glossary). Before leaving this phrase, note that the bassist (Feliciano Arango) is playing the same machine gun be-bop phrase as "los metales de terror"! The bass plays "bomba" style beneath the montuno which gives the coro an a capella flavor when it enters in beautiful harmony. Note that the low voice goes down on "pongo mal" while the upper voices go up! As Calá enters with his first guia at 1:47, the rhythm section plays a bloque before entering. From here on it's vintage NG and vintage Calá building up to a searing trumpet solo and a coda which offers still another original twist on the "Be-bop" phrase.
At this point we'll jump to the album's final track, "Ya Llegó la Hora", because of its relationship to the first.. The opening pre-echoes the dramatic mood of the end of Manolín's fateful "Que le Llegue la Mano" several years later, although the are much more "politically-correct" in the NG song! The hook of the main coro is one which would be used and re-used in later Tosco compositions such as the "Presentación" from "De Allá Pa' Acá". This is Mena's other track on what is very much Tony Calá's album. At 3:00 we get a variation on the arranging trick of the opening track, this time "jumping the clave" to keep both the opening and the montuno sections in 3:2. The normal arranging approach is to create an odd-meter interlude to join two sections of different clave, but here the odd-meter is inserted between two sections of the same clave simply because it sounds so good! The opposite is true in the case of the opening track, "Te Pongo Mal". A normal length interlude is used to connect two sections of different clave - again, simply because it sounds musical - "Clave License" at work!
The second song, "Un Sueño Terrible", also sung by Calá, is a beautiful and haunting minor theme, at least as good as "Te Pongo Mal". "La Cucaracha" has a much more traditional Cuban pop feel, but it's catchy and has plenty of interest in the horns. "Tremenda Carretera" starts with a primitive synth patches simulating motors and car horns, but the arranging is far from primitive. Note the clever reference to the beginning of "Te Pongo Mal" at 2:24 and the 95 second piano solo from Peruchín. After four great Tony Calá vocals, Mena sings the fifth track, "Mañana". Note the interesting orchestration effect created at 1:33 by blending Tosco's flute with muted trumpets, and also Tosco's solo at 3:29 which sounds like it's on some sort of bass flute. Two of the tunes on "La Bruja", the title track and "La Película del Sábado" are remakes of songs recorded earlier. Both versions of "La Película" are excellent and it's one NG's very best songs. "Marinero Soy" is still more beautiful songwriting with a slow, sweet groove and another great Tony Calá vocal. "La Bruja" is a fiery minor-key indictment of some ex-girlfriend which gets pretty hilarious at times ("coge tu palo y vete") and for which Tosco caught some flack for misogynistic tendencies. The new version drops the backbeat snare of the "salsa-rock" version on "Para Curaçao" and adds a new ending. It's also much better recorded but it's nice to have both versions to compare the blazing tenor and trumpet solos.
Any doubt that this album is Tosco's homage to Tin Pan Alley is resolved by the ninth track, "All of Me", a very common Jazz standard which translates very neatly to Spanish and Calá's mellow, resonant interpretation. The song itself has gotten a little old to American ears, and it's sometimes tempting to skip this track to keep the flow of pure NG writing intact, but the arrangement is full of surprises and great horn-writing. Tosco able to get a Jazz big band sound with just a handful of horns.
This brings us to the album's greatest track, and one of the greatest tracks in all of Timba, "Picadillo de Soya". During the hard times of the "Special Period" the Cuban government launched a publicity campaign to promote the use of inexpensive and nutrient-rich soybeans, something which didn't exactly titillate the Cuban palate. "Picadillo" is a sublime Cuban meat stew, the recipe for which was the inspiration for Picadillo.com the original site of timba.com founder, Bruce Ishikawa . In any case, the song begins with a hilarious Tosco rap over a great funky vamp somewhat similar to the opening of Échale Limón. Tosco did a lot more of this type of thing on later records and even more of it in concert, until it sometimes became a distraction, but in this case it worked beautifully. At 0:29 begins one of Perúchin's very best piano montunos and shortly afterwards one of NG's best bloques. With Tosco having revealed his sources only a track before, it's now quite easy to hear that about a third of the melody to the cuerpo of "Picadillo de Soya" is based on "All of Me", but the final product is actually a superior song and the words are worthy of Cole Porter, with Tony explaining what a great cook he is, and what a great food soya is, but then admitting that he has no idea how to cook it. The cuerpo lasts less than a minute and returns to the killer montuno and bloque and the first coro, with supremely melodic guías from Calá, whose voice on this album resonates like a fine Stradavarius and never strains. The mambo gives the saxes and trumpets different melodies which weave together beautifully and then the first coro returns with two more great guías before giving way to another Tosco rap over the opening vamp. The next breakdown is a different and more urgent piano montuno with a bomba bass and an second uninterrupted guía which goes for 40 seconds before the bass returns to a tumbao and the second coro enters. At 4:44 Chappotín solos over a mambo and then, as so often occurs in Timba, the energy level is increased by subtraction! At 4:56 the piano drops out and the bass goes to bomba-style while the coro, mambo and trumpet solo rage on. The next piano/vocal breakdown comes at 5:30 but listen at 5:44 as Peruchín starts displacing the rhythm of his montuno bringing the groove to a fever-pitch as the full band returns with the third coro, only to drop out again at 6:18 to create a devastating Afro-folkloric effect. Another mambo and trumpet solo lead a final Tosco rap and a dramatic horn coda.
Wednesday, 23 March 2011, 03:31 AM