Concert Report - 2003-01-30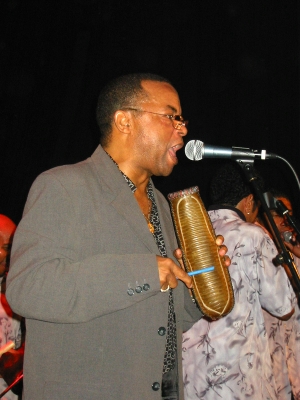 Adalberto Álvarez on güiro
On Friday, January 30, Adalberto Álvarez y su Son were at the MOODS Jazz club in Zürich, Switzerland. During this weekend there was also a "Salsa-congress", so there were many Jazz fans and not too many Salsa fans.
Adalberto did a wide range of music. The concert was more than two hours, including a 15min pause. According to Adalberto, who calls himself a "Sonero", even his newest songs are just "modern Son". Nevertheless they contain some Timba-influence. And that's what they showed! He started with a nice opening tune and did the usual "charlas" with the audience: "Cuántos Cubanos están aquí esta noche? Cuántos Argentinos? Cuántos Peruanos,................" and at least he found out, that there were also "unos Suizos aqui".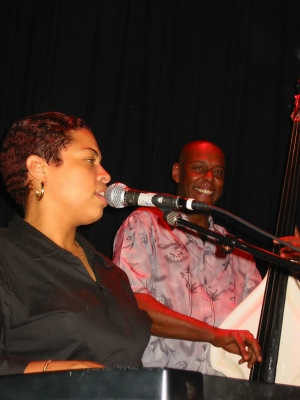 Dorgeris Álvarez and Rene Ayala
Then he did "Para Bailar Casino". I really like this song. It shows perfectly that Adalberto y su Son are able to play the "modern style" as well, without loosing their identity as modern progressing soneros. In their performance Adalberto as well as his Band were professional as expected. They simply played their songs without to much show, but they created a very nice atmosphere.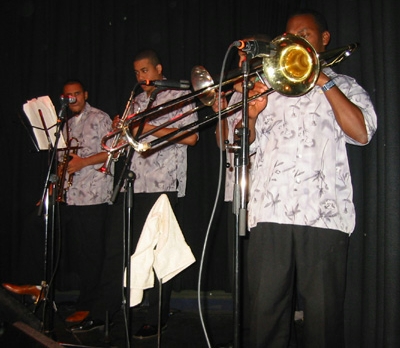 Los Metales del Son
I also liked his singers very much. In my opinion Adalberto did a good finding a replacement for Aramís Galindo.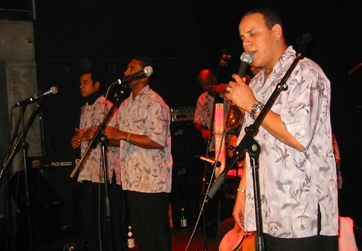 Singing Para Bailar Casino
After a few more songs (older and newer ones) they had the usual "cintura contest" - two Latinas showed vibrations on the stage. One of them did so much "movimiento" that the singers began to laugh. With "Deja La Mala Noche" the concert became even better. This is also my favorite song from the actual CD. The audience was dancing and the band did a great performance. Adalberto himself stood like a gentlemen aside, while his charismatic singers spread the rhythmic fever to the dancing audience.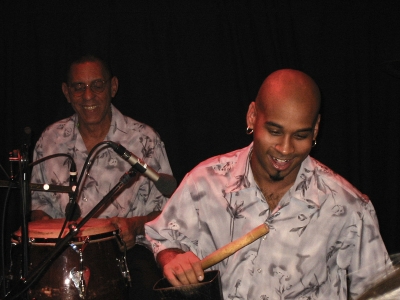 Ulises Pascual on congas and Yoél Cuesta on bongos
They did some great stuff and finally people began to dance "Rueda de Casino". While the band continued the funky tune, the singer spoke to the audience saying that Cuban music is understood as a whole. And if you like Paulo, you also like Los Van Van: "Como te gusta Pablo, como te gustan Los Van Van, como te gusta Issac.... y por eso te voy a decir.... eres tremenda farandulera"


The band in action
After the concert I spoke with some members of the band. I asked one of the singers if he attended the famous ENA, but he said that he never went to a music school and that he has been an enthusiastic singer since he was a child. Asking some band members about their favorite music, most of them replied "Los Van Van", "Issac Delgado" and with full admiration of course "Adalberto".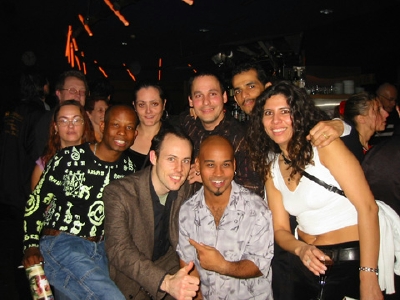 The Band:
----------
Adalberto Álvarez voc, p, director,
Dorgeris Álvarez p, Roberto Linares teclado,
Yasser Escalona, Aldo Alvarez voc,
Rene Ayala b, Luis Artola pailas,
Ulises Pascual bongos, Yoél Cuesta, congas
Adan Portuondo Uyuni Romero tp,
Jorge Faez, Jorge González tb,
Mitchell González cantante
martes, 22 marzo 2011, 07:31 pm