Discography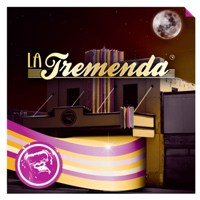 La Tremenda has released their eponymous first CD and they have hit the ground running. Their début is exciting and original, with it's feet firmly set in ultra-funky timba but it's head somewhere in the world of experimental fusion. The bandmembers represent a diverse array of musical influences and this is reflected in the music. For example it is hard to talk about the instrumentation of the group because they have employed the traditional timba instruments bass, piano, keyboard, drum con timbal, congas, trumpet and trombone. But they have also used french horn, flugelhorn, rhodes piano and a dose of pizzicato.
The release took two years due to constraints of time and money. The band wanted to work with the best technicians and the main recording session was run by Francisco "Frasse" Hernández, the most sought after sound technician in the Swedish Latin scene. Somehow the guys also managed to get in touch with Fania soundman Jon Fausty who like the project and agreed to do the mixing, which took place at Morrisound in Tampa in just four days.
DJ alert: The CD opens with a La Tremenda theme song, "No. 1" written and arranged by director Magnus Almqvist. You know right away you are listening to something new when you hear the pizzicato opening on what sounds like violin but may be keyboard. Already at 50 seconds you know that this is the hardcore timba as you expect with a driving tumbao, heavy mambos and a touch of alarde; the attitude that separates timba from other salsa.
Prepárate que ya salio tremenda, la que la gente dirá number one y tu también!
A mí no me da pena decirte que suena
que pa llegar tuvimos que luchar y por eso el publico me va a apoyar
"No. 1" is a perfect opening song, its only weakness being that it's only 2:58 long, barely an introduction in timba terms. Fortunately in the live shows the song can last twice as long.
DJ alert: "No escuché a tiempo" written and arranged by Johan Brolund and Yoel Terry maintains the intensity for the dancers and at the same time proves that you can combine a violent arrangement with lyrics that have something serious to say. The cuerpo is a little longer with some interesting chord progressions and at 1:55 the montuno starts with the coro
Lo que pasó es que no me daba cuenta,
Dios avisó pero no escuché a tiempo
From here the song builds and builds with coro bomba and efectos until the 4:12 the rapped coro and bomba kicks you into a furious despelote
DJ alert: "Timba vieja" challenges dancers at a tempo of 106-112 beats per minute. It starts with a tres intro by Yanesito and includes a trumpet solo by Alexander Abreu and the percussion has been augmented with checkeré. Again they make use of pizzicato, this time a mazacote con pizzicato. And the staccato feeling is intensified by the machine gun delivery of the coro
Salí de último y ahora como quiera que me pongan voy alarte!
After this wild ride they drop things down a notch with to a calm 90 bpm with the romantic and sexy "Morocha mi corazón", a love song written and arranged by Magnus. Imagine dancing despelote to the coro Haz conmigo lo que quieras porque mi cuerpo is tuyo. This coro even has a hint of 70s Los Van Van. See if you can catch it at 4:00.
At the halfway point they break the album up with an unexpected Latin fusion/pop ballad in English: "No limit". Anders Von Hofsten sings lead and delivers a smooth interpretation of the song. This is not something the DJs will be playing at timba clubs, but I will not be surprised if it becomes a hit on mainstream radio. There are even plans to record an R&B version.
DJ alert: "Lunes la semana completa" brings us right back into timba. Named for the film "Groundhog Day" Johan wrote it after he permanently injured his wrist in an accident and was forced to stop playing saxophone and learn a new instrument. The feeling of starting from zero is what the song is all about. But as always with timba it's not about quejar sino luchar.
Todo comienza desde cero, así es mi lunes la semana completa
La vida me he enseñado que yo tengo que luchar y no le tengo miedo
Yoel Terry contributes a beautiful flute solo and Emilio Estrada takes the violin.
DJ alert: "Mulata" was written by Johan in Havana in 1998 and bears the mark of the timba from this time period. At 1:20 it slips into a section that reminds me of none less than Klímax for it's chord progressions. It has a very sophisticated and elegant arrangement that will take you straight to Havana and have you temblequando. With a false stop at 4:47, it picks up again it slips back into the atrapado coro for 1 minutes but this time silky smooth.
DJ alert: And speaking of silky smooth, the guys kept DJs and dancers in mind in the next song: "Tú forma". They actually chopped the first 23 seconds of the intro into a separate prologue so that DJs would be able to play "Tú forma" without having to skip the intro. Lead vocals on this song are by Thomas Eby and you can hear Calixto Oviedo on coro. The song is another popular dance hit among fans with plenty of gears and aggressive rapped coros. It also features some unexpected instrumentation with Håkan Nyqvist on French horn and Alexander Abreu on trumpet and flugelhorn.
The album closes with the ballad "Copos de nieve, risa de sol" a beautiful song written by Magnus upon the birth of his daughter. Alexander Abreu takes lead vocals on this song delivering a beautiful interpretation where I even catch a slight nuance of Alejandro Sanz, and Per Westling gives us a sweet sax solo.
Finally I think it is worthy to note that the band put a lot of work into the CD booklet including a description of each song and a short history of the band. The graphics are also great. Very nice packaging to match the musical content, an impressive début that will please DJs, dancers and connoisseurs alike.
To get an indea of what I've been talking about click here for an audio medley from La Tremenda.
Track List: Click the title to read the lyrics
No. 1
No escuché a tiempo
Timba vieja
Morocha mi corazón
No limit
Lunes la semana completa
Mulata
Tu forma (prologue)
Tu forma
Copos de nieve, risa de sol
miércoles, 23 marzo 2011, 03:31 am