Indice - Table of contents
New Stuff
[hide]
Photos of the Day
[hide]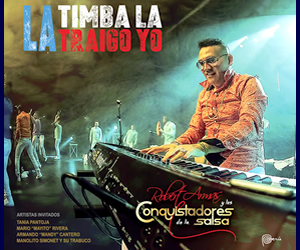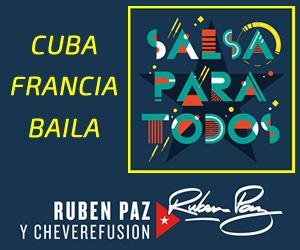 Discography - Finding Ritmo Oriental on CD
About 25% of Ritmo Oriental's music can only be found on vinyl, and so we repeat our battle cry: write EGREM! But while we wait for them to come to their senses and follow the lead of their more business-savvy yuma counterparts at Fania, here's the most efficient way to navigate the maze of CD reissues and make sure you have the other 75%.
To start with, buy the following 4 CDs while you still can. Don't ask questions - just buy them while they're still available. The one silver lining to all this is that the reissuers avoided all boleros, with the result that all 55 tracks on these 4 CDs are pure dynamite.
Historia de la Ritmo, Volume 1
QBADisc QB9007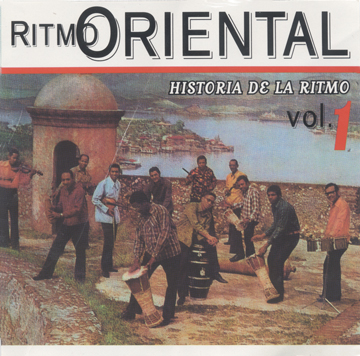 Historia de la Ritmo, Vol. 1. begins with the 6 non-boleros from Volume III, plus La Ritmo's most adventurous slow track, Lagrimas negras. Then comes the rare Conga No. 6, which was recorded as part of the sessions for Volume V, but never released on vinyl.
Next come the 8 non-bolers from Volume II. Volume III was probably presented first because Yo bailo de todo is La Ritmo's most famous song.
La Ritmo Oriental te está llamando
Globestyle CDORB 034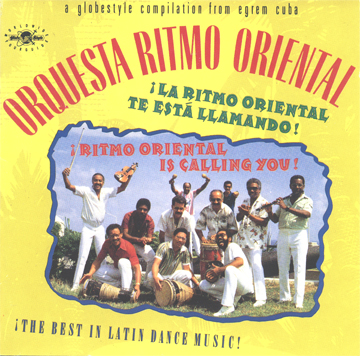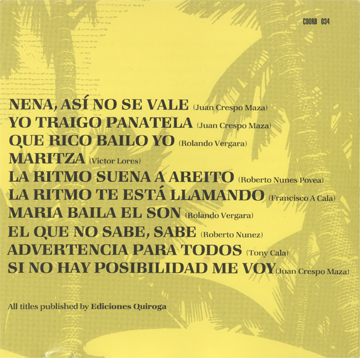 This one has only 10 tracks, and four overlap with our other suggested purchases -- BUT -- any one of the other six tracks is worth the price of the whole album -- three drop-dead masterpieces from Volume IV and three from Volume V.
Historia de la Ritmo, Volume 2
QBADisc QB9008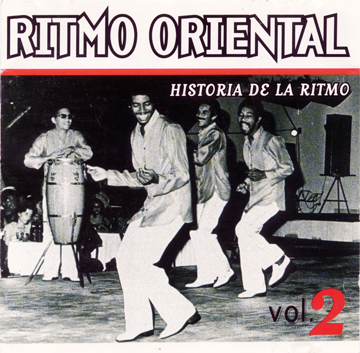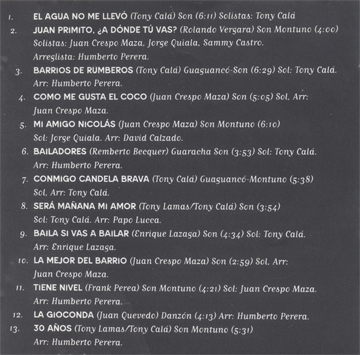 La Historia de la Ritmo Volume 2 covers the Tony Calá chapters of the historia. It has 2 songs from Volume V (which fortunately are not on the Globestyle CD), 5 critically important masterpieces from Volume VI that can't be acquired anywhere else, 4 from Volume VII, and 2 from Volume IX. This is really the peak of Tony's career - his singing, showmanship and dancing gradually desclined over the 90s due to health problems, and he tragically stopped writing songs and playing violin altogether when he joined NG La Banda in 1988. But from 79-88, Tony Calá was a musical god -- there's a snowy old video of him singing Cuida'o con la percusión, El agua me llevó and Barrios de los rumberos with a radiant stage presence that reminds me in a subtle way of Jimi Hendrix.
An interesting side-note is that Mi amigo nicolás is the first arrangement of another young violinist who would become well-known to timberos -- David Calzado.
Guarachando "Charanga Show"
ARTEX CD-055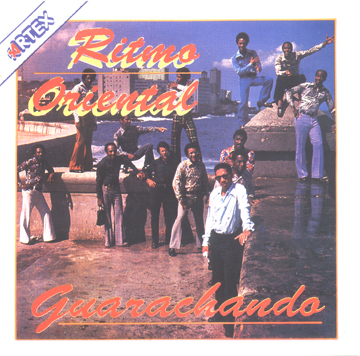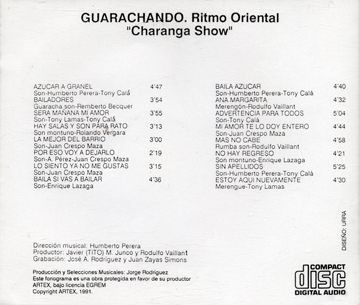 Guarachando Charanga Show. is absolutely indispensable musically and has the added bonus of being a lot less confusing. It has all of Volume VII and all of Volume VIII, in order!
Cuban Gold
Volumes 1, 2, and 4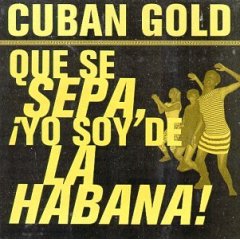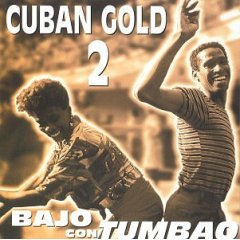 QBADisc's Cuban Gold series has high-quality remasters from many important groups of the 60s, 70s and 80s, and between them, four critically important Ritmo Oriental tracks that can't be found elsewhere. I'd like to tell you that you don't have to buy 3 albums to get 4 songs, but these four songs are simply not to be missed.
Cuban Gold 4 has Tony Calá's brilliant vocal debut, a tribute to la Ritmo's conguero called El son de Claro, the classic Al que le tocó le tocó, quoted by everyone from Issac to Manolín, and Yo traigo panetela, which can also be found on La Ritmo te está llamando. Cuban Gold 2 has one of Ritmo Oriental greatest songs, Cuida'o con la percusión, and Cuban Gold 1, aka Que se sepa, yo soy de la Habana, has Con el chenche buchenche.
rhythm abbreviations (following the Díaz-Ayala convention)
| | | |
| --- | --- | --- |
| afro : afro | cum : cumbia | mer : merengue |
| bch : bachata | des : descarga | mz: mozambique |
| b : bolero | dz : danzón | pch : pachanga |
| bal : balada | dzt : danzonete | rt-dal: ritmo dalaela |
| bb : bomba | gg : guaguancó | r: rumba |
| bt: beat | gj : guajira | s: son |
| cg : conga | gp : guapacha | s-mt: son montuno |
| ch : cha cha chá | gu : guaracha | sg: songo |
| chr: charanga | lam : lamento | sh : shake |
| cmp : comparsa | mb : mambo | sim : simalé |
Wednesday, 23 March 2011, 03:31 AM