Archivo
Lo Nuevo
[hide]
Fotos Del Día
[hide]
Pa' Ponerte en Talla
martes, 25 septiembre 2012, 04:22 pm
comentarios
2012 LATIN GRAMMY NOMINATIONS ANNOUNCED
Los Van Van's "La Maquinaria" nominated for a Latin Grammy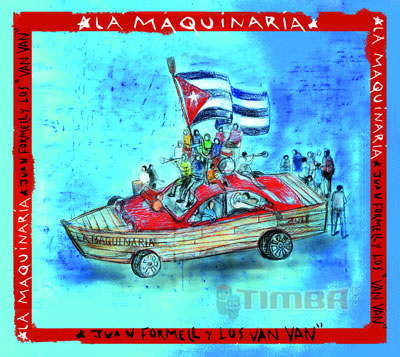 Cuban music in the 2012 Latin Grammys! -- Los Van Van secured a nomination in the "Best Contemporary Tropcial Album" category with their recent album "La Maquinaria". This was surprising for timba fans as that release was received with mixed results. It competed with plenty of strong material but the news is a welcome addition.

Trumpeter Arturo Sandoval also scored various nominations. His Latin Jazz album "Dear Diz (Every Day I Think Of You)" is listed in the Album of the Year, Best Latin Jazz Album, and Best Engineered Album.
Other nominees listed included..
- Best Traditional Tropical = Eliades Ochoa " Un Bolero Para Ti "
- Best Traditional Tropical = Miguel García " Guarachando "
- Best Salsa Album = Mambo Legends Orchestra " Watch Out - Ten Cuidado "
- Best Latin Jazz = Jerry González y El Comando de la Clave (self-titled)
* is Alaín Pérez on the record?
- Song Of The Year = Amaury Guitiérrez & Gian Marco " Invisible "
- Best Instrumental Album = Paquito D' Rivera & Berta Rojas " Rasgando Seda "
- Best Latin Jazz = Chuchito Valdés "Live In Chicago "
- Best Classical Contemporary Composition = Yalil Guerra & Elizabeth Rebozo " Seducción "
** Update - also nominated for Best Contemporary Tropical Album is Elaín (of the Cuban Timba All-Stars) with his album " Volando Alto - Made On The Road "
Good luck to all the nominees !!!!!! Buena suerte.