Archivo
New Stuff
[hide]
Photos of the Day
[hide]
Pa' Ponerte en Talla
Bay Area Big Band Bonanza
Pacific Mambo Orchestra & Marlow Rosado y La Riqueña
Upcoming Performances by Salsa / Latin Jazz Big Bands
Afro-Cuban and tropical music styles are highly featured in the upcoming barrage of Bay Area big band performances, one that includes special concerts by and the Pacific Mambo Orchestra and Marlow Rosado y La Riqueña.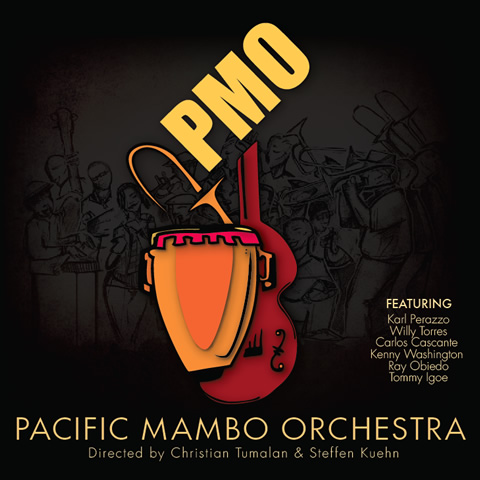 The Pacific Mambo Orchestra is a (19) nineteen-piece Latin Salsa Big Band formed by trumpeter Steffen Kuehn and pianist Christian Tumalan (both experienced bandleaders in their own right), to bring back and build upon the great Latin big band sounds of the 1940s through 1960s. P.M.O. plays the music of Latin giants such as Machito, Tito Puente, Celia Cruz and many others, along with their own contemporary and original arrangements. The group's instrumentation consists of 4 Trumpets, 4 Trombones, 5 Saxophones, Piano, Bass, Timbales, Congas, Bongos plus guest vocalists.
The Pacific Mambo Orchestra will be performing at the San José Jazz Festival, Friday, August 10 at 6:30pm, at the Kaiser Permanente Salsa Stage (click here for more details). For those that attend, there will be a special announcement from this Bay Area supergroup regarding their upcoming, self-titled debut album (click on the album cover to view it in a larger size).
The album is in progress and we've got the scoop on the track list and featured guests:
1) PMO Intro - 2) El Cantante - 3) Overjoyed - 4) La Ambición - 5) Cuando estoy Contigo - 6) Mr. 5.0 - 7) Bolero Cócomo - 8) Muévete Con Prisa - 9) Querer Como ayer - 10) Bolero Cócomo (Instrumental). Featured guests include Karl Perazzo, Willy Torres, Carlos Cascante, Kenny Washington, Ray Obiedo and Tommy Igoe. Latin Jazz collector's take note and stay tuned!
The next concert highlight takes place Wednesday, August 15, 8pm, at Yoshi's San Francisco, with Miami's hard-hittin salsa dura band Marlow Rosado y La Riqueña. In support of their new album, RETRO, the band and record are a new homaje to the classic salsa sounds of the 1970's. RETRO has been touted as a "major DJ alert" with it's "army of salsa greats and killer dance-club ready tracks that throw fireballs left and right" by the editors of Descarga.com. Click here for Bill Tilford's full CD Review of RETRO.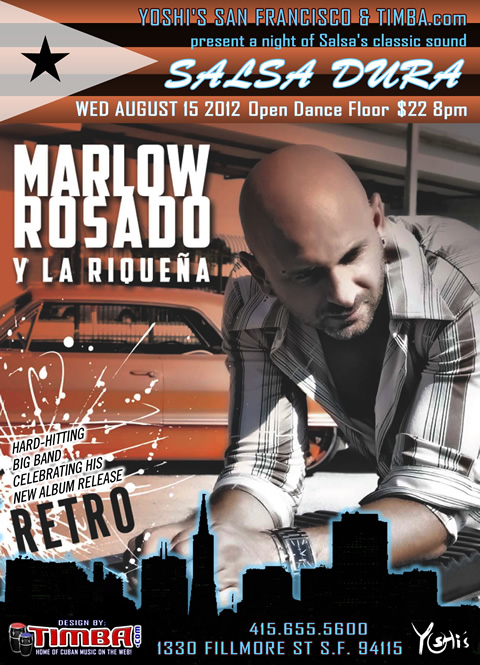 Marlow comments: "I think our industry suffers from very few releases from orchestras (bands as opposed to individual artists). I hope this album works up an appetite for the "roots style sounds" that that we are used to hearing. This production is full of energy, with modern sound production and new arrangements, but each songs is a theme that reflects the core of "salsa dura" (heavy sauce). This record is part Eddie Palmieri y la Perfecta, Papo Lucca and La Sonora Ponceña, Raphy Levitt and La Selecta, Willie Rosario and His Orchestra, Los Hermanos Lebron....and all the other great orchestras right through the years that delivered strong and original music. This new album carry the title "Retro" because it's a throw-back and homage to a decade that all salseros and salseras remembers with real nostalgia, and for the new enthusiasts of the genre, it's a great opportunity to explore the works of the masters that have been crowned as the pillars of our Latin sound. See you at Yoshi's (click here for tickets).