Archivo
New Stuff
[hide]
Photos of the Day
[hide]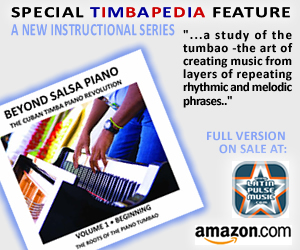 La Última
Beyond Salsa Piano: Pupy Pedroso
Finally Finished!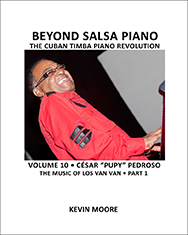 UPDATE: eBook and audio now available

Sorry for the delay but the first Pupy Pedroso book is finally done! Getting the research and photos for Pupy's amazing musical childhood turned into a bit of a ... errr ... "labor of love", but it was worth the extra time and I'm very happy with Volume 10 of Beyond Salsa Piano. It's the first of four books on Pupy. I'm organizing them by the order in which the songs were originally composed, so while Vol. 10 covers the Los Van Van albums from 1979-1983, some of the songs were re-recorded by Van Van or Los Que Son Son later - for example, Seis semanas is part of LQSS's live show and the version transcribed (which includes the cuerpo) is the current version. Another example is Con el bate de aluminio, where we compare the changes in Pupy's style from 1979 to 1998.

Finally, this is the first volume to include a fully transcribed solo - in this case La rumba no está completa. You can get the hard-copy book here, and the audio files and eBooks will be available soon and will be announced here, in Pa' ponerte en talla. NOTE: The eBook is only for PC - not for Mac.