Archivo
New Stuff
[hide]
Photos of the Day
[hide]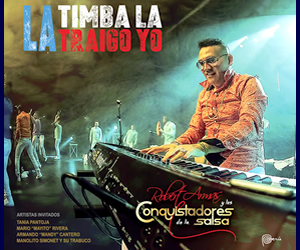 Timbera Mayor
Bomba y Cuchara
La Liga Habanera Release New Single
Timba 2017 is starting with a bang with "Bomba y Cuchara" – the new single by La Liga Habanera, one of Stockholm's favorite timba bands. The band held a concert at Fasching in Stockholm last Saturday and today their new single – "Bomba y Cuchara" featuring Lesmer Solenzar on lead vocals – dropped at CDBaby.com. "Bomba y Cuchara" will soon be at other digital retailers such as iTunes and Amazon as well.
It is a hard-hitting timba arrangement that kicks off with a great piano tumbao and includes clever use of light reggaeton drums from about 1:20 to 1:37 for fans of a more urban style. It works very well. A torrid dance track to usher in the new year. Click here to listen to a preview.
Credits: Drums and timbales Max Alton. Composed and arranged by Max Alton. Lyrics by Lesmer Solenzar and Max Alton. Lead vocals Lesmer Solenzar. Background vocals Pablo Cepeda, Max Alton, Cecilia Ferrer. Trumpets Petter Linde. Trombones Peter Fredriksson. Piano and arrangements Oldrich Gonzales. Bass Alfonso Nuñes. Congas Pablo Cepeda. Recorded in Farmer street Studio Sweden Stockholm. Mix by Måns Ek.