Archivo
Lo Nuevo
[hide]
Fotos Del Día
[hide]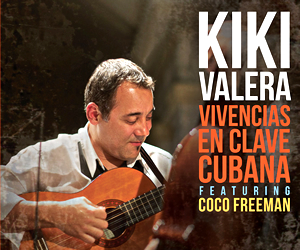 Sin Clave No Hay Na
sábado, 11 marzo 2017, 07:58 am
ERNÁN LÓPEZ-NUSSA TO PLAY GLOBAL CUBA FEST
10th Anniversary of Festival March 18th

ENGLISH: Even though he is universally recognized by knowledgeable listeners in the United States as one of Cuba's most important pianists and Jazz artists, it has been many years since Ernán López-Nussa has been presented in a festival setting worthy of his stature in a key US city, so his presence at the 10th Anniversary of Miami's Global Cuba Fest is welcome news. The anniversary event takes place March 18 from 7pm-11pm at the Miami-Dade County Auditorium, and the event features several other notable artists.
You can read a lot more information about the artists, the festival schedule (which includes other dates), and how to by tickets HERE.
Kudos to FUNDarte for bringing Ernán to Miami!




ESPAÑOL: A pesar de que él es universalmente reconocido por oyentes conocedores de los Estados Unidos como uno de los pianistas y jazzistas más importantes de Cuba, ha pasado muchos años desde que Ernán López-Nussa fue presentado en un festival digno de su estatura en una ciudad importante en los EE.UU., por lo que su presencia en el 10 º Aniversario del Global Cuba Fest en Miami es una buena noticia. El evento de aniversario se llevará a cabo el 18 de marzo de 7 pm a 11 pm en el Auditorio del Condado de Miami-Dade, y el evento cuenta con varios otros artistas notables.
Puedes leer mucha más información sobre los artistas, el calendario del festival (que incluye otras fechas), y cómo comprar entradas AQUÍ.
¡Felicitaciones a FUNDarte por llevar a Ernán a Miami!