Archivo
Lo Nuevo
[hide]
Fotos Del Día
[hide]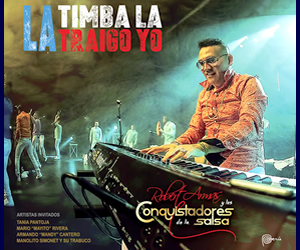 Timbera Mayor
lunes, 20 febrero 2017, 04:53 am
Festival de la Salsa en Cuba 2017
February 20-26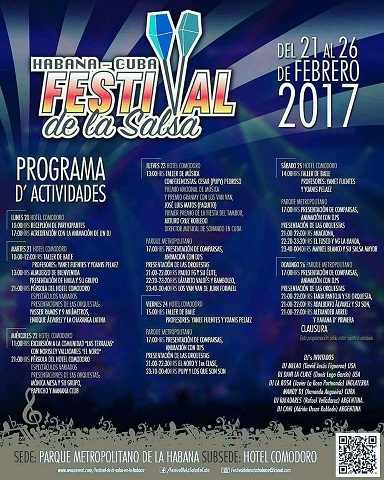 The second annual Festival de la Salsa in Havana, Cuba starts today. It is a week-long event with dance workshops, music workshops, shows and of course great parties with Havana's hottest new bands and favorite veteran bands as well as Cuban and international timba DJs. It also includes unique events such as a trip to Las Terrazas outside Havana with singer Norisley "El Noro" Valladares. The events take place at Hotel Comodoro and Parque Metropolitano. How's this for a concert line-up?
Tuesday



Haila y su Grupo
Yasser Ramos y 9 Milímetros
Enrique Álvarez y su Charanga Latina
Wednesday


Monica Mesa y su Grupo
Papucho y Manana Club
Thursday



Paulo F.G. y su Élite
Lazarito Valdés y Bamboleo
Los Van Van
Friday


El Noro y 1ra Clase
Pupy y Los Que Son Son
Saturday



Anacaona
N.G. La Banda
Maykel Blanco y su Salsa Mayor
Sunday



Tanja Pantoja y su Orquesta
Adalberto Álvarez y su Son
Havana D'Primera

If you're like me and were not able to make it this year, mark your calendar now so you can go next year. It will be back again in February 2018!