Archivo
Lo Nuevo
[hide]
Fotos Del Día
[hide]
Pa' Ponerte en Talla
lunes, 08 octubre 2012, 08:24 pm
Habana D' Primera confirmed at SOBs in New York
Thursday & Friday November 8 & 9 2012
Hello HDP fans....great news...the visas have been signed and approved. Lehman Center cancelled the November 9nth show but it has been replaced with 2 shows at Sounds of Brazil (S.O.B.s) in New York !!!
For the Thursday, November 8th show, doors open at 7:30pm and the show is at 9pm. For the Friday, November 9nth show, doors open at 11pm and the show is at 12 midnight. Do not get confused....there is a Happy Hour show listed on the SOBs website for that same Friday the 9nth, but that is from 5 to 8pm. The HDP show is at MIDNIGHT.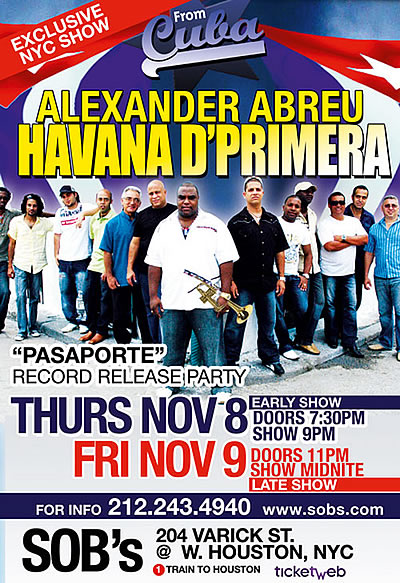 The Saturday, November 10nth show immediately follows the SOBs dates with the addition of TIRSO DUARTE.
Sabado, Nov. 10, 2012 / 8PM -- Saturday, November 10, 2012 at 8:00 PM
Alexander Abreu & Havana D' Primera
Invitado especial Tirso Duarte
(ex-vocalista de Charanga Habanera y Cesar "Pupy" Pedroso)
Teatro Park de Union City, NJ -- 888-584-3070 -- www.Tuboleta.net
Park Theatre
560 32th Street, Union City, NJ 07087
Phone: (888) 584-3070 -- Website: www.Tuboleta.net