Archivo
New Stuff
[hide]
Photos of the Day
[hide]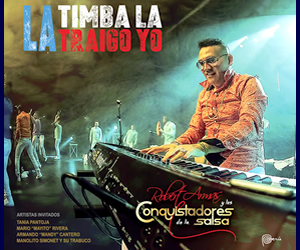 Timbera Mayor
Interview with El Noro
Entrevista con El Noro
16 June 2017
ENGLISH: On June 16, 2017 El Noro & 1ra Clase held their first performance in Stockholm. After the show I got a chance to sit down with El Noro and talk a little bit about his roots and the band. It wasn't easy. El Noro is a popular guy and there was a steady stream of friends and fans coming backstage for photographs for a good half an hour. Never once did he lose patience, but seemed to enjoy spending time with everyone. Later people were coming and going so often that we had to stop and restart the interview with a guard at the door to keep it from being opened until we were done. That's why we're laughing at the beginning.
I have uploaded pictures from the concert to the photo gallery. Keep an eye out because the official video for "La Receta (La Costurera") will be out very soon and looks like it will be quite funny.
You can watch the video interview with English subtitles below, or if you prefer written interviews the English translation can be found by clicking here.
ESPAÑOL: El 16 de junio de 2017, El Noro & 1ra Clase realizó su primera actuación en Estocolmo. Después del show tuve la oportunidad de sentarme con El Noro y hablar un poco sobre sus raíces y la banda. No era fácil. El Noro es un tipo popular y hubo un flujo constante de amigos y fans que venían al backstage para tirar fotografías durante una media hora. Nunca perdió la paciencia, pero parecía disfrutar de pasar tiempo con todo el mundo. Más tarde la gente iba y venía tan a menudo que tuvimos que detener y reiniciar la entrevista con un guardia en la puerta para evitar que se abrió hasta que se hizo. Así que estamos reindo cuamdo empieza.
He subido imágenes del concierto a la galería de fotos. Manténgase atento porque el video oficial de "La Receta" (La Costurera) saldrá muy pronto y parece que será muy divertido.
Puedes mirar la entrevista en el video a continuación.