Timbera Mayor
jueves, 24 septiembre 2020, 04:54 am
BÁRBARO FINES Y SU MAYIMBE
10TH ANNIVERSARY CONCERT - FREE!
September 25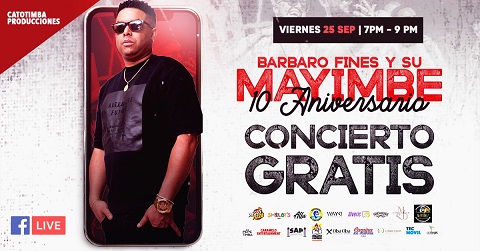 ENGLISH: Attention Timberos and Mayimberos! Tomorrow from 7pm-9pm Lima time (UTC-5), Bárbaro Fines y su Mayimbe will celebrate their 10th Anniversary with a worldwide online concert completely free! The concert is a production of their Manager #CatoTimbaProducciones for all lovers of Cuban music and will be broadcast from a TV studio in Lima via the band's official Facebook fan page. Click here for a link to the event and sign up so you will get a reminder!
After seven months of no rehearsals, the Mayimberos have been back on stage preparing for the concert. They tell us "The Mayimbera night is meant to bring joy to all our followers in these difficult times on the planet. It is a way of thanking them for their love. We are waiting for you to enjoy best of our repertoire from home." Despite the pandemic, they also managed to film the video clip for "Me Da La Gana", from their upcoming 4th album. Click here for pictures from the rehearsals and the filming of the video.
ESPAÑOL: ¡Atención Timberos y Mayimberos! Mañana de 7 pm a 9 pm hora de Lima (UTC-5), Bárbaro Fines y su Mayimbe celebrará su décimo aniversario con un concierto mundial online ¡completamente gratis! El concierto es una producción de su Manager #CatoTimbaProducciones para todos los amantes de la música cubana y será transmitido desde un estudio de televisión en Lima a través de la fan page oficial de la banda en Facebook. Dale clic aquí para el enlace al evento y regístrete para recibir un recordatorio.
Después de siete meses sin ensayos, los Mayimberos han vuelto al escenario preparándose para el concierto. Nos dicen "La noche Mayimbera tiene como finalidad llevar alegría a todos nuestros seguidores en estos tiempos tan dificiles en el planeta. Es una forma de agradecerles su amor. Los esperamos para disfrutar desde casa con lo mejor de nuestro repertorio." A pesar de la pandemia, también lograron filmar el videoclip de "Me Da La Gana", de su próximo cuarto álbum. Haz clic aquí para ver las imágenes de los ensayos y la filmación del video.