Sin Clave No Hay Na
domingo, 25 octubre 2015, 07:16 pm
comentarios

MORE ABOUT IRAKERE / MÁS ACERCA DE IRAKERE
Also/También: Yoruba Andabo in/en Chicago
Irakere Play Santa Cruz Tuesday Night
ENGLISH: As the Chucho Valdés "Irakere 40" tour continues, it is worth taking a moment to remember a few reasons why Irakere is so important in the history of modern Cuban Jazz and dance music:

1. Irakere put Cuba back on the radar of Jazz fans around the world after it had more or less vanished from it for a time. It's not that there wasn't any Jazz in Cuba, but it had no longer been getting serious international attention until Irakere came along.
2. Many of Cuba's most important modern artists such as José Luis Cortés, César López and Maraca (to name just three of many) spent time in Irakere. In addition to being a world class ensemble in its own right, it was also an influence upon many of the important band leaders to come.
3. Irakere was taken equally seriously as a Jazz band and a dance band. Before them, nearly everyone was perceived primarily as one or the other. This made it possible for some subsequent artists such as Maraca to follow suit.
4. We take the use of batá drums in Jazz for granted now, but Irakere used these in a pioneering way.
5. Almost a decade before anyone was using the word Timba for a musical style, Irakere was performing its precursors, and that music still holds up today. Without Irakere's musical DNA, Timba as we know it today would have been something different if it existed at all.

The next stops for this tour are in Rohnert Park, Santa Cruz and San Francisco. Yes, it is a new generation of musicians with Chucho. So was the original once upon a time. Arturo and Paquito did not start out as famous names either. Don't miss this.
ESPAÑOL: Mientras que la gira de Chucho Valdés "Irakere 40" continúa, vale la pena tomar un momento para recordar algunas razones que Irakere es tan importante en la historia del Jazz y la Música Popular Bailable en Cuba:
1. Irakere puso Cuba de vuelta en el radar de los aficionados de jazz de todo el mundo después de que el país había más o menos desaparecido de eso por un tiempo. Por supuesto había el Jazz en Cuba, pero el género no había estado recibiendo la atención internacional en serio hasta Irakere llegó.
2. Muchos de los más importantes artistas modernos cubanos como José Luis Cortés, César López y Maraca (por nombrar sólo tres de muchos) pasaban un tiempo en Irakere. Además de ser un grupo de clase mundial en su propio derecho, fue una influencia sobre muchos de los líderes de agrupaciones importantes por venir.
3. Irakere fue tomada por igual en serio como un ensemble de jazz y un grupo bailable. Antes de ellos, casi todo el mundo se percibía principalmente como uno u el otro. Esto desarollo hizo posible que algunos artistas posteriores como Maraca pudieron seguir su ejemplo.
4. Tomamos el uso de tambores batá en Jazz por hecho ahora, pero Irakere utilizaba ellos en forma pionera.
5. Casi una década antes de que alguien estaba usando la palabra Timba para un estilo musical, Irakere tocaba sus precursores, y la música aún mantiene hasta hoy. Sin ADN musical de Irakere, Timba como la conocemos hoy en día habría sido algo diferente si existiera en absoluto.
Los próximos lugares en esta gira están en Rohnert Park, Santa Cruz y San Francisco. Sí, es una nueva generación de músicos que trabajan con Chucho, pero este grupo siempre fue una incubadora importante desde el principio. Tampoco comienzaron Arturo y Paquito como nombres tan famosos. No se lo pierdan.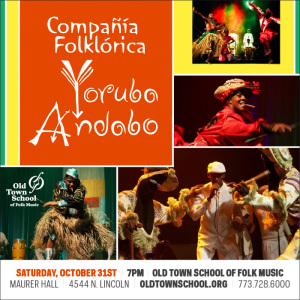 ENGLISH: Yoruba Andabo, one of Cuba's most exciting Afro Cuban folkloric ensembles, is performing in Chicago this week. If you have the good fortune to be near the city, this is another event worth experiencing.

ESPAÑOL Yoruba Andabo, uno de los más emocionantes conjuntos folklóricos afro cubanos de Cuba, está presentando en Chicago esta semana. Si tiene la suerte de estar cerca de la ciudad, este es otro evento que vale la pena experimentar.