Archivo
Lo Nuevo
[hide]
Fotos Del Día
[hide]
La Última
domingo, 07 octubre 2012, 07:47 pm
More Monterey Jazz Photos from Tom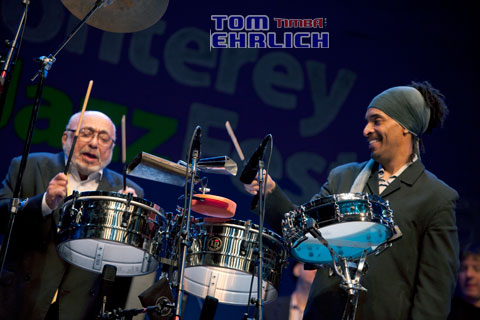 Eddie Palmieri and José Claussell on timbales - photo by Tom Ehrlich
Tom has a new gallery from the first night of the Monterey Jazz Fest featuring Eddie P., Grégoire Maret, Jack DeJohnette and others.
Rebeca Mauleón's Lecture Series got off to an amazing start with Danilo Lozano, Orestes Vilató, Jesús Díaz and Abe Gamroyan. Incredibly interesting stuff. It continues every Wed. in October.
Martin Cohen is really on a roll, releasing super-high quality videos of New York's growing community of world class Cuban musicians. Iván Llanes, who came with Maraca on drums, turns out to be a great singer as well.