Archivo
New Stuff
[hide]
Photos of the Day
[hide]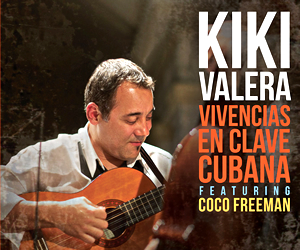 Timbera Mayor
MÚSICA DE CUARENTENA
QUARANTINE MUSIC
UPDATE: Directed and edited by Joseph Ros, an official video has already been put togetherfor the new single and it is even more poignant, using clips of people in quarantine communicating via social media. Watch closely, and see how many you recognize.
ENGLISH: As people around the world face the ordeal that the COVID-19 pandemic, we are both more separated and yet closer than ever before. Many governments around the world have placed their citizens under quarantine. To remain in our homes is the best thing most of us can do to protect ourselves, our loved ones and our neighbors and ease the burden on the medical staff, first-responders and all the bus drivers and grocery store clerks who keep things running for us. But this has had the effect of leaving people feeling isolated in their homes, cut off from loved ones and friends. The Pandora's Box that is the Internet has enabled us to be close in our isolation, and artists have stepped up to help make the passage of time more endurable with live video streams and "music festivals" from their homes. Everyone has something to offer. Calixto Oviedo is doing his Hablando de Timba series, and I have seen dance instructors offering classes at Facebook. Some bands have also already recorded new songs that reflect various aspects of these strange and trying times. I can't put everything in one post so I will begin with the fantastic new "Quiero verte otra vez" by Havana D'Primera. Stay tuned for more timba quarantine videos.
ACTUALIZACIÓN: Dirigido y editado por Joseph Ros, ya se ha creado un video oficial para el nuevo sencillo y es aún más conmovedor, utilizando clips de personas en cuarentena que se comunican a través de las redes sociales. Miren de cerca y vean cuántos reconocen.
ESPAÑOL: A medida que las personas de todo el mundo enfrentan la terrible experiencia de la pandemia de COVID-19, estamos más separados y aún más cerca que nunca. Muchos gobiernos por el mundo entero han puesto a sus ciudadanos en cuarentena. Permanecer en nuestros hogares es lo mejor que la mayoría de nosotros podemos hacer para protegernos a nosotros mismos, a nuestros seres queridos y a nuestros vecinos y aliviar la carga sobre el personal médico, los socorristas y todos los conductores de autobuses y empleados de supermercados que mantienen ese mundo funcionando para nosotros. Pero esto ha tenido el efecto de dejar a las personas sintiéndose aisladas en sus hogares, aisladas de sus seres queridos y amigos. La Caja de Pandora, que es Internet, nos ha permitido estar cerca en nuestro aislamiento, y los artistas han dado un paso adelante para ayudar a que el paso del tiempo sea más llevadero con transmisiones de video en vivo y "festivales de música" desde sus estancias. Todos tienen algo que ofrecer. Calixto Oviedo está haciendo su serie Hablando de Timba, y he visto instructores de baile que ofrecen clases en Facebook. Algunas bandas también han grabado nuevas canciones que reflejan varios aspectos de estos tiempos raros y difíciles. No puedo poner todo en una publicación, así que comenzaré con el fantástico "Quiero verte otra vez" de Havana D'Primera. Estén atentos para más videos timberos de la cuarentena.