Archivo
New Stuff
[hide]
Photos of the Day
[hide]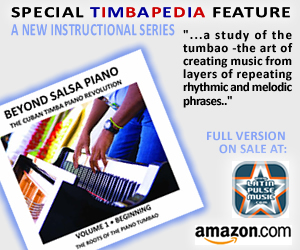 La Última
Salsa Mayor en La Yuma!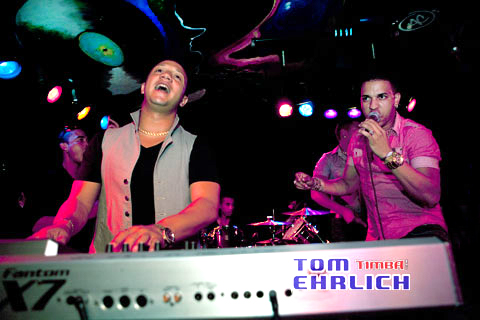 Maykel Blanco y Salsa Mayor at Moe's Alley - Santa Cruz - photo by Tom Ehrlich
Okay - these guys are really hot! This was one of the two bands I had never seen live so I'm still pretty bowled over, learning people's names, etc. Fortunately, Michelle White has built a truly EPIC Salsa Mayor section over the last few years - with monstrous quantities of lyrics, concert reports, video, photos et al., so check that out for details and I'll just give you my first impressions.
So, yeah, really hot. The rhythm section is incredibly disciplined, well rehearsed, and just plain fierce - even by Havana standards. They have 14 members: bass, two keyboards, drums/timbales, congas, güiro, 2 trumpets, 2 bones, and 4 singers. All four singers are very strong and one guy is just off the hook - and as dancers, the whole band is the best to come through here - probably ever. They have this amazing, rippling, wave-like set of moves that they all do (even the bassist while he's playing). These guys have perfected every visual and musical detail and their rapid ascendance to the top tiers of the Havana scene now makes perfect sense. More veteran SM fans than I have also pointed out that this particular incarnation of the band is probably the best they've had. More photos coming soon. In the meantime, get your fix here ... and here ... or check out one of our six video interviews or twelve concert videos.
Bay Area: Tonight, Friday, at Cócomo: There's some stiff competition, but to be honest, if you miss this band, you're going to be very sorry when your friends come to you drooling about it. The Cócomo show is unlikely to start before 10:00, so if you're rich (haha) you can probably catch Aragón's first show and not miss any of Salsa Mayor. Aragón also plays Saturday and Sunday. Salsa Mayor returns for a lecture at Mission Cultural Center on Oct. 17th.
Washington State: Tomorrow, Saturday in Bellingham's Blue Horse Gallery, and Sunday in Seattle at Club Sur.
Los Angeles: Thursday October 20 at The Reef in Long Beach.
Miami: Club Aché on Saturday, October 22.
Full tour, including five dates/cities in France in November. [Kevin Moore]