Archivo
New Stuff
[hide]
Photos of the Day
[hide]
La Última
Tom Ehrlich's Tiempo Libre Photos
Wil Campa this Weekend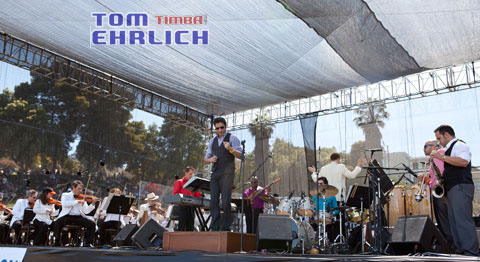 Tiempo LIbre played with the San Francisco Symphony Sunday in historic and picturesque Dolores Park. Surprisingly, their kilted killer bassist Tony "Tebelio" Fonte was replaced by Wilbur "Wilvi" Rodríguez (ex-Carlos Manuel, Ntaya). We're trying to find out if the change is permanent or temporary. Click here for the rest of Tom's photos.
Wil Campa y su Gran Unión at Yoshi's SF Friday and Saturday. This is as tight a timba band as you'll ever hear, with almost no personnel changes for over 5 years, all members living and rehearsing in Havana and the mind-bogglingly great conguero Andrés "Negrón" Miranda, of Issac and Irakere fame. More on these shows soon.
Coming very soon: Peter Maiden's gallery/concert report on the recent Escovedo family reunion concert.
Book News: I'm getting close to finished Beyond Salsa Percussion, Volume 1: Latin Rhythms for Listeners, Dancers and Beginning Drummers. It's already over 200 pages with a long historical listening tour, so this should be a good one for people who don't play an instrument but want to get deeper into scene. [Kevin Moore]