Archivo
New Stuff
[hide]
Photos of the Day
[hide]
La Última
Bill's Report
Updated: Charanga Report
Bill loved both the Friday show at the Brooklyn Academy of Music and the Queens extravaganza with Tirso and Mayito and both came off without problems. He highly recommends the second round tonight. He was able to see all of both shows easily.
Links: BAM - Havana d'Primera at Maunaloa.
After the BAM show he made it Queens with plenty of time to spare. The Queens show went from 1:00 a.m. to 4:30 a.m. Mayito opened with a band that included at least some NY musicians; then HdP played its normal set; then Tirso played with HdP. There was a lot of interaction with all combinations of musicians and singers on stage. Bill would not part with any more details so we'll have to wait for his reports. If you were at either show, please email us.
TIPS FOR TONIGHT: When you get to Maunaloa (click here for google map), keep in mind that the building says The Nile Restaurant, not Maunaloa, which is in fact the upstairs room of the NIle Restaurant (see photo below). The doors open at 8:00 and the show will probably start at about 12:00 or 1:00 again. That's all I could get. I still don't know if Mayito will be at Maunaloa but Tirso definitely will be and anyone lucky enough to be in the NY area should not fail to miss this historic opportunity. [Kevin Moore]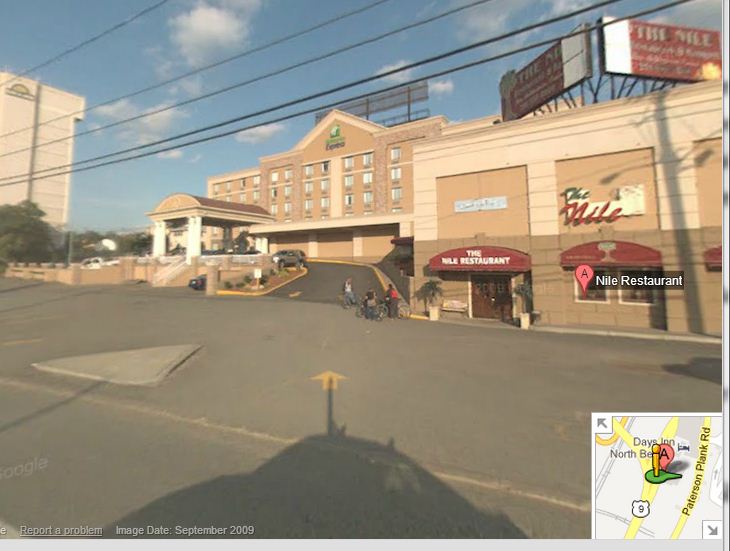 CHARANGA HABANERA UPDATE: You can't keep a good band down. After being used and abused in New York, Charanga Habanera played to a sold-out house in Washington DC and has 8 more shows in December, starting on the 8th in Orlando, then 5 more FL shows, one in Vegas and one in Puerto Rico. Click here for Rosy's DC report.