Archivo
New Stuff
[hide]
Photos of the Day
[hide]
Pa' Ponerte en Talla
miércoles, 25 mayo 2011, 05:08 pm
Tremendos Estrenos - New tracks on Radio Timba
Maykel Blanco Live - Mayimbe - Elio Revé con Cristian y Rey - Pedrito Calvo Jr. y Sr.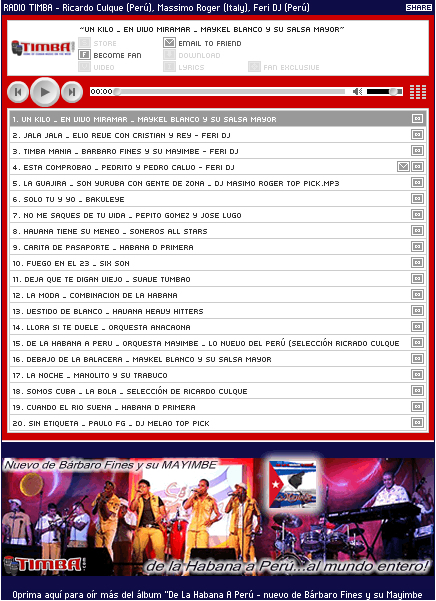 Today's Radio Timba playlist includes tracks we've received from Havana and Lima. Maykel Blanco sends us his new live track "Un Kilo" with Michelito on vocals. "Un Kilo" was recorded live at Casa De la Música Mirmar in Havana.

Hot from Lima are Elio Reve's "Jala Jala", which features the sons of Pachito Alonso, Cristian and Rey, on vocals, and the father and son duo of Pedrito Calvo Jr. and Perdro Calvo (ex-Van Van).

"Timba Manía" is a track produced and recorded by Bárbaro Fines and his Mayimbe band for a televisión show. Mayimbe has really taken over the city by storm.

Use the SHARE button on the top left of the radio to send the TIMBA radio player to your firends.

continue reading Pa' Ponerte en Talla