Archivo
Lo Nuevo
[hide]
Fotos Del Día
[hide]
Sin Clave No Hay Na
domingo, 17 agosto 2014, 09:03 am
comentarios
Chicago's Festival Cubano: Now For The Entire World
Festival Cubano de Chicago: ahora pa' el mundo entero
Yes, you can see it in Vladivostok!!
¡¡Sí, se lo puede ver en Vladivostok!!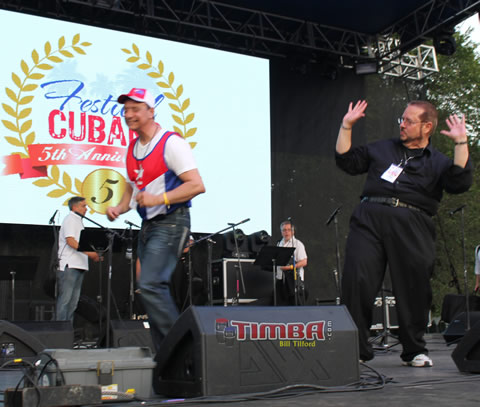 When Timberos attack: DJ Fernando Cuban Mix (L) and Master of Ceremonies Frank Camacho (R)
ENGLISH: The party seriously came alive Saturday afternoon at Festival Cubano. Our friends in Cuba will enjoy learning that Dj Fernando Cuban Mix played Havana d'Primera's Me dicen cuba (and the audience loved it), and Sureya included Juan Formell's Aquí se enciende la candela in her segment I'll have a story and photos next week, the news du jour is that Festival Cubano goes out to the whole world today. If you want to watch in Beijing or Vladivostok, there should be a video link on the Festival Cubano website starting at 1600 Coordinated Universal Time (11am in the US) and going until close of festival. Another video link is www.frecuenciaoye.com AND, from 1600-1700 UTC (11am-Noon Central US), there will be a special edition of Sábados de Fiesta (WCGO AM 1590) live from the festival. Must- see TV: Palo! at 23:30 UTC (6:30pm central US). Must-hear radio: Sabados de Fiesta at 4pm UTC (11am Central US).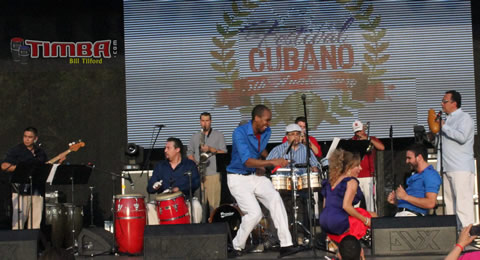 Sureya starts a fire.
ESPAÑOL: La fiesta cobró vida en serio la tarde del sábado en el Festival Cubano. Nuestros amigos en Cuba disfrutarán aprendiendo que Dj Fernando Mix cubano pusó Me dicen Cuba por Havana d'Primera (y el público se lo encantó), y Sureya incluyó "Aquí se Enciende la candela" por Juan Formell en su segmento. Yo tendré una historia y fotos la próxima semana, lo nuevo es que hoy, Festival Cubano se transmite para el mundo entero. Si usted quiere mirar en Beijing o Vladivostok, debe haber un enlace de vídeo en el sitio web del Festival Cubano a partir de las 16:00 Tiempo Universal Coordinado (11am Centro en los EE.UU.) y se va hasta el cierre del festival. Otro enlace de video es www.frecuenciaoye.com , Y, 4-5 UTC (11am-Mediodía Centro de Estados Unidos), habrá una edición especial de Sábados de Fiesta (WCGO AM 1590) en directo desde el festival. "Hay que ver" TV: Palo! a las 11:30 pm UTC (6:30 pm Centro) "Hay que escuchar" radio: Sábados de Fiesta.
continue reading Sin Clave No Hay Na