Sin Clave No Hay Na
New Releases & Reviews
Novedades & Reseñas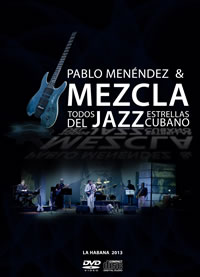 ENGLISH: In December 2013, Mezcla unveiled a new DVD of a live performance that included many of the best Jazz artists in Havana. You might not be able to obtain a copy of this yet, but watch for it - it is phenomenal, and you can read our review here. Incidentally, Mezcla is also in the process of finalizing a CD of last year's live performance at Yoshi's and has plans to tour the US again later this year.

ESPAÑOL: En diciembre de 2013, Mezcla reveló un nuevo DVD de un concierto en vivo que incluía muchos de los mejores artistas de Jazz en La Habana. Puede que no sea capaz de obtener una copia de esto todavía, pero mantenga los ojos abiertos - es fenomenal, y puede leer nuestra reseña aquí. Por cierto, Mezcla también está en el proceso de finalización de un CD del concierto en vivo en Yoshi's en 2013 y tiene planes de montar una gira por EE.UU. de nuevo a finales de este año.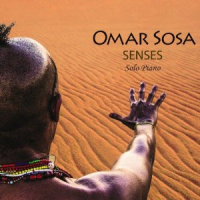 ENGLISH: Omar Sosa just released a new solo piano CD, Senses. This is a very contemplative recording, and you can read our review here. It isn't classical music but may appeal to listeners who enjoy that genre as well. Omar has also been performing live with an aggregation called The New AfroCuban Quartet, which includes Childo Tomas, Ernesto Simpson and Leandro Saint-Hill. A studio recording is expected in the next several months.

ESPAÑOL: Omar Sosa acaba de lanzar un nuevo CD de piano solo, Senses. Es un fonograma muy contemplativa, y puede leer nuestra reseña aquí. No es la música clásica, pero puede apelar a los oyentes que disfrutan de ese género también. Además, Omar ha estado tocando en vivo con una agregación llamada The New AfroCuban Quartet, que incluye Childo Tomas, Ernesto Simpson y Leandro Saint-Hill. Una grabación en el estudio se espera en los próximos meses.
New reviews: More than a dozen new CD and DVD reviews of Cuban recordings have been published this month in our Reviews section this month with more to come. These include traditional, Jazz and Timba recordings.
Nuevas reseñas: Más de una docena de nuevas reseñas de CDs y DVDs cubanos se han publicado este mes en nuestra sección Reseñas con más por venir. Estos incluyen grabaciones tradicionales, Jazz y Timba.
continue reading Sin Clave No Hay Na