Sin Clave No Hay Na
domingo, 12 enero 2014, 04:07 am
Miriam Ramos To Perform in Miami - Ernesto Vega To Perform in Houston
Miriam Ramos Cantará en Miami - Ernesto Vega Tocará en Houston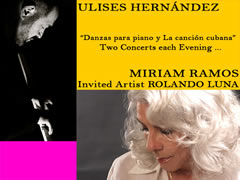 ENGLISH: Cubadisco 2013 Grand Prize winner and Latin GRAMMY nominee (also 2013) Miriam Ramos will be performing at the Miami Dade County Auditorium on January 18 and 19, Also performing in this concert will be pianist Ulises Hernández. Miriam will be singing selections from her award-winning trilogy La Canción Cubana (you can read our review here) and will be accompanied by an excellent pianist from that project, Rolando Luna. For more information and to purchase tickets, see the Fundarte web page for the event.
ESPAÑOL: Miriam Ramos, ganadora del Gran Premio de Cubadisco 2013 y nominado al Latin GRAMMY (también 2013) cantará en el Miami Dade County Auditorium el 18 y el 19 de enero. También actuará en este concierto será el pianista Ulises Hernández. Miriam estará cantando selecciones de su galardonada trilogía La Canción Cubana (puede leer nuestra reseña aquí) y estará acompañado por un excelente pianista de ese proyecto, Rolando Luna. Para más información y para compra boletos, visite la página web de Fundarte sobre el evento.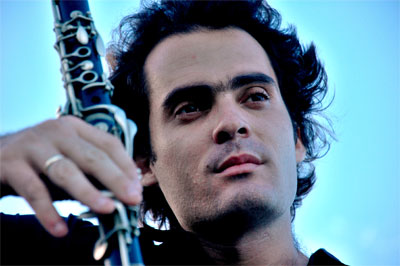 ENGLISH: On January 23, Cuban Jazz clarinet wizard and composer Ernesto Vega will be performing at the VIP Preview for the Trinity Jazz Festival in Houston,Texas. His debut release Venir al Mundo won Cubadisco awards for Jazz and Design in 2009 along with being nominated in the Ópera Prima (Best New Artist) and Liner Notes categories. (You can read our review here.) Ernesto recently performed at special event at the JEN (Jazz Education Network) conference in Dallas, and we expect to see and hear a lot more about him in the future, especially since he is expected to release a new recording with Harold López-Nussa later this year. For more information, see the Trinity Jazz Festival website.
ESPAÑOL: El 23 de enero, mago cubano de clarinete Jazz y compositor Ernesto Vega tocará en el VIP Prevista del Trinity Jazz Festival en Houston, Texas. Su album debut Venir al Mundo ganó premios Cubadisco en las categorias Jazz y Diseño en 2009 junto con haber sido nominado en las categorias Ópera Prima (Mejor Artista Nuevo) y notas discográficas. (Puede leer nuestra reseña aquí.) Ernesto tocó recentemiente para un evento especial en la conferencia JEN (Jazz Education Network) en Dallas, y esperamos ver y escuchar mucho más sobre él en el futuro, sobre todo porque se espera que lanzará un nuevo fonograma con Harold López-Nussa más adelante este año. Para más información, visite el sitio web del Trinity Jazz Festival.
continue reading Sin Clave No Hay Na