Sin Clave No Hay Na
lunes, 05 agosto 2013, 07:40 am
NY Cuban Jazz Alert!
Enildo Rasua Tuesday August 6, Osmany Paredes Wednesday, August 7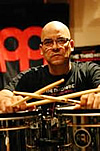 On Tuesday, August 6 at 7:30pm, Cuban percussionist/composer Enildo Rasua will be performing at the Jazz Standard in a quartet with Troy Roberts on saxophone, Ben Winkleman on piano and Ricky Rodriguez on bass. Enildo is the creator of the "Third Hand" technique which uses three drumsticks to play both drum kit and other percussion instruments at the same time. Enildo's career covers a lot of ground both as a performer and an instructor, and this should be worth checking out.

On Wednesday, August 7 at 9:30 pm, 11:00 pm and 1:00 am, composer/pianist Osmany Paredes, another artist in the new wave of Cuban Jazz musicians shaking things up in New York, will be performing at the Zinc Bar with his quartet. Osmany's early career included time with Charanga America, Enrique Jorrin and Bobby Carcasses. He later founded the group Menduvia and now leads the Osmany Paredes Quartet. He has also performed in several prominent groups, and this performance is also worth checking out.
It is also worth keeping an eye on the calendars of both of these clubs because they have become two of the most important venues for this music in New York.
continue reading Sin Clave No Hay Na