Archivo
Lo Nuevo
[hide]
Fotos Del Día
[hide]
Sin Clave No Hay Na
sábado, 13 diciembre 2014, 03:35 pm
Todo lo mejor a Jazz Plaza 2014
All The Best To Jazz Plaza 2014
La Habana, Cuba del 17 al 21 de diciembre, 2014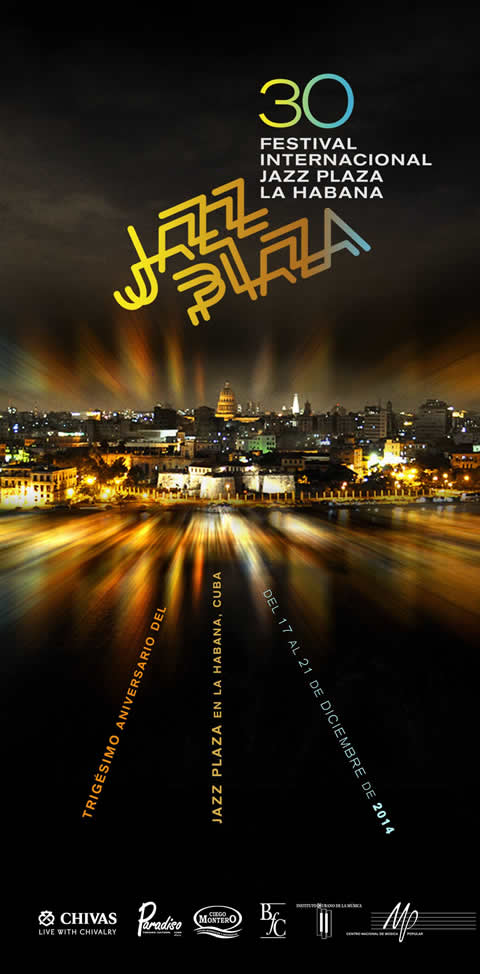 ESPAÑOL: Jazz Plaza en La Habana, Cuba ha evolucionado en uno de los más maravillosos festivales de Jazz en el planeta. Ahora celebrando su trigésimo año, su nombre puede ser engañoso hoy en día ya que no tiene lugar solamente en una plaza (bueno, ALGUNAS de los conciertos, pero sólo algunas), sino también en teatros grandes, clubes, hoteles y otros lugares. Toda la ciudad está escuchando la música y músicos de muchos países vienen a tocar y escuchar (Este escritor asistió al Festival 2013 y lamenta profundamente que él quedará atrapado en su oficina durante el evento de 2014.) El horario del evento siempre se aparece al el último minuto debido a la complejidad del evento, pero se puede oir casí cualquier estilo de Jazz alrededor la cuidad durante la semaña. Hay un minisimposio sobre Jazz también.
Según el sitio web suenacubano.com, y de especial interés para nuestros lectores norteamericanos: Arturo O'Farrill, un nominado actual al GRAMMY® en la categoría de Jazz Latino (The Offense of the Drum) presentará en el festival con todo su orquesta, y más tarde, él va a grabar un nuevo proyecto en los estudios Abdala, titulado La conversación continuada.
¡Todo lo mejor y mucho éxito a Jazz Plaza 2014!
ENGLISH: Jazz Plaza in Havana, Cuba has evolved into one of the most wonderful jazz festivals on the planet. Now celebrating its thirtieth year, its name can be misleading today as it does not take place only in a square anymore (well, SOME of the concerts do, but only some), but also in large theaters, clubs, hotels and other places. The whole city is listening to the music and musicians from many countries come to play and listen (this writer attended the 2013 Festival and deeply regrets that he will remain trapped in his office during the 2014 event.) The final schedule for the program always appears at the last minute due to the complexity of the event, but you can hear almost any style of Jazz around the city during the week. There is a mini-symposium on Jazz as well.
According to the Suenacubano.com web site, and of particular interest to our North American readers: Arturo O'Farrill, a current GRAMMY® nominee in the Latin Jazz category (The Offense of the Drum) will perform at the festival with his whole orchestra, and later, he will record a new project in Abdala Studios titled La conversacion continuada.
All the best and much success to Jazz Plaza 2014!
continue reading Sin Clave No Hay Na