Archivo
Lo Nuevo
[hide]
Fotos Del Día
[hide]
Sin Clave No Hay Na
jueves, 13 diciembre 2012, 01:19 pm
Gotham Gets Her Groove Back, Part IV:
What Does This Mean For The Future? (Second Half)
Article and Photos by Bill Tilford, All Rights Reserved
The opinions that follow are my personal opinions and do not necessarily reflect the official opinions of TIMBA.com or of my colleagues.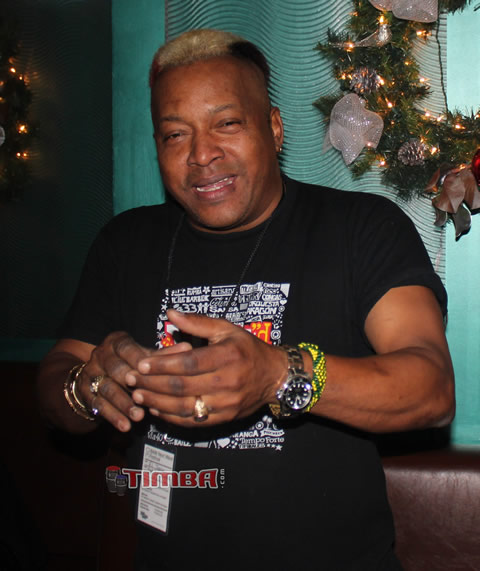 El Tosco was right!
A very striking lesson from the Red Hot + Cuba performance at BAM is that many of the people in the audience were not your usual suspects for a Cuban music concert, and although they clearly enjoyed the entire show, there is no denying the fact that it was the Timba selections which really made them get out of their seats and move. Various people in and out of the music industry have been declaring this music "over", "exhausted", "dead" etc. for years, and these shows clearly demonstrated that not only were the obituaries and eulogies premature, but also that the music can reach and engage new listeners if marketed effectively, presented well and performed with conviction. However, to fill a venue of this size, presenters must reach well beyond the core community of existing Timba fans and bring in more of the general public (as happened here). The BAM concert is Exhibit A that if new listeners hear the music, many of them will become converts.
For that show (Red Hot + Cuba) , there was a crack battalion of production, technical and publicity people working behind the scenes as well as an institution, the Brooklyn Academy of Music, that already possessed a loyal cadre of audience regulars of its own. Without all of those ingredients, trying to present this type of "All-Stars" performance can be virtually a suicide mission, financially speaking. I truly hope that we see shows of that caliber in other cities, but it takes a lot of infrastructure to make this type of extravaganza a success.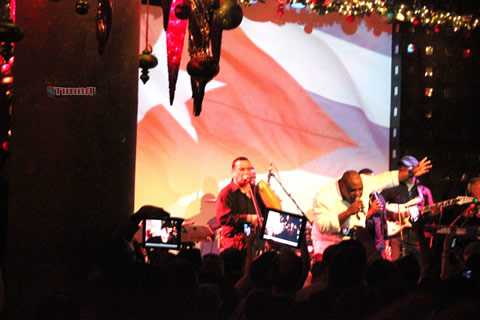 What is wrong with this picture?
One final word to the fans: this is a difficult matter to discuss, but it needs to be said, and the venues and bands won't tell you because they don't want to alienate you and risk causing you to stop buying tickets. This is about that bootleg video so many of you are taking nowadays. The venues don't like that you do this, but many of them aren't telling you to put those I-phones and whatnot away because they need your money. So, I am going to tell you something: I don't like it when you do that either, for two reasons:
1. Many Cuban bands lack the means to operate their own reliably-updated websites and Facebook pages, and this makes whatever does show up on the web even more significant for their public image. If you sell bootleg video, you are ripping them off, and yes, in the evolving Cuban economy, you are probably ripping them off as individual people now, so don't even try that excuse. If you post it free on Youtube or anywhere else seen by a lot of people, the audio quality of what you did is often so poor that if you think you are doing this out of love, I would almost prefer that you hated them. Bad audio makes them sound bad and does not help their chances with those who are learning about them for the first time. Your little souvenir might even accidentally convince somebody that they really aren't worth checking out. I know this probably isn't going to make you stop taking personal video, but if you must continue, please use your heads about what you do with it afterwards, OK? (Venues might even want to think about whether there is a practical business model that would allow them to charge for a VIP "video highlights" package in lieu of tolerating those twenty phones in the air, but that may be easier said than done.)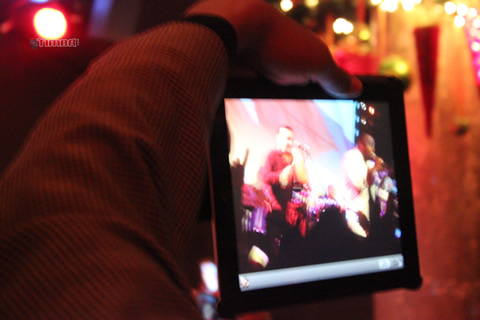 Next up on America's Dumbest Concertgoers?
2. A few of you have even graduated to wide-screen I-pads that are practically the size of TV cameras. If that describes you, has it ever occurred to you that in addition to blocking the sightlines of somebody that might be taking pro-quality shots and video on behalf of the band, you are also blocking the view of other people in the audience who are standing behind you? Leave those I-pads in your bags, folks. Besides, isn't this dance music? So why not dance instead already? Please keep coming, but please also be kind to the bands, the venues and your fellow concertgoers.
Final thoughts: Overall, this series of New York/New Jersey concerts goes in the "win" column for everyone involved, at least from a musical perspective. For Havana d'Primera in particular, this was part of a larger national tour that has reinforced that band's reputation as one of the most important groups performing the music today. For those of you who have to travel to New York to do this sort of thing, it is definitely worth the trip. Always prepare a Plan B (this is true of anything that takes you there, not just Timba concerts), but there is never nothing to do there. Never. If you go to New York for any reason and leave disappointed, that's on you. In a way, I'm glad I don't live there - I would be broke from going to see too many bands and shows. (Now, if we could only find a suitable regular New York reporter.....)
continue reading Sin Clave No Hay Na