Sin Clave No Hay Na
Cubadisco: Cuba's Most Important Music Awards and More
Cubadisco: Más importantes premios de música de Cuba y más
Also: More CD reviews
Además: Más Reseñas de CD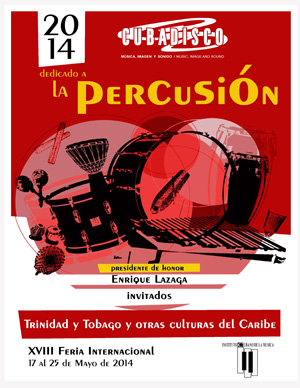 Cubadisco 2014 is approaching soon - the nominations will be announced later this month. This year's theme is Percussion, the event will take place May 17-25, 2014, and the guest country is Trinidad and Tobago. Bill Tilford has published a new section (click here to read it in English) explaining what Cubadisco is and how it works, and he will be following this year's events and awards very closely.

Cubadisco 2014 se acerca pronto - las nominaciones se darán a conocer a finales de este mes. Este año es dedicado a la percusión, el evento se llevará a cabo del 17 al 25 de mayo 2014, y el país invitado es Trinidad y Tobago. Bill Tilford ha publicado una nueva sección (clic aquí para leerlo en español) explicando lo que Cubadisco es y cómo funciona, y él estará siguiendo muy de cerca los acontecimientos y los premios de este año.
Also, ten new reviews, many of multiple-CD collections, were published in recent weeks. See the Reviews section to read these.
Además, diez nuevas reseñas, muchas de las colecciones de multiple CDs, fueron publicadas en las últimas semanas Vea la sección Reseñas para leerlas.
continue reading Sin Clave No Hay Na