Timbera Mayor
miércoles, 07 agosto 2019, 07:20 pm
INTERVIEW WITH ELITO REVÉ
NEW CD "¡UEA!"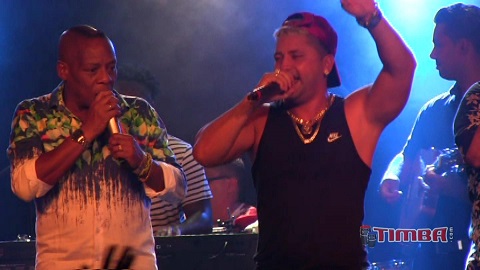 Elito Revé & Ogbe Shé i Stockholm at the concert hosted by JVH Events
ENGLISH: Elito Revé y Su Charangón are finishing up their European tour with a concert tonight in Catania, Italy and a grand finale at Antilliaanse Feesten in Hoogstraten, Belgium Saturday, August 10. They conrinue their summer tour in Japan with ten concerts, from August 20th through September 1st.
2019 has been a great year so far for Orquesta Revé. In May together with Los Van Van, they won the Grand Prize at Cubadisco 2019 for the DVD "Dos Leyendas" - a megaconcert with Orquesta Revé and Los Van Van filmed in December 2017. The Charangón also has a CD hot off the presses: "¡UEA!". It isn't available at digital retailers yet, but if you get a chance to catch them in concert you can buy the CD as well as the DVD, so bring some extra cash.
Elito sat down with Timba.com before the concert ni Stockholm Auust 3rd, to talk a little about "¡UEA!", the DVD and upcoming plans for the Charangón. Next February they will tour all of Cuba, beginning in Oriente and moving west. They will be back for a longer European tour in 2020 as well. To keep up with the latest info and videos, subscribe to Elito Revé y Su Charangón at Facebook.
ESPAÑOL: Elito Revé y Su Charangón están terminando su gira europea con un concierto esta noche en Catania, Italia y una gran final en Antilliaanse Feesten en Hoogstraten, Bélgica el sábado 10 de agosto. Continúan su gira de verano en Japón con diez conciertos, del 20 de agosto al 1 de septiembre.
2019 ha sido un gran año hasta ahora para Orquesta Revé. En mayo, junto con Los Van Van, ganaron el Gran Premio en Cubadisco 2019 por el DVD "Dos Leyendas", un megaconcert con Orquesta Revé y Los Van Van filmado en diciembre de 2017. El Charangón también tiene un CD recién terminado: " ¡UEA! ". Todavía no está disponible en los minoristas digitales, pero si tienes la oportunidad de verlos en concierto, puedes comprar el CD y el DVD, así que trae algo de dinero extra.
Elito se sentó con Timba.com antes del concierto en Estocolmo el 3 de agosto, para hablar un poco sobre "¡UEA!", el DVD y los próximos planes para el Charangón. El próximo febrero recorrerán toda Cuba, comenzando en Oriente y avanzando hacia el oeste. Volverán para una gira europea más larga en 2020 también. Para mantenerse al día con la información y los videos más recientes, suscríbete a Elito Revé y Su Charangón en Facebook.
continue reading Timbera Mayor