History and Discography of Irakere - Into the Timba Era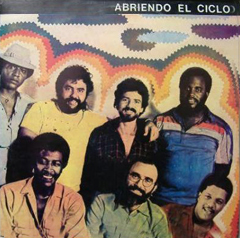 Beginning around 1986, El Tosco, while still a member of Irakere, began moonlighting as the leader of his own project, which he called Nueva Generación. He often used the rest of the Irakere horn section as well. We're still trying to piece together the discography, but we think they made 3 albums and we think that Abriendo el ciclo was LD-4385 in late 1986 or early 1987.
Eventually Tosco broke away from Irakere entirely, shortened "Nueva Generación" to NG La Banda, pilfered Tony Calá from Ritmo Oriental, and an extraordinary new rhythm section featuring Giraldo Piloto, Feliciano Arango, Rodolfo "Peruchín" Argudín, and Miguel "Pan con Salsa" Armas. When their dramatic new style matured in late 1988 with songs like La expresiva and La protesta de los chivos, NG, essentially an Irakere-Ritmo Oriental spinoff, ushered in the "timba" era.
Irakere continued on, as successfully as ever, primarily playing jazz, but, as they always had, throwing in enough burning hot dance music to please that portion of their audience.
The critical difference, from our point of view, is that in the 70s and 80s, Irakere was pushing the envelope and actively reinventing dance music with innovations like gear sections with no bass, gear sections with sliding bass, fast jazz-influenced horn section writing and folkloric rhythms and lyrics. While all of this was very much secondary in the minds of the Irakere musicians, it nevertheless had a tremendous influence on the eventual development of timba. In the 90s however, it was the timberos who were pushing Irakere, rather than the other way around. Important timba figures such as Leo Vera, Carlos Manuel, José Miguel and Tony Pérez passed through the band as Irakere's dance style adapted itself to keep up with the frantic innovation that was going on all over Havana.
As timba's perfect storm reached its frenzied peak in 1997, the energy swept Irakere to its best dance album of the 90s:
martes, 22 marzo 2011, 07:32 pm