New Stuff
[hide]
Photos of the Day
[hide]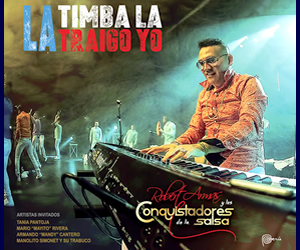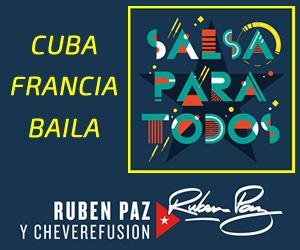 Viva La Diva
Viva La Diva: India and Ivy Queen Live In Concert
Congress Theater, Chicago Illinois, 23 March 2013
Photos and Review by Bill Tilford, All Rights Reserved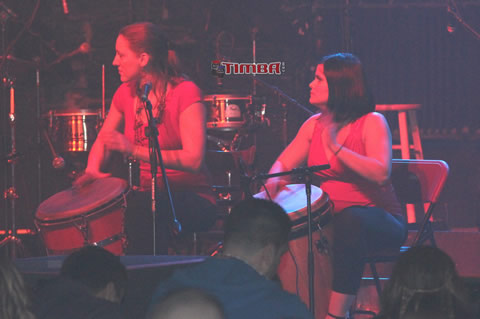 (Las Bompleneras open the show)
Ordinarily, this writer wouldn't wander over to a concert featuring a lot of Reggaeton - we all like what we like, and that genre isn't really on his personal short list (no disrespect intended to its fans, but he grew up with real Reggae and Ska in his diet, and that influences his tastes a bit.) However, the concept of the concert was intriguing for a few reasons. First of all, India, one of the featured divas, is a solid Salsera, and we were curious to see what she was up to live these days. Second, we have written in other places that the best hope for live Timba music events in Chicago might be to pair up Timba bands with other genres (regular Salsa, African, Funk or something) at concerts to help reach out to new listeners. This concert was an intriguing mix of Puerto Rican Bomba and Plena, Bachata Rock, Rock and Hip Hop en Espanol, Reggaeton and Salsa. Would this audience be OK with that mix? We needed to find out. Third, the producer of the concert, Eventlife, is also the production company for Chicago's Festival Cubano (the 2013 edition of which will be August 3-4 in Riis Park), and this was the beginning of what could become a series of concerts by that company depending upon how things turned out after the dust settles, so we are watching their activities with interest. Finally, this was held in the Congress Theater, an older but larger venue than many of the places currently being used for indoor Salsa performances, and in a period where attendance at live events has been extremely volatile, we had to see how attendance came out there.
As it happened, this was a very well-attended event, in part because the ladies really came out in force for it, and as best as we can tell, the mix of styles worked well with the crowd overall. The live acts began with a short opener by Las Bompleneras, a Puerto Rican folkloric group based in Chicago. La Obra, the second live act, was a pleasant surprise for this listener. If groups like Malo, Tierra, Santana had worked Bachata into their mix, the results might have sounded a little like this group. Not sure whether to call this Acid Bachata, Bachata Rock, or what, but it's intriguing. This is also a Chicago-based group, and we'll be watching them more closely in the future. Northrock 360 followed with some Hip Hop and Rock en Español. DJ Extreme and DJ Cuco spun some music during the band changes.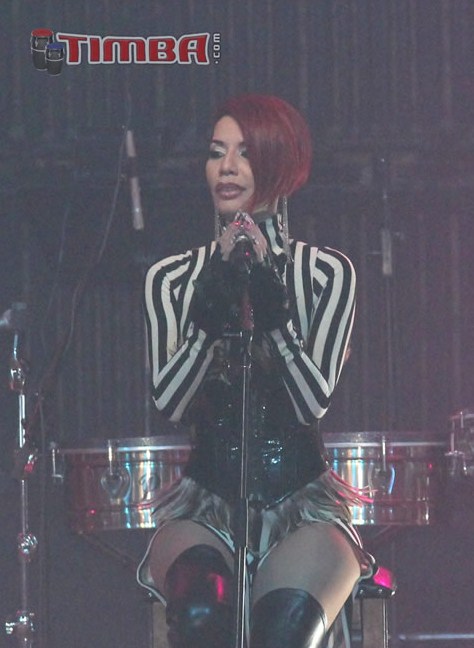 (Ivy Queen gets personal)
Although this Timbero/Salsero is unlikely to start loading Ivy Queen's material into his personal audio player (incidentally, she also does some Bachata in addition to Reggaeton), he does have to acknowledge that she puts on a very energetic show and really connected with her very passionate fans, many of whom had her lyrics memorized and proved it with their own pipes.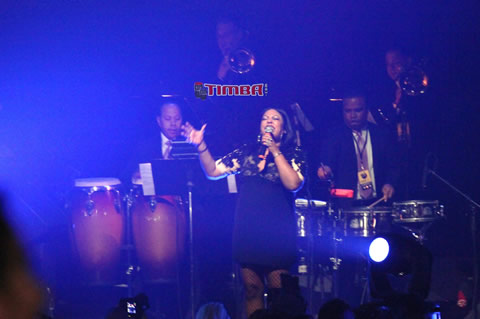 (India tells it like it is)
The highlight of the evening for us was when India came on to close the show - she still has it, her band was tight (and either really was her own regular band, which is likely, or the last remaining Chicago musicians that we don't recognize on sight, which is doubtful), and she, too, connected with the audience. We can't say whether the crowd at the end included some Reggaetoneros who were getting their first introduction to live (as opposed to recorded) Salsa, but that's not impossible.
After visiting some poorly-attended Chicago concerts by some excellent bands earlier in the year, it was refreshing to see a large, enthusiastic crowd turn out for something like this. Hopefully the financial results will justify an ongoing series in the future. The mix of styles may have played a role, as undoubtedly did the support from entities such as Maxima Radio, the Chicago International Salsa Congress, Night City Events, Fiesta Boricua and the Congress Theater. We don't normally name sponsors in our reviews, but we are making an exception this time because we want to stress the point that the saying "It takes a village" frequently applies to large events like this. A key reason that so many Chicago events for this music either don't get past the planning stage or don't acheive their potential once they do happen is that there is often a failure to assemble the support necessary for a successful event. Promoters and presenters, take note. We will also be watching intently to see if there are lessons we can all apply to bringing more Cuban music to Chicago as well.
Click on the thumbnails below to enlarge the images.
Row 1: Las Bompleneras and La Obra
Row 2: La Obra, Northrock 360 and Ivy Queen
Row 3: Ivy Queen
Row 4: Ivy Queen, India
Row 5-8: India
































Bill Tilford - Thursday, 04 April 2013, 02:06 PM