Indice - Table of contents
New Stuff
[hide]
Photos of the Day
[hide]
SpanishEnglishInterviews & Reviews - CD Reviews: A Tale of Two Dizzys
CD Reviews: A Tale of Two Dizzys

Reviews by Bill Tilford
All Rights Reserved
1. Dear Diz (Every Day I Think of You) by Arturo Sandoval (Concord 2012)
2. Poncho Sanchez and Terence Blanchard = Chano Y Dizzy! by Poncho Sanchez & Terence Blanchard (Concord 2011)
Approximately 65 years ago, in 1947, Dizzy Gillespie and Chano Pozo were introduced to each other by Mario Bauza, and the brief period that Dizzy and Chano played together (Chano died in 1948 at the age of 33) helped change the course of Latin Jazz in the United States. What goes around comes around - Dizzy's music later had a profound influence on both the life and the music of trumpeter Arturo Sandoval in Cuba (now in the United States). Although neither of the two recordings in this review is billed as a formal commemoration of that historic period, it is perhaps fitting that they would both come out 65 years after that time.
In some ways it would be misleading to compare the two recordings because they do two very different things. However, we can point out those differences. Arturo's project focuses on Dizzy Gillespie specifically, and as a Jazz album, it is by far the stronger of the two discs. It is also a "listening" album rather than a "dance" album. There is a lot of excellent straight-ahead Be Bop in it, and it establishes beyond any reasonable doubt that Arturo has truly mastered the idiom. Poncho's project is more of a "dance" album, and there is more of an emphasis on Chano's role of the story (including more noticeable percussion work courtesy of Poncho). The brass and reed solos never reach the level of Arturo's recording here, but they are still a few steps above your typical dance recording, and this project does show how Jazz has helped elevate the dance music to a higher level than it would have reached otherwise. If you keep these distinctions in mind, both recordings are worth having.
---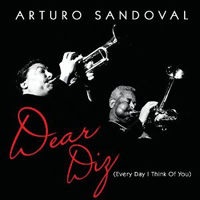 Arturo's release, Dear Diz (Every Day I Think of You) is an absolutely beautiful big band project that is now one of our favorites in Arturo's extensive and varied discography. This recording captures the best of Dizzy's spirit without attempting to copy him - many of the arrangements are imaginative reworkings of Dizzy's originals (Salt Peanuts for example, begins with a nice 6/8 section before breaking open into straight-ahead Be Bop, Tin Tin Deo and A Night In Tunisia are rendered mostly as 6/8s with some straight-ahead breaks, and the song Be Bop has a stately first half before breaking loose at full speed.)
In addition to his legion of fans, Arturo has also had a small number of critics in the Jazz community over the years who have occasionally raised questions about how much he could really swing. We aren't going to replay those arguments here; we will say that Dear Diz will put that question to rest once and for all, especially with the completely straight-ahead tracks like Things To Come and Algo Bueno (Woody and Me) . While there are some Afro-Cuban passages in the recording, this is above all a first-class Be Bop and ballad project (with some Brasilian on the side in And Then She Stopped and Fiesta Mojo, much as Diz himself included over the years). A year ago, Arturo told this writer that he was still studying Be Bop, but the evidence presented here proves that he has absolutely mastered the form. Con Alma changes things up with a beautiful ballad that adds strings, and the closing ballad, Every Day I Think of You, is a very personal tribute to Diz with vocals by Arturo. Birks Works doubles as a tribute to Henry Mancini; we'll let the song itself explain how when you listen to it. Arturo's trumpet work in this recording is sublime, but he also shares space freely with several other excellent soloists (these are faithfully recorded in the extensive and well-done liner notes). This recording was clearly a genuine labor of love, and it shows both in the music and the notes.
Personnel for Dear Diz (Every Day I Think of You)
| Role - Instrument | Name |
| --- | --- |
| Lead Trumpet, Vocal and Director | Arturo Sandoval |
| Trumpets/Flugelhorns | Wayne Bergeron, Dan Fornero, Willie Murillo, Gary Grant |
| Reeds | Dan Higgins, Rusty Higgins, Bob Sheppard, Bob Mintzer, Rob Lockart, Brian Scanlon, Greg Huckins, Zane Musa, Eddie Daniels, Ed Calle, Plas Johnson |
| Trombones | Andy Martin, Bruce Otto, Steve Holtman, Craig Gosnell, Bob McChesney |
| Piano/Organ/Vibes | Shelly Berg (Piano), Willy Minko (piano), Joey DeFrancesco (Hammond B3 organ), Gary Burton (vibes) |
| Bass | Carlitos Del Puerto, Check Berghofer |
| Percussion | Gregg Field, Joey De leon, Munyingo Jackson, Andy Garcia, |
| Strings/Vocals | Manolo Gimenez (vocals), Ralph Morrison (violin/concertmaster), Sara Parkins (violin), Roland Kato (viola), Trevor Handy (cello) |
| Producers: | Arturo Sandoval and Gregg Field |
| Executive Producer: | John Burk |
---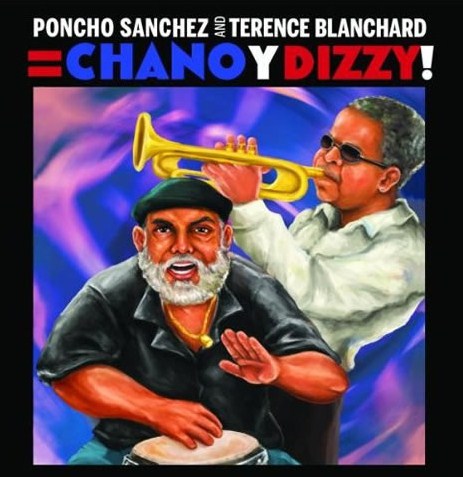 Poncho Sanchez and Terence Blanchard = Chano y Dizzy is a primarily dance-oriented album recorded by a nonet that opens with a medley of numbers including Tin Tin Deo, Manteca and Guachi Guaro. This version of Con Alma, a Gillespie composition, is given a 6/8 opening and changes to a cha-cha midway through the piece. Wandering Wonder, a Terence Blanchard composition, is an example what came to be called Cu-Bop - danceable but with Jazz melody lines. Promenade and Dizzy's Groovin' High are rendered in a similar fashion. Lecuona's Siboney moves about a few times during the piece with some interesting tempo and rhythm changes. Dizzy's Dashiki is a well-arranged cha-cha. Nocturna is a beautiful bolero, and it is actually on the slower numbers like this one where Mr. Blanchard comes closest to resembling the style that Diz might have used to approach the music. Harris' Walk and Jack's Dilemma have some of Poncho's signature "party record" feel. The album closes with a nice descarga of Chano Pozo's Ariñañara. The most important contribution that this album makes (in this writer's opinion) is that it helps demonstrate how Jazz was incorporated into the dance music in a way that enriched it for listeners as well as dancers. Neither Poncho nor Terence is actually imitating Chano or Dizzy here, but both give creditable performances that are worth hearing.
Personnel for Poncho Sanchez and Terence Blanchard = Chano y Dizzy!
| Role - Instrument | Name |
| --- | --- |
| Percussion and Leader | Poncho Sanchez |
| Trumpets | Terence Blanchard, Ron Francis Blake |
| Tenor and Alto Saxophone | Rob Hardt |
| Trombone, Vocals | Francisco Torres |
| Piano | David Torres |
| Bass, Vocals | Tony Banda |
| Percussion | Joey De Leon, Jr. |
| Timbales | George Ortiz |
| Producers: | Poncho Sanchez and Francisco Torres |
| Executive Producers: | John Burk and Ivory Daniel |
Sunday, 28 October 2012, 01:36 PM