CD Review: 15 años locos por la música (Various Artists)
Bis Music 2008
Review by Bill Tilford, all rights reserved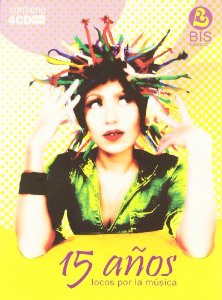 Of all the multi-CD collections of various artists that Bis has released in recent years, this one, which was released in honor of its 15th Anniversary, is by far this writer's personal favorite. It is a very modern collection and contains a range of genres seldom seen within one package - just to name a few examples, classical selections by Ulises Hernández and Camerata Romeu share space with Jazz by Ernán López-Nussa and César Lopez y Habana Ensemble, changüi by Elito Revé, Timba from Azúcar Negra, Afrocuban Funk by Orisha Dreams and Alternative by Interactivo y Telmary. There is also some folklore,. A very pleasant surprise for this writer was in Disc 4 - there are some wonderful children's groups including a fine charanga, Los Aragoncitos de Cienfuegos. Most of the songs in the collection were also part of recordings that were winners of Cubadisco awards in various genres over a the 15-year period. There are also some very good liner notes (in Spanish) about the history of the company. This review will be short and to the point - go find this. It is one of the very best collections of multiple artists to emerge from Cuba during the past two decades.
Songs

Disc 1
1. Si no fuera por las mujeres - Adalberto Álvarez
2. Tratado de Timbas y Salsa - Azúcar Negra
3. Baila conmigo - NG La Banda
4. Esto te pone la cabeza mala - Juan Formell y Los Van Van
5. Mi Salsa tiene candela - Yumurí
6. Chiquitica Bum Bum - Pachito Alonso
7. Atrevimiento - Bamboleo
8. Vamos a vivir la vida - Anacaona
9. Fresquecito.com - Elito Revé
10. Soy tuya - Haila
11. Los tamalitos de Olga - Teresa García Caturla
12. Candela - Los Muñequitos de Matanzas
13. Xiomara Mayoral-Xiomara - Mayito Rivera
14. Háblame de la rumba - Pedro Lugo Martínez "El Nene"
15. Marilú - Telmary
Disc 2
1. Como los peces - Carlos Varela
2. Futuro inmediato - Santiago Feliu
3. Mi rostro - Ireno García
4. Habáname - Miriam Ramos
5. Perla marina-Ojalá - Silvio Rodríguez
6. Regresaré - Vicente Feliu y el Trio Trovarroco
7. Sin ir más lejos - Sara González
8. El revolver - Gerardo Alfonso
9. Alma - Anaís Abreu
10. Fiebre en ti - Coco Freeman
11. Contigo en la distancia - Raquel Hernández
12. Me recordarás - Paulo FG
13. Dos gardenias - Omara Portuondo
14. Duele - Beatriz Márquez
15. Cuando me dijiste adiós - David Blanco
Disc 3
1. Almendra - Orlando Valle "Maraca"
2. Orisha Dreams - Orisha Dreams
3. Eyeleo - Lucía Huergo
4. Palabrara - Interactivo
5. Mambo Inn - Ernan López Nusa
6. Scherezada - Alexis Boch
7. Manteca - Jorge Reyes
8. Consuélate como yo - El Greco y Top Secret
9. Nocturno de la Habana - Sergio Vitier
10. Noche cubana - César López y Habana ensemble
11. Déjame tomar asiento - Amaury Pérez Vidal
12. Entreacto capricho - Antonio Carbonell e Ivet Frontera
13. Allegro - Frank Fernández
14. Danza de los ñáñigos - Ulises Hernández
15. Carnavalito - Camerata Romeu
Disc 4
1. Dame la mano y danzaremos - Teresita Fernández
2. Mi cotorrita Lolita - Los Aragoncitos de Cienfuegos
3. Amanacer feliz - Rosa Campo
4. Salta con un solo pie - Coro Diminuto
5. Nana de las mariposas - Kiki Corona
6. La canción de los niños - Los aragoncitos de Cienfuegos
7. M con A, N con I, Maní - Rosa Campo
8. Mi gatico vinagrito - Sory
9. Curioso negrito - Lidis
10. El tocorito del monte - Marivis
11. El baile del cangrejito - Los Aragoncitos de Cienfuegos
12. Libélula - Leo Vera
13. Fiesta en la sartén - Rosa Campo
14. Los elefantes - Liuba María Hevia
15. Fernanda - William Vivanco
Bill Tilford - Wednesday, 02 April 2014, 08:17 AM