New Stuff
[hide]
Photos of the Day
[hide]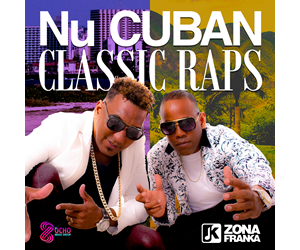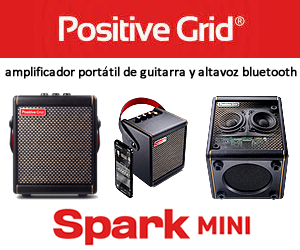 CD Review: Colección 30 años by Liuba María Hevia
(Bis Music 2013)
Review by Bill Tilford, all rights reserved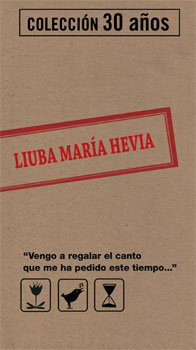 This is an intriguing box set of 8 CDs containing a group of recordings made over a period of 30 years by composer/singer/guitarist Liuba María Hevia. She has been considered part of the Nueva Trova movement in Cuba since 1982 (although she began playing the guitar at the age of 8) and has done collaborative projects with Silvio Rodriguez and Pablo Milanes. She draws heavily upon classic Cuban forms (Habanera, Danzón, Guajira for example) in her work and has toured multiple countries but may be relatively unknown in the United States compared to many of her contemporaries. She has also made some children's recordings (she is a UNICEF Goodwill Ambassador), but those are not included in this set.

The quality of the recordings and packaging is excellent, and this writer enjoyed all eight of the discs, a high compliment from someone who does not normally have a lot of this genre in his diet. The package would have benefitted from more extensive liner notes (there is some brief commentary by Marta Valdés, but this was not designed to speak to the history of the recordings or the artist. Fans of the of figures in the Nueva Trova movement should absolutely get better acquainted with Ms. Hevia's work,
This collection won a Special Prize in Cubadisco 2014.

COLECCIÓN 30 AÑOS - LIUBA MARÍA HEVIA
Vol 1 – COLOREANDO LA ESPERANZA
COLOREANDO LA ESPERANZA (Liuba María Hevia)
HOY TE INVITO A MI NIÑEZ (Liuba María Hevia)
TONADA PARA AMANECER (Ada Elba Pérez)
EN EL SURCO DE LA TERNURA (Liuba María Hevia)
TONADA BORRACHA (Liuba María Hevia)
TU AMOR ES EL CANTO MÍO (Liuba María Hevia)
TONADAS PARA EL CAMINO (Ada Elba Pérez)
PARA SALVAR UN BESO (Liuba María Hevia)
UN SON PARA LA MAÑANA (Liuba María Hevia)
EL SITIO DE LOS ÁNGELES (Ada Elba Pérez)
SI ME FALTA TU SONRISA (Liuba María Hevia)
DE MONTE Y CIUDAD (Liuba María Hevia)
Bonus track:
ESTA TRAVESÍA (Liuba María Hevia/R. de la Torre)
LA GUAYABITA MADURA (Liuba María Hevia/Ada Elba Pérez)
Vol 2 – DEL VERSO A LA MAR
ACÉRCATE (Liuba María Hevia)
COMO UN DUENTE (Liuba María Hevia)
DEL VERSO A LA MAR (Liuba María Hevia)
TONADA SOY (Liuba María Hevia)
AUSENCIA (Liuba María Hevia)
OFRENDA (Liuba María Hevia)
ÁNGEL Y HABANERA (Liuba María Hevia)
MORIR DE AMOR (Hermanos Barreto)
AGOSTO BAJO LA PIEL (Liuba María Hevia)
MARÍA FLOR DE LIMÓN (J. Rosas Marcano/ Marianella Querales)
Bonus track:
SI ME FALTA TU SONRISA (Liuba María Hevia)
Vol 3 – ALGUIEN ME ESPERA
ALGUIEN ME ESPERA (Liuba María Hevia)
CÓMO NO MORIRME EN ESTA LOCURA (Liuba María Hevia)
A TRES POR CUATRO (Liuba María Hevia)
SI MI CANCIÓN TE REGRESARA (Liuba María Hevia)
SIEMBRA SEMBRADOR (Ada Elba Pérez)
LA GUAYABITA MADURA (Liuba María Hevia/Ada Elba Pérez)
CON CUATRO LETRAS (Liuba María Hevia/Ada Elba Pérez)
AL CARIBE MI CANTAR (Sara González)
SI TE VUELVO A ENCONTRAR (Liuba María Hevia)
LA GOTA FRÍA (Emiliano Zuleta)
GUITARRA FEBRIL (Liuba María Hevia)
Bonus track:
TU AMOR ES EL CANTO MÍO (Liuba María Hevia)
Vol 4 - TRAVESÍA MÁGICA
TRAVESÍA MÁGICA (Liuba María Hevia/Ada Elba Pérez)
SEÑOR ARCOIRIS (Ada Elba Pérez)
ANA LA CAMPANA (Ada Elba Pérez)
EL VENDEDOR DE ASOMBROS (Ada Elba Pérez)
EL TONTO DE PAPEL (Ada Elba Pérez)
CANCIÓN DE LA VACUNA (María Elena Walsh)
EL CANGREJO ALEJO (Ada Elba Pérez)
EL DESPERTAR (Ada Elba Pérez)
ESTELA, GRANITO DE CANELA (Liuba María Hevia/Ada Elba Pérez)
MI NIÑA IMAGINADA (Liuba María Hevia)
GRILLO CRIN (Guajiro Miranda)
CARACOLILLO DE CORAL (Liuba María Hevia/Ada Elba Pérez)
EL TRENCITO Y LA HORMIGA (Ada Elba Pérez)
AMANECER DE LA FLOR (Ada Elba Pérez)
FIESTA DE ZAPATOS (Francisco Gabilondo Soler)
EL PIOJO (Edelys Loyola)
LA LUNA VANIDOSA (Ada Elba Pérez)
ADIVINA QUIÉN SERÁ (Ada Elba Pérez y Olga Pérez)
NANA A MI MARIONETA (Liuba María Hevia)
LO FEO (Teresita Fernández)
TRAVESÍA MÁGICA (INSTRUMENTAL)
Vol 5 – ILUMÍNAME
ILUMÍNAME (Liuba María Hevia)937-LIUBA-MA-HEVIA-COLECCION-30-ANOS
DUEÑOS DE MI FE (Liuba María Hevia)
ALGO (Liuba María Hevia)
PARA SIEMPRE (Liuba María Hevia)
ALEX (José Ordas)
NATURALEZA (Liuba María Hevia)
CANCIÓN BREVE (Liuba María Hevia)
EL AGUACERO (Liuba María Hevia)
LOS SUEÑOS (Liuba María Hevia)
CORAZÓN SILVESTRE (Liuba María Hevia)
LA BRÚULA DEL DESTINO (Liuba María Hevia)
MEMORIA Y TESTAMENTO (Liuba María Hevia)
LA VOZ (Liuba María Hevia)
Vol 6 – ÁNGEL Y HABANERA
ÁNGEL Y HABANERA (Liuba María Hevia)
VEINTE AÑOS (Guillermina Aramburu/María Teresa Vera)
TROVADA EN LA HABANA (Liuba María Hevia)
EL EXPATRIADO (Anónimo Siglo XIX)
EN EL CLARO DE LA LUNA (Silvio Rodríguez)
LA ROSA ROJA (Oscar Hernández)
TENGO MI HAMACA TENDIDA (Anónimo Siglo XIX)
LA PRESA (Anónimo Siglo XIX)
MI VIEJA HABANA (Liuba María Hevia)
MARIPOSITA DE PRIMAVERA (Miguel Matamoros)
ABUELA CANARIA (Liuba María Hevia/Ada Elba Pérez)
REQUIEM DE LUNA (Liuba María Hevia)
HABANERAS DE CADIZ (Antonio Burgos/Carlos Cano)
VoL 7 – PUERTAS
LO INVISIBLE (Liuba María Hevia)
ANTES QUE NAZCA EL DÍA (Liuba María Hevia)
SE FUERON (Liuba María Hevia)
CON LOS HILOS DE LA LUNA (Liuba María Hevia)
SERÁ PORQUE DICIEMBRE (Liuba María Hevia)
TEMA PARA VERÓNICA (Liuba María Hevia)
TRISTEZA (Liuba María Hevia)
EL SUEÑO DEL ÁNGEL (Liuba María Hevia)
CAUTIVO (BENEDETEANDO) (Liuba María Hevia)
SE BUSCA (Liuba María Hevia)
ESCAPAR DEL PASADO (Liuba María Hevia)
PUERTAS (Liuba María Hevia)
TAMBIÉN COMO LA CIGARRA (Liuba María Hevia)
Vol 8 – NARANJO EN FLOR
VUELO AL SUR (Fernando Pinas Solanas/Astor Piazzolla)
EL CUARENTA Y CINCO (María Elena Walsh
EL ÚLTIMO CAFÉ (Cátulo Castillo/Héctor Stamponi)
LA NIEBLA DEL TIEMPO (Osvaldo Montes)
MALENA (Homero Manzi/Lucio Demare)
SUS OJOS SE CERRARON (Alfredo Le Pera/Carlos Gardel)
CHIQUILÍN DE BACHÍN (Horacio Ferrer/Astor Piazzolla)
VOLVER (Alfredo Le Pera/Carlos Gardel)
CAMBALACHE (E. Santos Discépolos)
A UN SEMEJANTE (Eladia Blázquez)
MAQUILLAJE (Hermanos Expósito)
LOS MAREADOS (Enrique Cadicamo/Juan Carlos Cobián)
CASERÓN DE TEJAS (Cátulo Castillo/Sebastián Piana)
COMO DOS EXTRAÑOS (María Contursi/Pedro Laurenz)
EL DÍA QUE ME QUIERAS (Alfredo Le Pera(Carlos Gardel)
NARANJO EN FLOR (Hermanos Expósito)
Bill Tilford - Saturday, 10 May 2014, 09:49 PM