SpanishEnglishLa Aplanadora de Cuba - (Bis Music) Released 2014
CD Review: La Aplanadora de Cuba by Elito Revé y su Charangón
(Bis CD 923 Released 2014)
Review by BIll Tilford, all rights reserved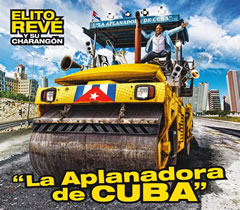 A new, smoking Changüi release by the Charangón. which is 58 years old as of 2014. After that many years, there isn't much I can say that has not already been said other than observing that the band is still consistently performing, recording and releasing some of the best dance music in Cuba, and having a female singer ("La China") in the front line has not softened them up musically.

Track 9 (Piso 6: Lo Más Pegao), a tribute to a radio program, features a small army of guest singers from other groups.

The only critque I have of this otherwise-excellent recording has nothing to do with the music - it is about the liner notes. I wish that all of the musicians had been mentioned in the credtis, especially when it comes to the rhythm section, which is the heart and soul of what makes Changüi so exciting. But don't let that be a reason to walk away from this recording - it is absolutely worth having.
Songs:
1. La Aplanadora de Cuba (Composer: Aisar Hernández Segundo)
2. No de ma la gana (Composer: Dagoberto Vázquez Valdés)
3. Esa soy yo Cuba (Composer: Aisar Hernández Segundo)
4. El Jala Jala (Composers: Rey Alsonso & Cristian Alonso)
5. El negoicio personal (Composer: Emilio Frías Peña)
6. La Pastillita (Composer: Aisar Hernández Segundo)
7. El nombrecito (Composer: Emilio Frías Peña)
8. No debo explicarte nada (Composers: Nelson Valdés & Wilfredo A. Naranjo)
9. Piso 6: Lo más pegao (Composer: Elio Revé Duverger)
10. Maricusa (Composer: Elio Revé Duverger)
11. Tony Sin Money (Composer: Dagoberto Vázquez Valdés)
Partial Roster of Personnel in La Aplanadora de Cuba
| Role - Instrument | Name |
| --- | --- |
| Director | Elito Revé |
| Vocals | Susel Orietta Gómez Pérez "La China", Dagoberto Vázquez Valdés "El Clásico", Lázaro Maya Morejón "Lachy Fortuna", Serguei Yera Madera "El Moro del Charangón" |
| Bass | Aisar Hernández Segundo |
| Tres | René Avich Wanton |
| Guest Vocals in Track 9 | Tania Pantoja, Yanna Machado, Leo Garrido, Maykel Blanco, Yasser Ramos, Yordis Larrazábal, Alexis Daid Zamora, Rey Alonso, David Álvarez, Juan Guillermo Almeida ("JG"), Roberto Hernández "Robertón", Pedrito Calvo, Norisley Balladares "El Noro", Ricardo Amaray, Francis del Río |
| Musical Production | Juan Manuel Ceruto, Aisar Hernández Segundo |
| Arrangments | Aisar Hernández Segundo (1, 2, 3, 6, 9, 10, 11); Wilfredo A. Naranjo (5, 7, 8) |
| Recording Engineer | Jorge Benítez Herrera |
| Mix | Alexeis Pérez Guzman, Juan Manuel Certo, Aisar Hernández Segundo y Elio Revé Duverger |
| Studios | Estudios Abdala, Sounid, Oficina Omara Portuondo |
Bill Tilford - Tuesday, 14 April 2015, 04:38 PM