Lo Nuevo
[hide]
Fotos Del Día
[hide]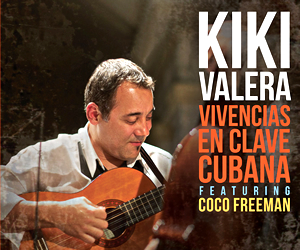 All Roads Lead to Rome
Zurich to Rome
If you are Cuban band touring Europe you will sooner or later end up in Rome. Although they had a concert at Fiesta in Rome later in the month, our first trip to Rome was as a stop on the way to the 4th concert which was in Lecce.
Our departure for the long trip from Zurich to Rome was scheduled for 3:00 pm. We all piled into the guagüita and settled into our usual spots when we heard the unmistakable sound of a starter being turned in a car with a dead battery. But there was no big delay waiting for AAA to come give the bus a jump. The situation was handled Cuban-style. All the guys climbed back out of the bus and pushed it up the street until the driver could pop the gear and start the car. I was not fast enough to get it on film, but they guys had good laugh that this kind of stuff happens outside of Cuba too.
The trip was expected to take 14 hours so I decided to put the time to good use by interviewing Maykel about his impressions of the tour after these first three concerts. Click here for the video interview.
Finding ways to kill time on the bus isn't easy. So I pulled out my camera, attached my iPod speakers and we watched some of the previous concerts. The guys would pass the camera around and every now and then Maykel would hear something and he'd come over and rewind and they'd listen to the section again, and he'd make some comments about something he wanted to change. He also started making up some new guías to Ella dice that were really good, but they never incorporated them during the tour. I was happy that I was able to make my own little contribution to the tour anyway.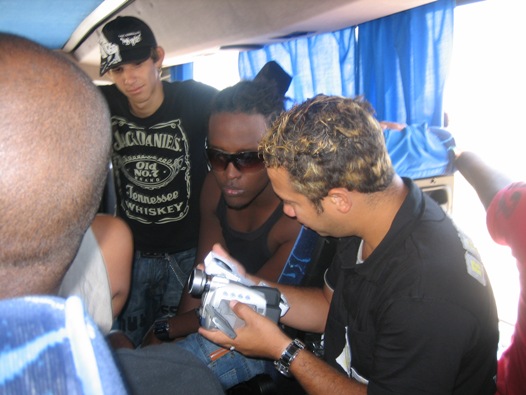 The guys evaluating the previous performances
The trip consisted of two parts. First we drove from Zurich to Milan. It was a beautiful drive through the Swiss Alps, but it was cold in the bus and outside when we took our rest stop. It ended up taking us about 6 hours to get to Milan.
VIDEO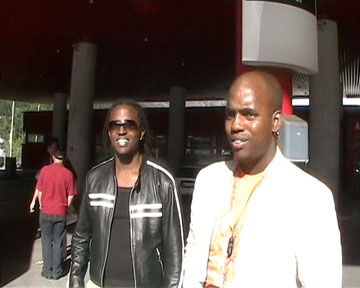 Taking a break in the Alps - beautiful but cold and windy
Once in Milan we went to the airport to pick up the new tour manager. Giovanni was leaving to meet Charanga Habanera and the new tour manager, Valerio, was flying in from Sicily. Sara was there too, so we now had 3 Italians, 14 Cubans and me packed into the ever-shrinking guagüita.
VIDEO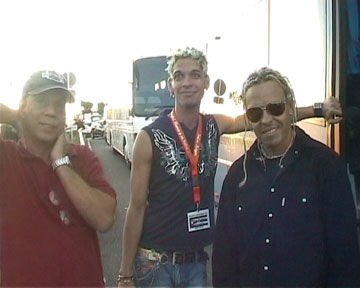 Waiting outside the airport for Valerio to arrive
Before leaving us, Giovanni took the band for dinner to a place where they could feel at home: Casa Della Música Milano. It is a nice restaurant and the guys were happy to get Cuban food.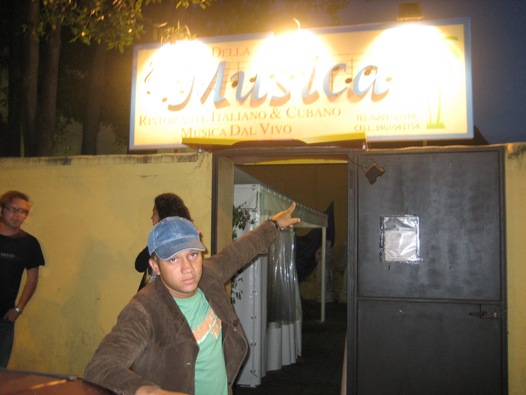 Maykel at Casa Della Música Milano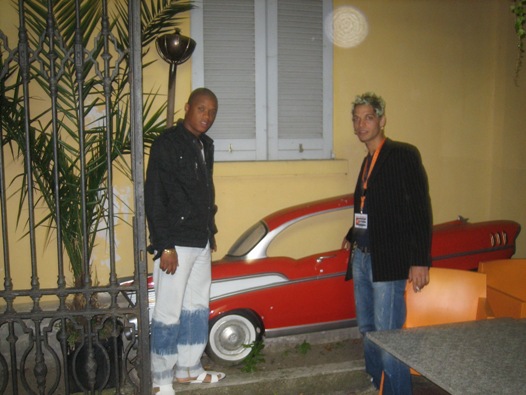 Richard & El Noro checking out the chevrolet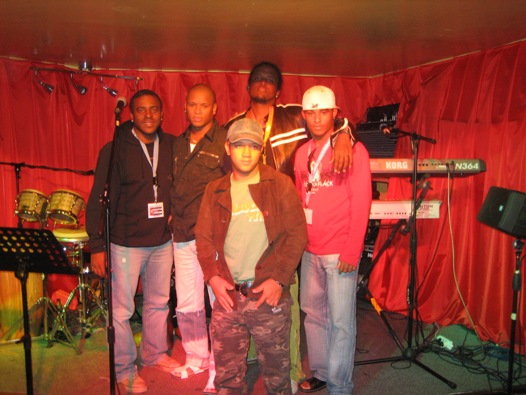 By now you should know all their names: Polledo, Richard, Antonio, Raydel & Maykel
There is also a small stage where a Cuban trio, Los Amigos Cubanos, was playing. It was surprising that three guys could play so many instruments at once. The did a nice show with two sets. During the first set some of the Salsa Mayor musicians joined in on congas, guiro and maracas, as well as singing.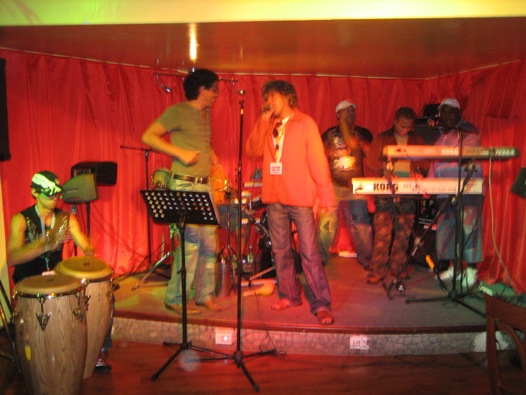 Jaime, Ricardito, Osvaldo & Maykel couldn't resist joining in
After everyone had eaten Maykel took over piano and had his singers come up 1 at a time. Norberto sang the slow intro to Ella dice as well as Años later on, Noro sang Recoge y vete and Ricardito sang Un montón de estrellas.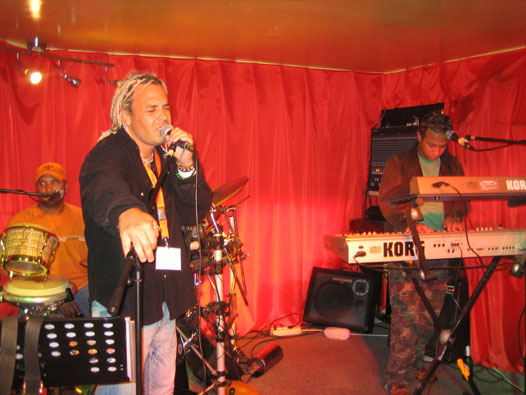 Norberto singing Ella dice, the unplugged version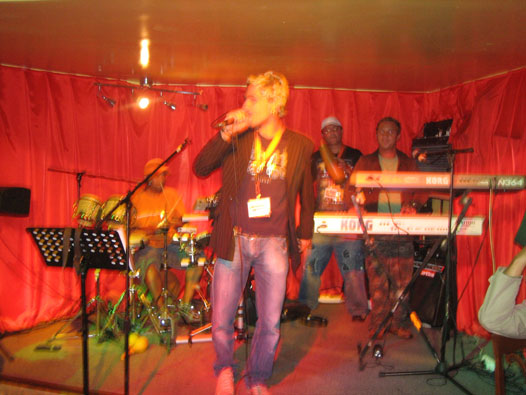 El Noro singing Recoge y vete, the unplugged version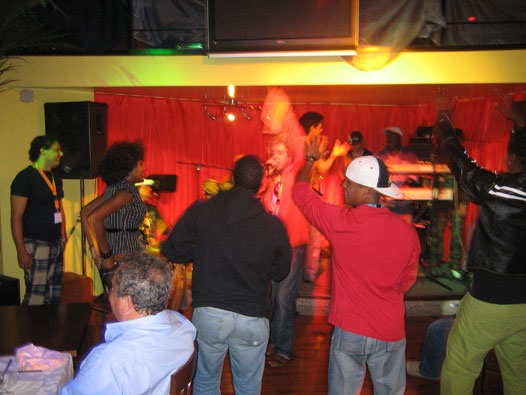 The rest of the band enjoyed things from the audience perspective
There were a few cubanas at the restaurant and they got up to dance dancing despelote and tembleque and after a while some of the guys from Salsa Mayor joined in to dance casino. I was surprised how many of Los Mayores are very good casino dancers. We were having a great time, but the road to Rome still lay ahead so at 1:00 am on July 6 we left Casa Della Música to continue the trip to Rome.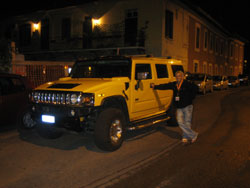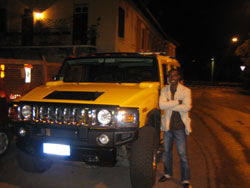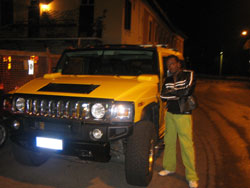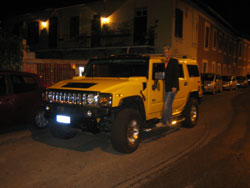 The SUV parked in front of Casa Della Música was a popular motif with the guys
Giovanni said goodbye and handed over his Maykel Blanco tour manager backstage pass to Valerio, and we moved out for the second leg of the journey. The guys started falling asleep after an hour or so but then around 3:00 am the lights came on in the bus. Valerio must have brought a bottle of champagne with him because suddenly Maykel was opening a bottle and everyone took a sip. I asked what we were drinking to and someone said "9 hours of traveling". Well why not? It's as good a reason as any.
VIDEO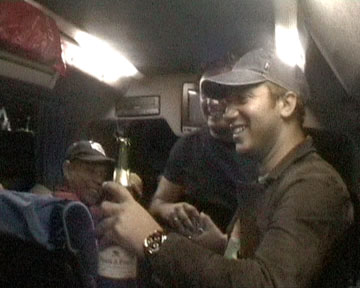 Celebrating 9 hours on the road
So after burst of energy, and a bit of talking and singing, people did their best to get some sleep again, occasionally stumbling out at some rest stop to stretch their legs or find some coffee or a bathroom. As I mentioned in the tour diary, you don't want to fall asleep in the bus with Salsa Mayor because you might wake up with a piece of a napkin rolled up like a cigarette and stuck in your mouth. They kept doing that to all the guys who fell asleep and had their mouth open.
At about 11:00 am we finally arrived at the hotel on the outskirts of Rome, after nearly 20 hours on the road. Despite the exhaustion from so many hours on the bus nobody wanted to sleep. We checked in, showered and then everyone headed out to go shopping...again.
Click here to read about the long, long trip to Lecce where it was Love at First Sight.
miércoles, 23 marzo 2011, 03:31 am