New Stuff
[hide]
Photos of the Day
[hide]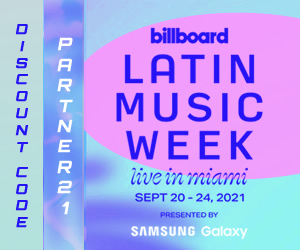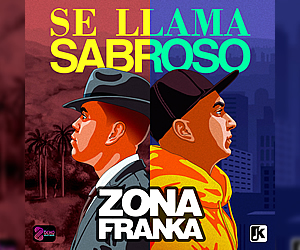 Juan Carlos Alfonso with Revé
by Kevin Moore
(excerpts from The Roots of Timba)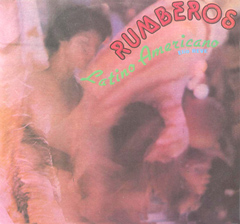 Revé's Rumberos latinoamericanos was the second in a string of 8 classic albums. After 1982's landmark Elio Revé y su ritmo changüí, Revé suffered another mass exodus of musicians, but he replaced them quickly and released an album that was almost as inspired and much better executed and recorded than its historic predecessor. The mystery bassist was replaced by the equally brilliant Pipo Noroña, and the new musical director/pianist was the great Juan Carlos Alfonso. The trombonists are much tighter and more in-tune. Félix Baloy, the only lead singer on the 1982 LP, was replaced by a trio of great vocalists that would stay together for 4 albums. Héctor Valentín, William "El Padrino" Esquivel, and Ricardo "Alfonsito" Alfonso.
Valentín had a huge hit with the opening track Ruñidera [source], and also sings lead on the title track [source], JC Alfonso's first of several brilliant forays into the new subgenre that I call "orchestrated rumba" -- traditional guaguancó vocals and drums, with no bass or piano tumbaos, but with bold, almost symphonic instrumental accompaniment -- a style that was already being popularized by Los Van Van (De la Habana a Matanzas) and Irakere (Ese atrevimiento), and that continues to be used in the timba era, a notable example being Manolito's Ven ven siroco ven. All of these songs eventually morph into full band dance tracks, and Rumberos latinoamericanos is no exception, with El Padrino taking over with a brilliant series of pregones that will remind timba fans of El Indio's similar historical litany on Llegó la música cubana.
El Padrino's biggest hit from this album was Changüí campanero [source], with another creative introduction from arranger Juan Carlos Alfonso. From a timba perspective, however, the most creative aspect of the arrangement is this early precursor of the "pedal gear" that we'll be covering in detail in Volume III. Padrino also sings Tan linda [write EGREM], containing the album's most overt changüí influences. The cuerpo has many quotes from Pastorita guararey [source], and the breakdown briefly goes to almost pure changüí.
The third new singer, Alfonsito, has only one song on this album, but it was one of the biggest hits of 1986, Yo sé que tú sabes que yo sé [source]. Alfonsito's singing style had a huge influence on the next generation, as did the breakdowns in this great arrangement.
There are no boleros or filler tracks on this album -- every song was a hit and the band became the rage in Havana, earning it the apodo "La explosión del momento" that inspired the title of the third album the next year.
---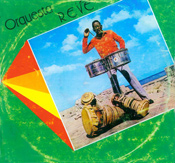 Orquesta Revé: La Explosión del momento
By 1987, Orquesta Revé's popularity had earned them the street name "La explosión del momento" -- providing a perfect title for their third album since creating the innovative charangón instrumentation.
Musical director Juan Carlos Alfonso had established himself as one of the most brilliant and sophisticated arrangers of the era. As an introduction to Alfonso's arranging prowess, let's start with a rare non-dance track, Injusta duda [write EGREM]. The charangón format has a large palette of timbres for the arranger to deal with: piano, tres, violin section, bass, trombones, chorus, and lead voice. Injusta duda showcases each element and calls attention to the exceptional group of musicians that Alfonso had at his disposal. Papi Oviedo's tres playing combines the rustic changüí feel with the execution of a classical guitarist. Similarly, even El Padrino's most rootsy "voz de vieja" vocalizations are delivered with flawless intonation and control. Pipo Noroña's bass-playing is effortlessly virtuosic and is featured throughout the album with several solos and bass introductions such as this slap & pop section from El ron es pa' después [source].
Now let's listen to Alfonso weave all these elements together into one of the most creative tracks of the 80s, No me cojan para eso [source]. Pipo plays the introduction alone using bass harmonics, followed by a nice bloque and a short montuno preview.
The cuerpo, sung by Alfonsito, begins with an extremely creative chord progression. A survey of thousands of songs, Latin and otherwise, will confirm that it's almost impossible to use a minor chord on the 7th degree of the scale without modulating. The Beatles managed it with major chords in Sexy Sadie and I'm so Tired [source], but Alfonso does it with a minor vii chord: C - F - C - C | Bmi - Bb - Ami - Ami, creating a truly memorable hook. [note: this excerpt is from the De nuevo version which demonstrates the harmony more clearly].
The long and lovingly-constructed cuerpo is full of such magical passages. Pay special attention to this downward motif -- Alfonso, like a classical composer, will bring it back in a different guise in the wonderfully innovative mambo.
"Mambo" is a word with many meanings. Arsenio Rodríguez created the concept when he replaced the single, improvising trumpet of the son sexteto with a pair of trumpeters and wrote short, repeating rhythmic figures for them to play at the climax of each arrangement. Arsenio called these sections diablos [source]. When Cachao decided to incorporate this approach in Arcaño's danzón orquesta, he called it "mambo". It became so popular that bandleaders such as Pérez Prado began to write entire arrangements in this style, creating the "mambo" genre. In his excellent treatise on Arsenio, David F. García relates that Arsenio began to rue the day he "created the monster" because the mambo craze had taken the focus off of songwriting. Eventually Latin dance arrangements evolved to a format that consisted of a cuerpo followed by a montuno section consisting of multiple alternating coro and mambo sections. At first most mambos used the same chord progression as the coros, but by the timba era it became common to create a new harmonic vamp for the mambos.
With No me cojan, JC Alfonso goes several steps further. Instead of writing a repeating vamp, this mambo is a composition within a composition, with independent trombone and violin parts intertwined over a continually evolving chord progression. Then comes the masterstroke. Remember the downward motif from the cuerpo? As the mambo ends, we hear it again - but in the wrong key! But instead of repeating as it did in the cuerpo it continues downward, bringing us back to the original key and the bloque the led to the montuno preview. Now listen to the complete mambo in context.
Another dazzling arrangement is Changüí clave [source]. The genius of JC Alfonso's arranging is that he makes it seem like an impromptu jam session, with instruments, drums and voices coming in and out of the mix when in fact, he's controlling every entrance with exquisite attention to detail. In this first excerpt we have:
-- 3-part unaccompanied vocal
-- instruments and percussion in unison
-- 3-part unaccompanied vocal (repeat)
-- instruments together with percussion commenting
-- clave alone, followed by standard layering of guaguancó percussion
-- first voice enters
-- second voice enters in unison
-- third voice enters in harmony
It's a particularly nice touch when the third voice enters higher while the overall melody is going down.
The next section continues in the same vein -- highlighting the bass, tres, piano and voices in various ways and finally building up to the band's full entrance and El Padrino's pregones.
The second coro starts against a triple time rumba columbia-like folkloric groove. Here's a loop of the basic phrase in normal tempo and at half speed.
There's a rhythmic tug-of-war of sorts with the percussion holding the triplet groove and the voices and instruments straining towards straight time, creating an exhilarating rush when the band finally roars in and decides the issue.
Espero que pase el tiempo [source] features another of Alfonso's sophisticated mambos, with beautiful interplay between the trombones and violins and, as usual, sections which solo various parts of the rhythm section. Also listen to the strange but beautiful melody of Valentín's last guía before the mambo begins, single-handedly implying a completely different chord progression. Our second excerpt features another great coro, Pipo and Alfonso trading solos, and an aggressive trombone mambo before fading out as Elio Revé overdubs his trademark vocal interjections over his own solo.
---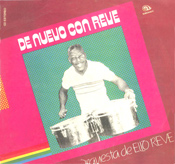 Orquesta Revé: De nuevo
Both No me cojan para eso and Changüí clave were re-recorded on the mysterious De nuevo album that Revé recorded in Santiago for Areíto's sister label, Siboney. The album also contained two hits from Rumberos latinoamericanos and a long traditional medley of Juan Almeida songs that takes up all of side A.
All the versions that can be found on CD reissues are from Explosión del momento. The De nuevo versions would be ideal bonus tracks for the comprehensive Revé box set that we're trying to encourage EGREM to release.
---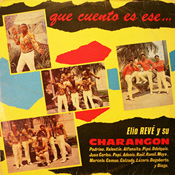 Orquesta Revé: Qué cuento es ése
This is the third and final Revé album before musical director Juan Carlos Alfonso left to form Dan Den.
With Rumberos latinoamericanos and La explosión del momento, Alfonso had already established his credentials on three levels: as a pianist capable of combining rhythmic drive with masterful technique and control; as a gifted pop songwriter (No me cojan para eso); and as an unusually sophisticated and polished arranger (Changüí clave). On Que cuento es ese, he continued to evolve on all three fronts.
Juan Carlos Alfonso the Pianist
As a pianist Alfonso is more comparable to Lilí Martínez or Manolito Simonet than to Tirso Duarte, Melón González or Sergio Noroña (the brother of Revé's bassist Pipo). By this I mean that he accompanied the arrangements [source] with flawless classical technique and orchestration, and played exciting and virtuosic solos [source], but when it came to the montuno section, his tumbaos were fairly predictable. To put it another way, he was a brilliant pianist but from our "roots of timba" perspective, not one of the pioneers of the bold new style that involved creating distinct piano tumbaos for each new song.
Juan Carlos Alfonso the Songwriter
Alfonso wrote two more huge hits for this album, both overflowing with harmonic, melodic and lyrical hooks.
Más viejo que ayer, más joven que mañana [source] begins with the afore-mentioned piano intro which leads to a montuno preview section. The most original and haunting part of the cuerpo is the opening phrase. The cuerpo is followed by an instrumental passage which leads to what sounds like it should be the montuno section, beginning with the same melody as the montuno preview. But Alfonso surprises us by continuing the cuerpo with some very interesting new material before finally giving us the montuno proper. The second montuno is also very strong and features some exceptionally creative singing from Valentín as he slides in over the top of the coro with a beautiful descending guía.
It's easy to hear why La gente no se puede aguantar [source] was such a monster hit. To understand the title ("Revé's fans simply can't be restrained") just imagine an extended live version of this song in 1988 Havana. Every section has a world-class hook, beginning with the opening vamp. The cuerpo isn't as long and complex as Más viejo but it's at least as catchy and Alfonsito's voice has an amazing resonance that strongly reminds me of one of the greatest timba singers. I've never interviewed Carlos Kalunga of Klímax and Manolito, but I'd be willing to bet that he grew up singing along with this track.
Juan Carlos Alfonso the Arranger
As good as the opening of La gente no se puede aguantar is, it's surpassed by the coros and Alfonsito's guías, and this is also where the foreshadowing of timba is most evident. To understand the connection, let's step back and discuss coro sections in general. The normal formula calls for a rhythm section tumbao of 1, 2, or 4 claves with the coro and lead singer alternating. As we'll discover when we get to the 90s, the timba arrangers delighted in twisting and extending this formula in every conceivable way, and we can hear the beginnings of this trend in La gente no se puede aguantar.
Coro 1 lasts one clave and leaves symmetrical 1-clave holes for Alfonsito's guías, but listen to the 2-clave chord progression. The coro is sung against C - C - Bmi7b5 - E7 while the guías use Ami - Ami - Dmi7 - G7.
Coro 2 is asymmetrical on two levels, leaving Alfonsito two different types of hole and bringing the trombones and violins into the mix:
claves
arrangement element
1.5 + .5 + 2
coro + guía + coro
2
trombones
2
violins (El manisero quote)
4
guía
1.5 + .5 + 2
coro + guía + coro + guía
4
guía
1.5 + .5 + 1 + 1
coro + guía + coro + guía (overlapping)
4
guía
||: .5 + 1.5 +.5 + 1.5 :||
||: trombones + coro + trombones + coros :||
(w/ vocal interjections)
Alfonso saves his most ambitious arranging for the final two tracks Recuerdos de aquel solar [source] and the title track Qué cuento es ése [source]. Both are spectacular examples of the "orchestrated guaguancó" format.
Rumberos latinoamericanos (1986), La explosión del momento (19875), and Qué cuento es ése (1988) can be thought of as a trilogy that combines the almost symphonic grandeur and detail of Alfonso's arranging with raw, rustic, funky groove of the Revé rhythm section and one of Cuba's greatest and most perfectly-balanced 3-singer front lines. It's sad that they went their separate ways after 1988, but just as this band helped us forget the disappointment of the breakup of the great 1982 band, Revé would once again land on his feet with the next great incarnation of the Charangón.
Monday, 19 March 2018, 04:15 PM