New Stuff
[hide]
Photos of the Day
[hide]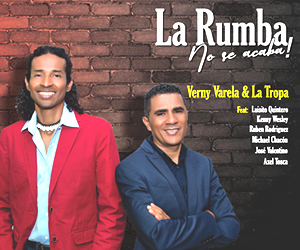 written by Majela Serrano ©2002
photos by Ulrich Wode - check out his article at sals@lemania.de
pictured above: Robertón, Emilio Morales (pno), Paulito FG, Sandier, Mayito, Sombrilla, Pedrito, Manolín, Issac, Juan Formell, Michel Maza, Aramís, Tony Calá
musical examples of Team Cuba in Varadero and Havana
from the Cuban TV show "Mi Salsa"
example 1 - from the concert in Varadero, Cuba
example 2 - from the concert in Varadero, Cuba
example 3 - from the concert in Varadero, Cuba
example 4 - from the concert at the Capitolio - Havana (MC: Joaquín Muléns)
Team Cuba was perhaps the most important event of the decade in Timba. They joined together in one band "lo mejor de la Timba, el Team Cuba"! ("the best of Timba, Team Cuba"). It was like a dream come true for thousands of fans gathered in the Capitolio, Havana, on May 15, 1998. But the real history began 3 months earlier, as I was told.
The first reherasal took place on February 13, in the well-known Tropical, one of the oldest dance venues in Havana. Its full name is Salón Rosado Benny Moré de la Tropical, and ever since the days of Benny Moré it's been a really important venue for Cuban popular music.
La Tropical has been like "home" for Los Van Van for years, so maybe Team Cuba was born there, not only because it was where they rehearsed, but it may have also been the place where Formell came up with the idea of forming this kind of band. As he explained to the press, he based it on the succes of the bands in Cuba and all over the world in the past 5 years, trying to commercialize this music (a kind of Fania All Stars), and to get the "all stars" of Timba. He picked out 7 bands: Adalberto y su son; Charanga Habanera; Manolín el Médico de la salsa; NG la banda; Issac Delgado y su grupo; Paulito FG y su élite; and of course, the most beloved one, Van Van.
Kevin Moore - Wednesday, 23 March 2011, 03:31 AM