Café Cantante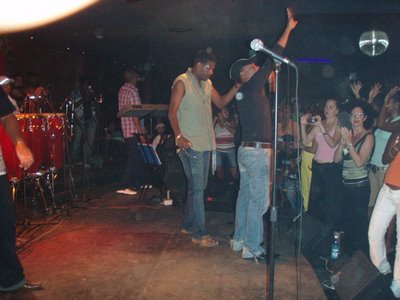 Manolito y su Trabuco with their adoring fans (note the extranjera with camera) at Cafe Cantante.
Pic by Helen.
CAFE CANTANTE "MI HABANA"
Paseo y 39, Plaza
Tel: 873 5713/879-0710
Matinees: 4pm-9pm Entrada: $5/$10
Nights: Main band on around midnight

Cafe Cantante used to be upstairs where Delirio is now. Now it's in the basement: a dark, grim, low-ceilinged room with terrible sound and an awful PA system. However, it's worth going to because the matinees are usually cheaper here for Cubans, so you can get a great party vibe - the Trabuco matinees there earlier this year were terrific, reminding me of the small local gigs I went to in innercity Sydney in my teens (in the neolithic era). The stage is very low, which is a bitch if you're up the back (cause you can't see anything) but fantastic if you're down the front, as it makes you feel like you're right in there with the band. There is always lots of audience participation - peeps in the audience carrying on conversations with band members mid-gig. Loads o' fun. Beware the reggaeton before and after - it's very loud, and often distorted. Take earplugs. Also, after Tumbao Havana play on Friday nights ($5 entry), it's discoteca (house) all night.
Michelle White - miércoles, 23 marzo 2011, 03:31 am