Salsa Rueda Festival 2013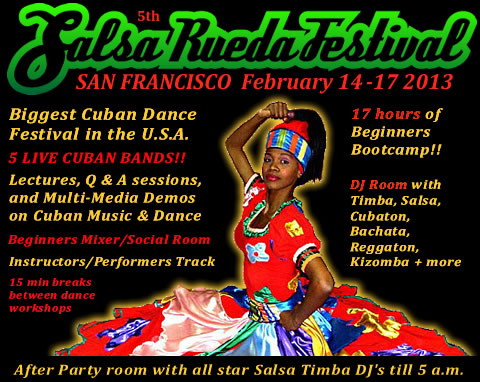 2013 - The 5th Annual Salsa Rueda Festival in S.F.
click here for tickets
Timbaversity Guest Stars - Isaias Rojas, Ned Sublette, and Roberto Borrell
Lectures, Q & A sessions, and Multi-Media Demos on Cuban Music and Dance
15 min breaks between dance workshops.
5 LIVE CUBAN BANDS!!
17 hours of Beginners Bootcamp!! -- Beginners Mixer/Social Room
DJ Room with Timba, Salsa, Cubaton, Bachata, Reggaton, Kizomba and more
Instructors/Performers Track -- After Party room w/ all star Salsa Timba DJ's till 5 a.m.
DANCE INSTRUCTORS-2013
Isaias Rojas* (Havana, Cuba) -- Yeni Molinet (Havana - Italy) -- Roberto Borrell (Havana-Bay Area) -- Kati Hernandez (Havana-Los Angeles) -- Yismari Ramos Tellez (Havana - Bay Area) -- René Dennis Thompson (Havana - Minneapolis) -- Temistocles Betancourt (Havana - Bay Area) -- Duane Wrenn (Detroit) -- Julian Meija (Atlanta) -- Ramon Ramos Alayo (Santiago de Cuba - Bay Area) -- Luis "El Indio" Martinez (Havana - Mexico City) -- Sandra Moro Sleeper (Austin) -- Royland Lobato ( Guantanamo - Bay Area) -- Susana Arenas Pedroso (Havana - Bay Area) -- El Salsaron Cubano (Havana) -- Mike & Simona (Corvallis) -- Chris Rogicki & Evelyn Ramirez (New York City) -- Rick Washington (Bay Area) -- Yussef Breffe (Havana-Bay Area) -- Greisy Prieto & Javier Rosillo (Venezuela) -- Leslie Vazquez & Reinier Fernandez (Havana-Mexico City) -- Amanda & Adrian (D.C.) -- Victoria-Hadar Harel (New York City) -- Tania de La Pena (Los Angeles) -- Wilfredo Guilbiac Rodriguez (Havana - San Diego) -- Nick and Serena (The Bay Area)
2013 Dance Performances
Salsa Vale Todo (SF/Bay Area) -- Rumbanana (Corvallis, OR) -- Las Que Son Son (The Bay Area, CA) -- SALSAtlanta (Atlanta, GA) -- Rueda Vale Todo (SF/Bay Area) -- Fuakata (New York, NY) -- Yeni Molinet (Havana - Italy) -- D.C. Casineros (Washington D.C.) -- CMV con Ritmo (Mexico City, Mexico) -- Ladies of Salsatlanta (Atlanta, GA) -- CMV Kids (Mexico City, Mexico) -- Grupo Experimental Nago (Bay Area) -- Dale Tumbao (Eugene, OR) -- Timba Casino (Mexico City, Mexico) -- Danzarte Maracaibo (Venezuela) -- Fuego Latino (Watsonville, CA) -- Street to Stage (Minneapolis, MN) -- Salsa con Rumba (Mexico - Washington) -- Arenas Dance Company (Bay Area) -- Nick and Serena (SF/Bay Area) -- Las Puras (The Bay Area, CA) -- Rueda Rockets (Moffet Field, CA) -- Bruno and Ann (Minneapolis, MN) -- Dance in Time (D.C.) -- My Salsa Performance Group (Atlanta, GA) -- Cubata (San Diego, CA) -- Soulclectic Roots Dance Company (L.A., CA) -- Sarah Herrera & Adetola Williams (Bay Area)
Michael Lazarus - domingo, 06 enero 2013, 03:26 am