New Stuff
[hide]
Photos of the Day
[hide]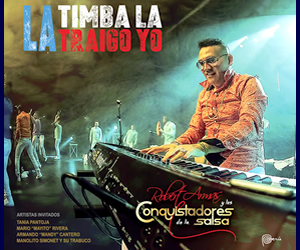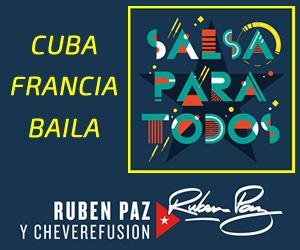 4th Annual Festival Cubano, Part II
4th Annual Festival Cubano, Part II
Riis Park, Chicago Illinois, August 2-4 2013
Story and photos (except where otherwise noted) by Bill Tilford, All rights reserved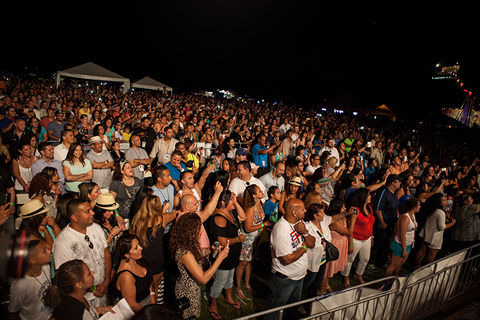 If you build it, they will comparsa... (photo supplied by Alejandro Riera courtesy Festival Cubano)
The photo above was taken during the Saturday night session of the Festival, and it helps illustrate a point I have made frequently in the past - in places like Chicago, it is easier to present Timba successfully if it is presented along with other music that is also of interest to the crowd to help expand the audiences for the music and bring in new listeners. This edition of Festival Cubano proved that beyond any reasonable doubt. It would have been impossible for private presenters to bring Timbalive all by itself (or for that matter, along with nothing but other Timba bands) at $5-$7 a head without losing enough money to prevent attempting it twice, and our best venues for this music have learned the hard way that charging $30-$40 for a ticket for this music doesn't seem to work here. I want to see more Timba in Chicago as much as anyone, and I'm going to ask the hard-line purists within our community to try to adjust to the fact that working cooperatively with the Salseros and other traditionalists is getting that job done after almost every other method has failed to bring consistent results.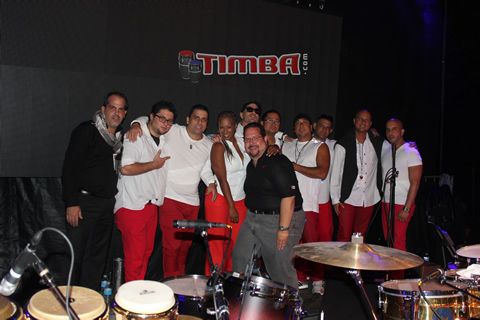 Frank Camacho with Timbalive (Frank is standing in front of the band)
I don't normally say too much about organizers, but I want to congratulate George Herrera and the Eventlife team for cracking the code and getting the music here. Anybody who can bring us Timba at that price (and at a private sector event to boot) deserves a public hand. I am also going to single out their team's designated sufferer, radio host and master of ceremonies Frank Camacho of WCGO (1590 AM), whose Saturday morning program, Sabados de Fiesta, is a musical oasis in the vast wasteland of AM radio. Just by being that visible, Frank also drew the short straw for reading and listening to some of the occasionally-surreal complaints and observations I hinted at last time. If he survives that experience with his sanity intact, you should check out his show, which also streams on the web, some time. After all, radio hosts like Frank don't have the same legal protections against extinction that other wild animals enjoy.
Day 3 - Breaking Cuban
I used the press, musicians and other troublemakers parking today because I knew I would be leaving the park about the time that the police would be throwing us out, and I wandered into the middle of Mambo Fino's set after arriving. Mambo Fino normally has four female singers but brought three (Maribel López, Diana Mosquera and Maria Carballo) for this occasion. The pianist is Cuban-American Yendrys Cespedes, who also plays with Hector Silveira, and the ladies are from Puerto Rico, Colombia, Poland and Argentina. Their set covered a mix of things from cumbia, merengue, guajiras, cha-cha-cha etc. Nice harmonies and very pleasant stage presence. This group has been working some of Chicago's restaurants recently. Mambo Fino was followed by local charanga orchestra Charangueo, a group dedicated mostly to preserving that nice retro swing of the charangas from the 40s-60s, but they throw in some modern touches here and there in the percussion section. From this point forward, the music was stone Cuban continuously for the rest of the festival.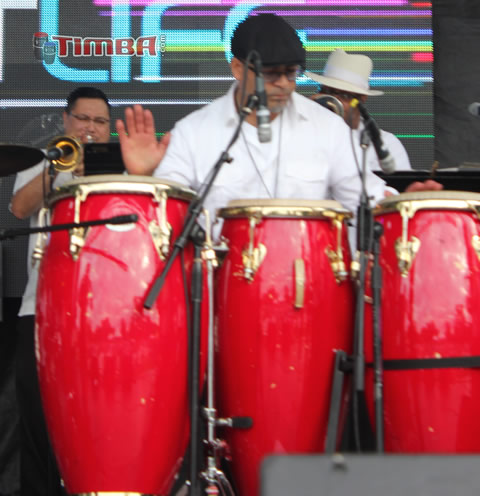 Was this a clue?

"He's dead, Jim." In the very first Star Trek television series, it was said that you could always tell which members of the away team were going to die during the episode because they always wore red shirts. For whatever reason, at the vast majority of Chicago's music festivals, whether public or private, at least one band experiences an attack by a hostile Romulan sound system at the worst possible moment. This festival's casualty was Hector Silveira's band, and I noticed that there were red congas on stage, so now I'm going to start keeping track of that little detail at future festivals. This is an excellent band, I heard it as recently as a few weeks before this event, and when the brass section is coming through the board correctly, it can face off with almost any dance band in North America. Alas, probably due to the absence of a full sound check, the sound that reached the audience included brief moments best described as Los Metales del Error rather than the original NG horns that these guys could challenge when everything is working properly. Those of you who were in the audience, give Hector another shot when he comes out to play again. Incidentally, his bassist, Ian Stewart, has been contributing to the Escuelas section of TIMBA.com. If you are a bassist yourself, check it out. Chicago's La Dama de la Salsa, Sureya, followed. Sureya's core repertoire is out of the Celia era as well, and she performs it with conviction, but fortunately she and Xiomara Laugart covered different material in their sets. Sureya also knows how to win over a crowd, and it would have been interesting to hear her and Xiomara Laugart together in a song or two.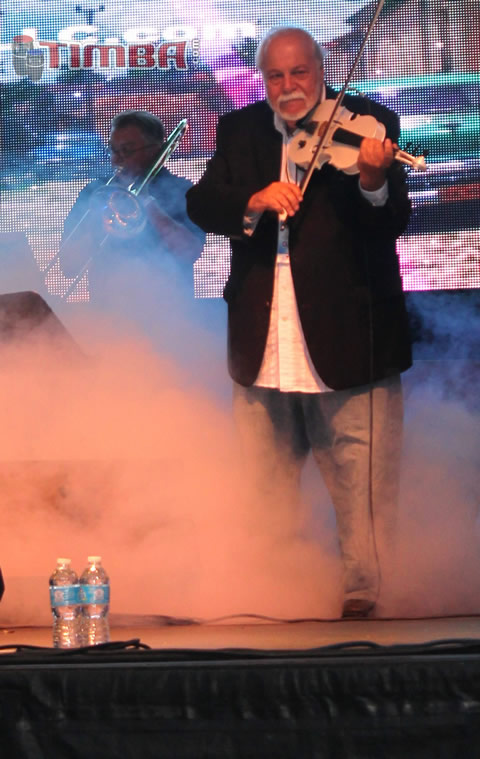 "I don't always play descargas, but when I do..."
"Blessed are those who play in descargas, for they shall hear God..." Although the use of the late and venerated Cachao's image, even though authorized, did provoke the stray wisecrack from some folks, the Cachao Mambo All Stars preached a set based in part on passages from what many in my generation of musicians really did call The Bible, also known as the Cuban Jam Session series and later recordings that El Maestro recorded for Panart and Maype. (Granted, many of us as youngsters paid rapt attention during sermons and then went back to sinning during the rest of the week, but listen we did, and those who learned well often did well.) This material still inspires when played by those who really feel it, and in my opinion one of the best things this Festival has done in its four years of existence is bring the message of Descarga Cubana, Pamparana and Lindo Yambu to some of those who have never before received The Word.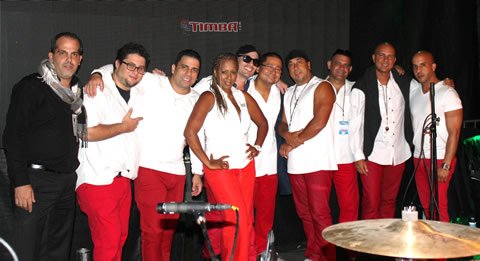 Timbalive, as if you had to ask...
La Timba pa' to el mundo de verdad... The perfect climax to the night and the festival as a whole, Timbalive was apparently able to get its deflector shields up in time to avoid significant damage to its sound (note too that the color of their congas is brown), and it rocked the park. I was a late convert to this group, but it has grown on me ever since I gave the second recording, La Timba pa to' el mundo, a hearing (which they won) in the Tilford District Court of Musical Appeals. (My original issue was with their use of reggaeton elements in some of their songs, but I'm past all that now.) Their Timba is the real deal (the folks at Cubadisco obviously agree), and at this concert, some of the more old school aspects of their background came through as well. They also did a very nice cover of Los Van Van's Chirrin Chirran, and truth to be told, they are one of the few bands on the planet that can pull off a LVV cover without making you wish they had tried something else instead. After seeing them live here, in a setting that didn't give me other things not related to the band to grumble about, call me a true fan. This was authentic Timba bliss, and as far as I can tell, it doesn't appear to have sent masses of people fleeing in terror, which sometimes happens when the uninitiated and unprepared have their first close encounter with our favorite dance music. Sopla Mi Trombon, a high-energy conga that put much of the park in synchronous motion (I wonder if they could feel it in the apartment complexes outside the park?), closed out the festival.
Musically speaking, it's morning in Chicago again. The one downside to success is that it breeds the expectation of success. But Festival Cubano, don't expect me to feel sorry for you about that. And congratulations one final time.
Click on the thumbnails below to enlarge the images.
Row 1: Mambo Fino
Rows 2: Charangueo
Rows 3-4: Hector Silveira
Rows 5-6: Sureya
Rows 7-8: Cachao Mambo All Stars
Rows 9-12: Timbalive















































Bill Tilford - miércoles, 07 agosto 2013, 04:09 pm