New Stuff
[hide]
Photos of the Day
[hide]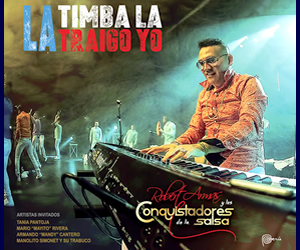 5th Annual Festival Cubano I
5th Annual Festival Cubano Part I
Riis Park, Chicago IL 15 August 2014
Photos and Summary by Bill Tilford, all rights reserved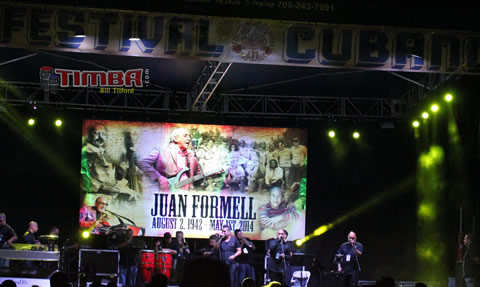 Opening night has historically seen the smallest crowds of the weekend for the festival, but this year, the evening did include a special moment with a tribute to the late Juan Formell by Pedro Jesus. The backing band included trumpets as well as trombones, and it did not attempt to duplicate the Los Van Van sound, but its renditions of songs like Sandunguera were very well done for a group with this instrumentation. The thiing is, listening to almost any other band - no matter how good it is - doing Los Van Van songs reminds you of how special Juan's handiwork and the arrangments really were - it is almost impossible not to miss the original even while you are enjoying the cover.

Since many of the musicians in the backing band were Jazz musicians and Salseros by training rather than Timberos, and many more in other bands are coming to Songo and Timba for the first time, I'm going to take this opportunity to throw in a blatant commercial plug for the fine educational materials written by Kevin Moore - his Beyond Salsa series, which has modules for Bass, Percussion, Piano and even Ensemble, is an excellent tool for learning to master the nuts and bolts of playing Timba. You can find many of these in the Timba.com store.

Just in case anyone thinks that we media folks always live hassle-free lives at these things, the Invasion of the Giant Beer Trucks zeroed out many of what had been designated as media/artist/etc. parking spaces. To its credit, the Festival staff did an excellent job of accomodating us refugees (this did NOT involve moving all the offending beer trucks, since beer is more necessary to a festival's success than visiting media), but I did hear more "NO's" during the parking process than I normally hear in any activity other than pursuing females.

Before Pedro Jesus took the stage, a series of local acts plus salsero Frankie Ruiz Jr. (the festival includes musical acts from both wings of the bird) performed.
You can find a potpourri of photos from the day below. Click on the images to enlarge them










Bill Tilford - Saturday, 23 August 2014, 01:28 AM