7th Chicago Latin Jazz Fest
7th Chicago Latin Jazz Festival
Humboldt Park Boathouse, Chicago IL June 19-20, 2013
Photos and Review by Bill Tilford, All Rights Reserved
Normally I wouldn't open this type of review with a shout-out to a corporate sponsor, but this festival is growing at a time when so many other music events in Chicago have been scaled back or cancelled, and that truly is worth recognizing, so Thank You, BMO Harris Bank, for stepping up with a level of support that helped permit this festival to expand from one day to two days. I am especially impressed because I learned the hard way what can be involved in making the corporate sponsorship thing happen a few years ago while helping out with a different festival.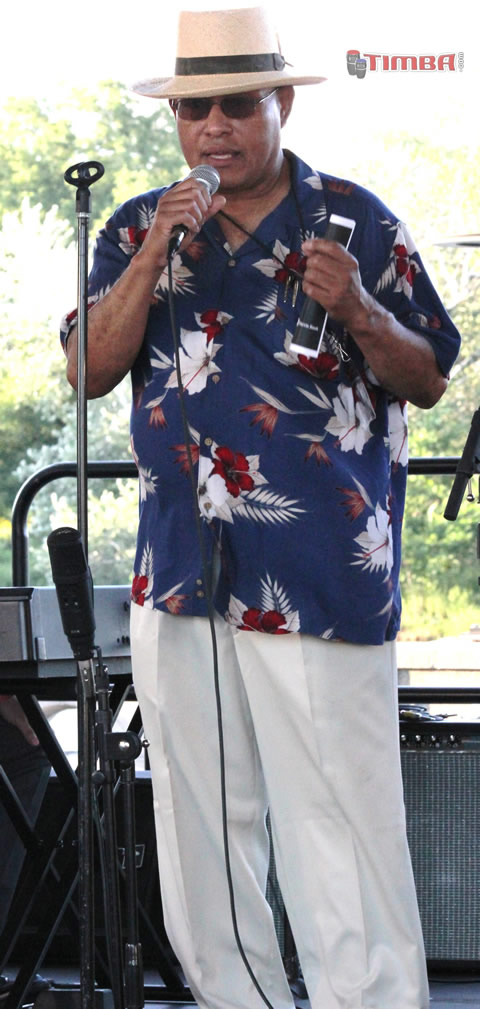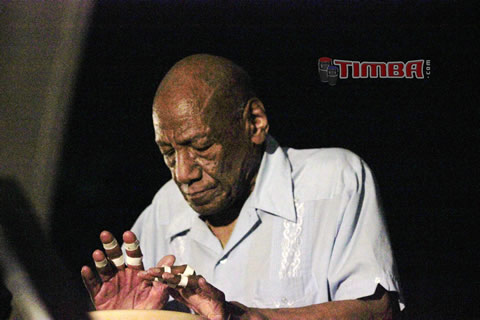 Left: Carlos Flores, Artistic Director for the
7th Chicago Latin Jazz Festival

Center: Candido Camero

Right: Lauren Deutsch, Executive Director
Jazz Institute of Chicago
This event is an extension of the Neighborhood Nights program of the Chicago Jazz Festival and the Chicago Park District's Night Out In The Parks, and the program is produced by the Jazz Institute of Chicago. The Boathouse is situated right beside the Humboldt Park Lagoon and is a beautiful setting for the event, although if the festival continues to expand and attract more people, it could easily outgrow this space within the next couple of years. The acoustics in the boathouse can be variable depending upon where one is physically located, as we noticed while moving about during the evening, and this affected some groups more than others, but this did not prevent a lot of wonderful music from reaching the ears of the crowd.
One thing that the Festival does especially well is present local talent that deserves more recognition than it often receives in addition to "name" acts. A case in point: the first night's program opened with the Greg Duncan Latin Ensemble, a group that I had been consistently failing to check out ever since it first came together. This group includes a cajon in the percussion section and draws much of its inspiration from the Flamenco Jazz movement in Spain, where the leader, Mr. Duncan, spent two years in 2009 and 2010. Their performance here proved that failing to hear them earlier really was my loss. This ensemble was followed by another fine local group, the Edwin Sanchez Project, which also features Mr. Duncan on trumpet along with the ubiquitous saxophonist/flautist Steve Eisen on reeds. Edwin's group is not something you'll hear in a restaurant or small club, and it works in the more mainstream part of the Latin Jazz spectrum.
The first night ended with Hilario Duran, Jane Bunnett and Candido Camero in trio. This was largely a laid-back but beautiful program of Cuban classics, and at age 92, Candido, who is still quite functional on congas if not as utterly ferocious as he was in his youth, is yet another prominent Afro-Cuban artist who has been able to continue performing and bonding with crowds well after age 90. This raises the question of whether la clave might have life-extending qualities, but there are probably other factors involved as well. Most of us would undoubtedly be grateful to be able to sit in front of a set of drums at that age, much less play them as well as he still does. The evening closed with the three of them playing Conga Jam, in which Candido did a little call and response with the audience.
Night two opened with Son Bayu, another local group that is fairly new (it first came together in 2010), and bassist Jose Porcayo and trombonist Bill McFarland were new since we last saw this group. Vibraphonist/xylophonist Marty Singer together with McFarland's trombone helped give the group a vibe that was at times similar to the old Tjader/Palmieri songs. The sound system, the acoustics and the vocalist did not seem to get along all that well, but their set was otherwise solid. This was followed by Joe Rendon & Friends, which loaded up in the percussion section featuring Joe on congas, Jean Leroy on traps, Albert Sierra on timbales and Albert Sierra Jr. on miscellaneous percussion along with piano, bass, sax and drums. We mention this because Joe plays a fair amount of restaurant dates with a smaller ensemble, and it was fun to hear them "staff up" the percussion for the occasion. It wasn't really a surprise to hear Jerome Croswell's trumpet work fire up the crowd, if the right "name" band ever hears him, we'll probably see at lot less of him soon afterwards. Al Sierra (Senior) exploding on timbales was another matter. In most of the small venues where he performs, circumstances often compel him to hold back a little lest he send diners or otherwise-sedate listeners fleeing in terror from their steaks. It was great to hear him be able to really cut loose here. But then this is another thing that this festival does well - it provides our local talent with an opportunity to descargar in a way they frequently can't do before midnight in most of the smaller indoor establishments.

The final act, Bobby Sanabria's Quarteto Ache, took the audience on a tour of many of the various styles that fall under the Latin Jazz umbrella. This may sound like blasphemy coming from a trombonist who is a huge fan of big bands, but this quartet was actually more enjoyable than many of Mr. Sanabria's big band projects. The live atmosphere undoubtedly was a factor, but there was also an excellent chemistry with this group, especially during the Cubop/Bebop sections of the performance. Mr. Sanabria spent most of the set on traps but did close with bata drums near the end.

It was also a pleasure to see a much greater than normal quantity of Chicago musicians come check out the Festival on Friday night. I joked with a few of them that seeing that many of them in the audience at once was a little like an Elvis sighting, but unfortunately, there is often an element of truth to the joke. Kudos to those who came out for this.
The Festival has expressed the desire to continue to grow, and our hope is that it is able to do so successfully. We have ulterior motives - there are some astounding musicians in Havana and a younger generation of New York cats that Chicagoans aren't hearing, they aren't likely to see them in the clubs here, and it would be wonderful to have a Festival large and successful enough to be able to at least consider bringing some of them to town in the future.
Click on the thumbnails below to enlarge the images.
Rows 1-2: Greg Duncan Latin Ensemble
Rows 3-4: Edwin Sanchez Project
Rows 5-7: Hilario Duran, Jane Bunnett and Candido Camero
Rows 8-9: Son Bayu
Rows 10-11: Joe Rendon and Friends
Rows 12-14: Bobby Sanabria's Quarteto Ache
























































Bill Tilford - Monday, 22 July 2013, 10:20 PM