Bohemia August 2017
BOHEMIA AT CITY WINERY, CHICAGO, ILLINOIS, AUGUST 2, 2017
Photos and commentary by BIll Tilford, all rights reserved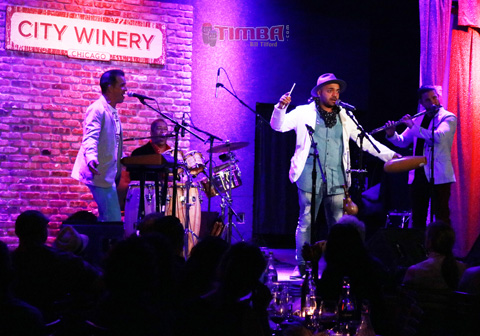 Since I have been following the full Tiempo Libre for years, I will confess that I went to the Chicago performance of their quartet unit, Bohemia, with mixed feelings. It has been a while since the last full Tiempo Libre concert in Chicago, and part of me entered the venue with that thought in mind (not to worry, TL fans, the full ensemble is still touring as well). But, Jorge Gómez promised that Bohemia would also be a good Cuban party, and he delivered. The quartet plays the traditional Cuban songbook (El Cuarto de Tula, Como Fue etc.) rather than the Timba played by the full TL band, but it does so with passion and, even more importantly, a sense of fun. The full TL always had a knack for sounding like a larger ensemble than it actually is, and the same applies to Bohemia - you wouldn't necessarily realize that it is just a quartet unless you happened to be looking at it. They fully engaged the audience as well. By the end of the performance, there were more ladies than band members on stage.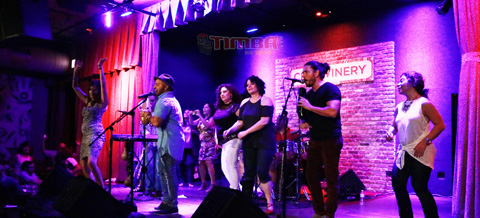 One of the occupational hazards of what I do is that there are some songs that I have heard so many times by so many different groups that I usually find reasons not to go hear a group if I know that it will be doing the traditional canon (it is wonderful music, of course, this has more to do with my own overexposure than the songs). I'm glad that I made an exception this time. I enjoyed myself a lot, and what is more important, the audience obviously did as well. The exceptional flautist helps elevate the material, and the whole quartet has excellent chemistry that is infectious.
Click on the images below to enlarge them.












Bill Tilford - Thursday, 03 August 2017, 08:27 AM