Lo Nuevo
[hide]
Fotos Del Día
[hide]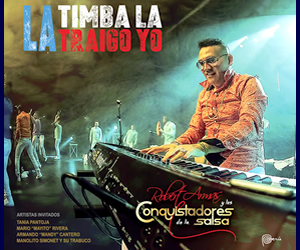 Chappotin Chicago 2014
Conjunto Chappottin y Sus Estrellas in Chicago Illinois
Square Roots Festival, 13 July 2014; Martyrs, 14 July 2014
Photos and summary by Bill Tilford, All rights reserved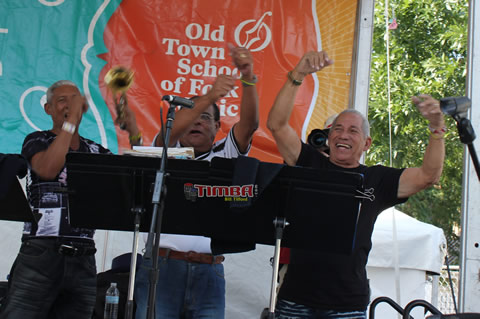 ENGLISH: Chicago was part of the itinerary for Conjunto Chappottin's historic first-ever tour of the United States. This conjunto is powered by four trumpets with a powerful upper register as well as three vocalists. Most of the repertoire is classic Arsenio and Chappottin such as Fuego en el 23, but some other songs such as El Carbonero were also part of both shows. This music is very much alive and vital. This group defends its traditional sound and does not make musical compromises for the sake of trying to sound "modern", but as we have observed in other places, the real thing, played properly, never really ages, and the dancers went to the floor with gusto.
ESPAÑOL: Chicago era parte del itinerario de la histórica gira por los Estados Unidos del Conjunto Chappottin por primera vez. Este conjunto es impulsado por cuatro trompetas con un registro superior de gran alcance, así como tres vocalistas. La mayor parte del repertorio es clásico Arsenio y Chappottin como Fuego en el 23, pero algunas otras canciones como El Carbonero eran también parte de ambos espectáculos. Esta música es muy viva y vital. Este grupo defiende su sonido tradicional y no hace compromisos musicales para el bien de tratando de parecer "moderno", pero, como hemos observado en otros páginas, la cosa real, tocado bien, nunca envejece, y los bailarines vinieron al pista de baile con mucho entusiasmo.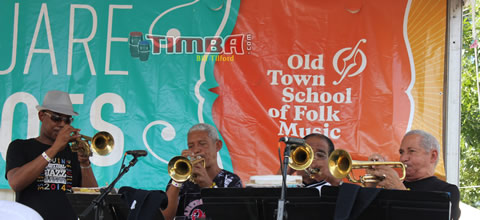 ENGLISH: Chicago's Frank Camacho and Bill Tilford were able to get a brief interview which will be aired on Sabados de Fiesta, 1590AM on the radio dial, on Saturday, July 19. The show airs from 8-10am Central Time in the United States and can be heard via the Internet at http://www.1590wcgo.com/
ESPAÑOL: Frank Camacho y Bill Tilford de Chicago entrevistaron al grupo, y lo se puede escuchar en Sabados de Fiesta, 1590AM en el dial de la radio el sábado, 19 de julio. El programa se transmite de 8 al 10 am, hora central de los Estados Unidos, y lo se puede escuchar via Internet en http://www.1590wcgo.com/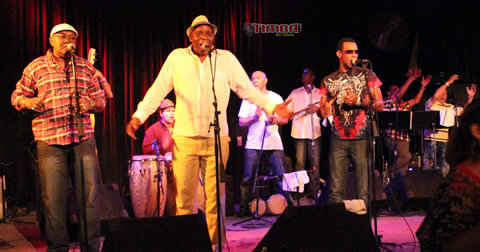 ENGLISH: This group continues to tour throughout the United States and is a must-see. Hopefully Chicago won't need to wait another half-century for the next visit. Click on the images below to enlarge them.
ESPAÑOL: La gira continúa por los Estados Unidos y es una visita obligada. Esperemos que Chicago no tendrá que esperar otro medio siglo para la próxima visita. Clic en las imágenes para ampliarlas.























Bill Tilford - viernes, 18 julio 2014, 08:25 am