CIDMUC Simposio 2016
SIMPOSIO INTERNACIONAL CUBADISCO 2016
Centro de Investigación y Desarrollo de la Música Cubana (Cidmuc), La Habana, Cuba
19-17 May 2016
Photos and commentary by Bill Tilford, all rights reserved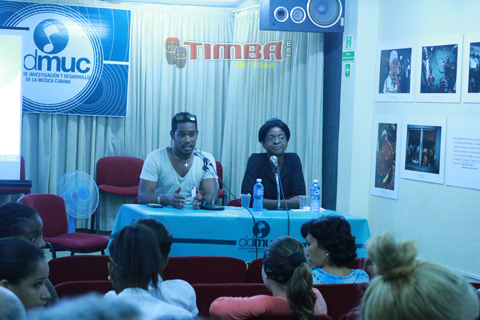 ENGLISH: One of the distinctive features of Cubadisco is that it includes a symposium where musicologists present, discuss (and occasionally argue) various subject. Since Cubadisco 2016 was dedicated to Música Popular Bailable, older Cuban forms such as Danzón along with today's Timba and Salsa were key topics of discussion. Some highlights for this writer were Liliana Gonzalez Moreno's La Salsa en sus disputas, Ethiel Failde's presentation about Orquesta Failde and the presentation about Timba by Neris González.
YOU CAN DOWNLOAD A COPY OF THE SIMPOSIUM'S SCHEDULE HERE. Note however that the program contains an item that did not take place (a concert by Pupy y los que son son).


ESPAÑOL: Una de las características distintivas de Cubadisco es que incluye un simposio donde musicólogos presentan, discuten (y en ocasiones argumentan) varios sujetos. Dado que Cubadisco 2016 se dedicó a la Música Popular Bailable, formas cubanos de mayor edad como el danzón, junto con la timba de hoy y la salsa eran los temas principales de discusión. Algunos aspectos destacados para este escritor eran La Salsa en Disputas de Liliana González Moreno , la conferencia de Ethiel Failde sobre Orquesta Failde y la presentación sobre la Timba por Neris González.
Puede descargar una copia del horario del simposio aquí. Tenga en cuenta sin embargo que el programa contiene una elemento que no ha tenido lugar (un concierto de Pupy y Los Que Son Son).










Bill Tilford - Monday, 04 July 2016, 02:28 PM