Lo Nuevo
[hide]
Fotos Del Día
[hide]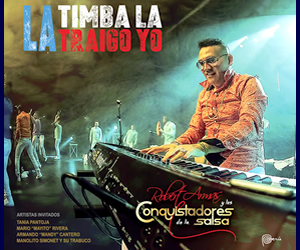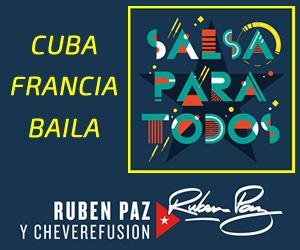 CISC 2013 Band/Dancer Gallery I
12th Annual Chicago International Salsa Congress
February 2013
Band/Dancer Gallery I
All photos and article by Bill Tilford -- All Rights Reserved
The pictures in the gallery below are of the bands Rica Obsesion, Nabori and Los Hermanos Lebron along with many of the recreational and demonstration dancers from the early nights of the Congress. As threatened in the first chapter of our article about the Congress, we are also going to ask you to sit through a little information about the music and dancing as we go along.. Some of you will already know what is about to follow, but a large number of you will not due to age, being new to the scene, etc. etc.
(Advisory to ethnomusicologists, anthropologists and other experts both real and self-annointed: Yes, we know that what follows is an oversimplification for the benefit of lay readers, and it is done with malice aforethought because the central truths in it are nevertheless valid.)
Q. Salsa, Timba and all of those other things: What's in a name?
A. If musicians actually ran the music industry, you might not see either one of those terms in public use (or Jazz either for that matter; there are Jazz musicians who don't like that label, believe it or not. A few are even trying to change it.) If they could get away with it, many who perform the music would prefer to tell you that what they are playing is "music". But that doesn't help you very much when it comes time to decide whether you might like it, does it? So, along came labels. In the case of Salsa, if you have been around the scene more than a few minutes, you have probably already heard at least one heated (and sometimes rather silly) argument about where Salsa came from, who invented it, what it is, etc. Here's the truth in a nutshell: Once upon a time, there were quite a few rhythms and dances to go with them - Son, Guaracha, Mambo, Bolero, Guaguancó, Yambú, Columbia, Pilon, Danzon, Cha-Cha-Cha, Mozambique, Son Montuno, Pachanga are some of the most common examples in Cuba; Bomba and Plena some of the most common in Puerto Rico; Merengue and Bachata in the Dominican Republic. (Sometimes Cumbia gets thrown in the stew as well.) Historians usually credit Ignacio Piñeiro of Cuba with the first use of the term Salsa in his song from the 1930s Echale Salsita (put a little Salsa on it), but neither he nor anyone else called his music Salsa; his band played Son (and still does under the leadership of his successors). Comes the 60s and 70s, and musicians in places like New York have been playing in mixed company long enough to be less concerned about where something came from and more about whether it sounds good. Ditto with the musicians themselves. The boundaries between what's purely Cuban, what's Puerto Rican, etc. start to get just a little fuzzy at times, and the marketing people at the record labels realize that in order for the music to sell to mass audiences, it needs a more generic label. By the 1970s, "Salsa" had more or less taken hold as the umbrella term to describe both the rhythms and the dances that went with them.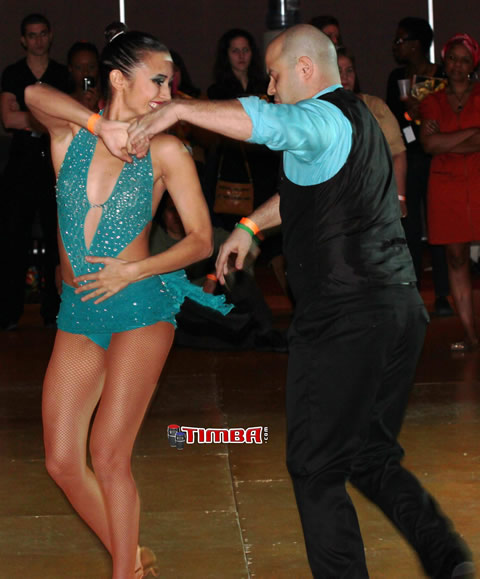 Was this change a bad thing? Yes and no. "Yes", because over time, many distinct rhythms and dances all but disappeared. Probably the majority of what you hear as "Salsa" today is based upon Cuban Son, Guaracha, Cha-Cha-Cha or Guaguancó, but far from all of it; a fair amount of Puerto Rican Bomba and Plena has found its way into the mix, Merengue, Bachata and Cumbia will sometimes come under the umbrella term depending upon who is talking, and there are even infusions at times of other rhythms like Brazilian Samba and American R & B. However, many rhythms and the dances that went with them have been all but lost, and that's unfortunate, rather like losing descriptive words from a language. "No", because while the often- simplified music and dances performed under the umbrella term "Salsa" outsold the more intricate music still being played and danced to by trained dancers, this phenomenon has occurred in other musical genres such as Jazz and Rock as well, and there is always a tradeoff: Some form of the music has ultimately reached a mass audience that would otherwise not have been exposed to it at all, and some percentage of that audience finds it way to the best of the best. Without the existence of that umbrella label, it is quite possible that there never would have been any "stars" in the dance music in the United States, and the term also made globalization easier in countries like Colombia and Venezuela.
On occasion, you will hear a Cuban musician, DJ or other authority argue something along the lines that "Puerto Rican musicians stole our music." Except in those cases (which undoubtedly do exist just as they do with every other kind of music) where monetary royalties were due and not paid, that argument is about as useful in real life as the argument that caucasians stole black North American music when they began to play Jazz and Rock and Roll. In all of these cases, the groups being accused of theft did ultimately add their own contributions to the finished product even though they weren't the "inventors". On the other hand, some Puerto Rican authorities occasionally mistakenly assert that they "created" Salsa. They certainly were critical to its growth and development, but it is a serious mistake to insist that they created it. It might be more helpful to think of Salsa in terms of a "stew" in which many of the most important ingredients are Cuban, but other meats and veggies have been added from other countries over time, and the cooks now come from everywhere.
Which brings us to Timba. Timba was beyond question invented in Cuba, and most authorities assign its date of birth to the 1980s, but it, too, is actually a sort of marketing term to describe a number of different elements in the music that distinguish it both from its traditional musical ancestors and from the Salsa that was being played in the United States. Although it is of Cuban birth, its DNA shows elements of North American Jazz, Funk, Rock and (currently) Hip Hop and Reggaeton influences, Jamaican Ska and other non-Cuban musical sources which enrich its Cuban base. The dancing styles that developed along with it were also distinctive.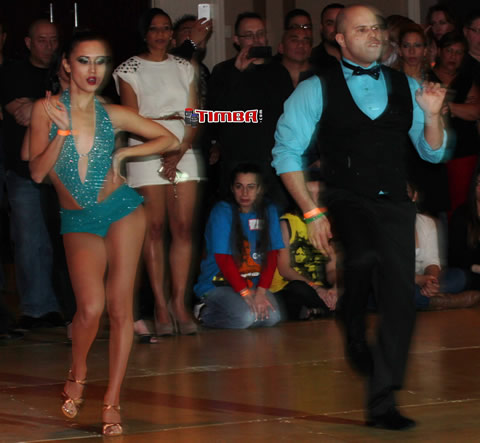 Now, here's where it gets tricky. Some of the working bands in Cuba today recognize the value of the term "Salsa" for marketing purposes, and one of the best bands playing what we consider to be Timba is called Maykel Blanco y su Salsa Mayor. Other bands both in Cuba and the United States have embraced the term "Cuban Salsa", and still others if left to their own devices would prefer to use some variation of the term "Contemporary (or Current) Popular Dance Music", which is how CUBADISCO, the island's equivalent of the GRAMMYs, officially recognizes the music. Still others acknowledge Salsa and TImba as distinct styles but now regularly play both in public.
Confused yet? Don't feel bad, but the answer is not to run and hide. If what you know is that the music that you are listening to is "Salsa", and you are dancing "On 1" or "On 2", all that this means is that there is a whole world to explore that is still waiting for you. We're here to help in the coming chapters.
In our next installment, we'll talk more about the Congress itself, how the situation with dancing today relates to the situation with music, and we will also introduce you to some of the more "accessible" samples of Timba music with some audio clips. Some critics have tried to stereotype Timba as fast, loud, aggressive etc. That's a little like trying to evaluate all of Salsa on the basis of one high-speed merengue. Some Timba songs are actually slower than a lot of the Salsa to which you are dancing now, and much of it isn't "aggressive" either. For now, enjoy the gallery below, which includes photos of Rica Obsesion, Nabori, some of the DJs, some of the recreational dancers and some of the demonstration dancers from the early nights of the Congress. (Click on the thumbnails to enlarge the images.)



















































Bill Tilford - Sunday, 03 March 2013, 08:44 PM