New Stuff
[hide]
Photos of the Day
[hide]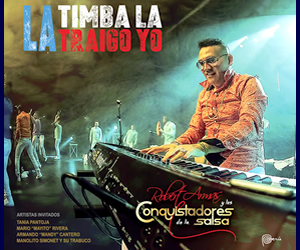 CISC 2014 I-II
13th Chicago International Salsa Congress 2014, Part I
February 13-16, 2014, Hyatt Regency O'Hare, Chicago
Photos and Commentary by Bill Tilford, all rights reserved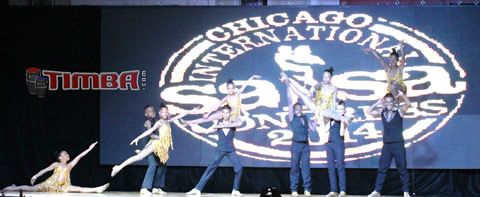 Elite Rumba Dance, Cali, Colombia
Normally, the bands have been the focus of my attention at these things, but two young dance troupes from Cali, Colombia, Son de Luz and Elite Rumba Dance, stole the show both nights. These young people brought a wonderful combination of raw energy and enthusiasm plus finesse to their performances, and as talented as the other dancers and dance groups were, I would have been perfectly happy to see a show just by these two groups. I missed the workshops due to schedule conflicts, but there was a Rueda workshop on Friday, and Son de Luz busted some Rueda-like moves in one of their demonstration numbers.
I was also happy to see many of the groups in the Friday night dance demonstrations using classic music from groups like the Machito Orchestra and the Alegre All Stars in their routines. It is important for young listeners to get that history if they really want to understand the music they are dancing to, and more importantly, that music still holds up today.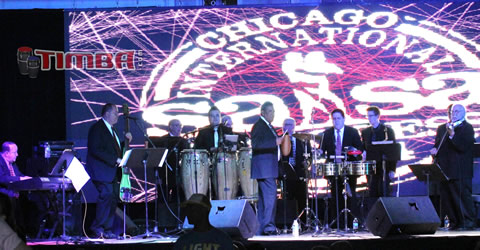 Cachao Mambo All Stars
The number 13 did apparently assert itself with the live music (this was the 13th Congress, and it began on the 13th of the month. Like the red congas at some other festivals I have attended (these seem to virtually guarantee an awful sound board or engineer), there may be something to this number 13 being inauspicious after all. Ray de la Paz was stranded on the East Coast due to snowstorms, but his backing band, which included local power trumpeter Victor Garcia, turned in a credible set. The second night, there were some miscues getting the Cachao Mambo All Stars into performance mode, and these affected what came through the sound system somewhat. Local pianist/bandleader Samuel del Real was at the keyboards, The band played through the situation well enough, but I fear that the audience may not have received the full effect of what this group can do when everything is firing on all cylinders. This does not appear to have prevented them from enjoying themselves once things were underway, however.
These photos are from the first two nights of the Congress. There will be a second gallery with the final two nights very soon as well as some comments and impressions in the Sin Clave No Hay Na' blog. Click on the thumbnails below to enlarge the images.
Rows 1-2: Son de Luz, Cali, Colombia
Row 3: Backing Band for Ray de la Paz
Rows 4-5: Multiple dance groups from the showcase.
Rows 6-7: Elite Rumba Dance, Cali, Colombia
Rows 7-8: Cachao Mambo All Stars, dance groups from showcase.
Rows 9-10: Son de Luz, Cali, Colombia




































Bill Tilford - domingo, 16 febrero 2014, 06:44 pm