Lo Nuevo
[hide]
Fotos Del Día
[hide]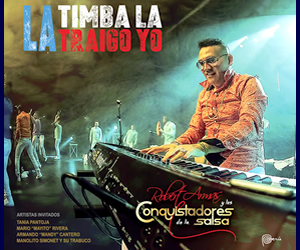 Conferencia de Prensa por 50 Años de EGREM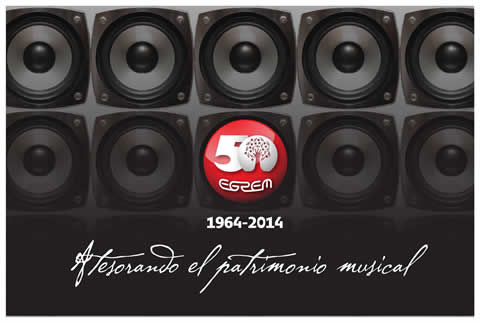 (Graphic courtesy EGREM)
On February 28, 2014, a press conference to announce the activities to be held to mark EGREM's 50th Anniversary was held at the Ranchón del Músico de la EGREM at Calle 3 between 10 and 12 in Miramar. Several representatives of the EGREM, the music industry and the Ministry of Culture were present for the occasion. These activities will include a special concert on March 2, 2014 at 5PM at the Teatro Karl Marx dedicated to the first half century of EGREM and will feature a cast of over 100 children with musicians including Adalberto Álvarez, Luna Manzanares, Yoruba Andabo, Qva Libre and others. Later in March, the International Symposium of Musicology will feature other special events.

You may find some items from the Cuban press (in Spanish) about the press conference, including some thoughts by EGREM's Director, Mario Escalona Serrano, here.

Special thanks to Jesús Oliva Domínguez for sharing the images below, all from the press conference. Click on the thumbnails below to enlarge the images.
Row 1:
Far left: Press Conference attendees
2nd from left: Carlos Alberto Cremata, Director, Compañia La Colmenita
2nd from right: Press Conference attendees
Far right: Maria Elena López, Directora, Musicuba; Marlén (EGREM and attorney Lisbet
Row 2:
First three left:: Arnaldo Rodríguez, vocalist with EGREM and Musicuba, with others
Far Right: Lisbet, attorney, and Laura, communications specialist, EGREM

Row 3:
Far left: Maria Elena Vinueza, Vice President, Casa de las Americas
Center left: Marlén and Jesús Oliva Domínguez, EGREM
Center right: Miguel, Director, Danza Comtemporanea
Far right: Representative of Teatro Lírico

Row 4:
Left: Elaín Morales, vocalist with Musicuba, Center, Giraldo Piloto; Right, Tony Pinelly















Bill Tilford - Wednesday, 05 March 2014, 11:59 AM