Cubadisco 2014 Commercial Fair (Feria Comercial Cubadisco)
Cubadisco 2014 Commercial Fair / Feria Comercial Cubadisco 2014
By Bill Tilford, all rights reserved / todos los derechos reservados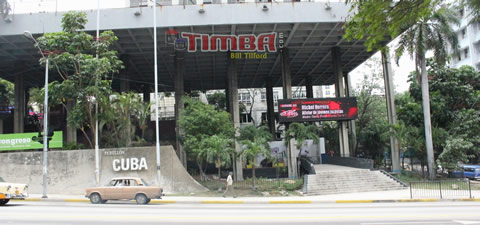 Pabellon Cuba

ENGLISH: One of the important features of Cubadisco is a commercial fair. This was held in the Pabellon Cuba on La Rampa and was a combination of several things at once:
1. Exhibits by the major recording companies (EGREM, Colibrí, Bis and Abdala), Cubarte, ICAIC and an assortment of books, instruments and food and beverage vendors. Unfortunately, a software accident resulted in the loss of many of the exhibit photographs that this writer had originally taken. It is worth mentioning that the surviving photos of exhibits that are included in this gallery were taken just after the opening of these exhibits and before most of the public arrived. Some items (including cds) were available for sale in moneda nacional at some of these exhibits. Some of these recordings were not yet available in stores or via the Internet.
2. EGREM set up a mobile version of its album cafe concept with cds, food and drink for sale along with live music. (Unfortunately, some of the photos of this were among the victims of the accident.)
3. Special press events were held in the Salon de mayo to announce the release of some key recordings such as Me dicen cuba and Sacrilegio.
4. Daily concerts in El Patio and next to EGREM's Album Cafe. These included visiting groups from other countries as well as domestic groups like Akda1, which plays R & B and Rock.
ESPAÑOL: Una de las características importantes de Cubadisco es una feria comercial. Esta se llevó a cabo en el Pabellón Cuba en La Rampa y fue una combinación de varias cosas a la vez:
1. Exposiciones de las principales disqueras (EGREM, Colibrí, Bis y Abdala), Cubarte, ICAIC, y un surtido de libros, instrumentos y proveedores de comidas y bebidas. Por desgracia, un accidente de software resultó la pérdida de muchas de las fotografías de las exposiciones que este escritor habia sacado inicialmente. Vale la pena mencionar que las fotos sobrevivientes de exhibiciones que se incluyen en esta galería fueron tomadas justo después de la apertura de estas esposiciones y antes de la llegada de la mayoría del público. Algunos articulos (incluidos los cds) estaban disponibles para la venta en moneda nacional an algunas de estas exposiciones. Algunas de las grabaciones todavía no habian estado disponibles en las tiendas o víá Internet.
2. EGREM construyó una versión móvil de su Álbum Café concepto con cds, comida y bebida a la venta junto con la música en vivo. (Por desgracia, algunas de las fotos se encontraban entre las victimas del accidente mencionado anteriormente.)
3. Eventos especiales para la prensa se celebraron en el Salón de Mayo para anunciar el lanzamiento de algunas grabaciones importantes como Me dicen Cuba y Sacrilegio.
4. Conciertos diarios en El Patio y al lado del Álbum Café de EGREM. Estos incluyeron grupos de visitantes de otros países, as como los grupos nacionales como Akda1, que tocan R & B y Rock.


Rumberos

ENGLISH: In addition to Cubans, attendees from South America and the Caribbean (especially Venezuela, Colombia and Trinidad and Tobago) were quite visible here. Since this writer was only able to spend a very limited amount of time at the fair, he cannot make a definitive statement about whether Europeans, Africans or North Americans were present in significant numbers, but he has the impression that they most probably were not. However, if the quality of the music represented at Cubadisco had a higher profile internationally, there is the potential for significantly increased attendance from these other continents (especially from Europe) that may not yet been realized. Although eligibility for awards in most categories by recordings made on these continents would be largely restricted to Cubans living overseas, an increased global presence of record company executives and media types could significantly affect the future prospects of Cuba's diversifying recording industry in these markets. It will be interesting to observe whether this happens in the years to come.
ESPAÑOL: Además de los cubanos, los asistentes de América del Sur y el Caribe (especialmente Venezuela, Colombia y Trinidad y Tobago) eran bastante visibles aquí. Dado que este escritor sólo fue capaz de pasar una cantidad de tiempo muy limitada en la feria, él no puede hacer una declaración definitiva sobre si los europeos, africanos o norteamericanos estaban presentes en cantidades significativas, pero él tiene la impresión de que las respuesta correcta sea "no". Sin embargo, si la calidad de la músic representada en Cubadisco tuviera un perfil más alto a nivel internacional, habría la posibilidad de aumentar significativamente la asistencia por estos otros continentes (especialmente de Europa) que aún no se puede ha logrado. Aunque la elegibilidad por los premios en la mayoría de las categorías realizadas en estos continentes se limita en gran medida a los cubanos que viven en el extranjero, un aumento de la presencia global de ejecutivos de las disqueras y los tipos de medios podría afectar significativamente las perspectivas futuras de la diversificación de la industria discográfica de Cuba en estos mercados. Será interesante observar si esto va a suceder en los años venideros.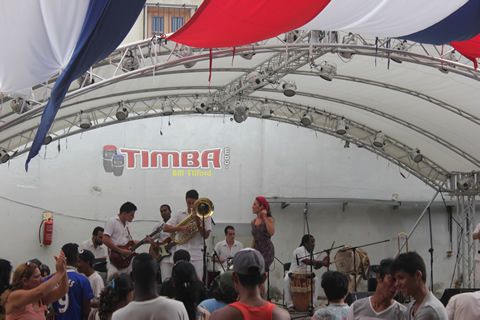 Terradentro
ENGLISH: Click on the images below to enlarge them.
ESPAÑOL: Haz clic en la imágenes para ampliarlas.
































Bill Tilford - Sunday, 27 July 2014, 03:48 PM