Lo Nuevo
[hide]
Fotos Del Día
[hide]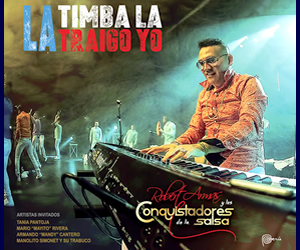 Eliades Ochoa & Barbarito Torres @ OTS
Eliades Ochoa and Barbarito Torres at the Old Town School of Folk Music, Chicago Illinois
31 January 2016
Photos and commentary by Bill Tilford, all rights reserved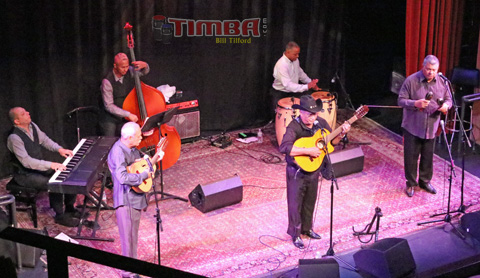 ENGLISH: Although I have occasionally lamented the unintended consequences of the marketing phenomenon aspects of the Buena Vista Social Club for other deserving Cuban artists, I have never denied the excellence of the artists associated with that project, and it pleases me that Barbarito Torres and and Eliades Ochoa are going to continue touring (Eliades with his renowned Cuarteto Patria and Barbarito with various projects). The two of them gave two performances this weekend, one of which was sold out and the other of which was reasonably full. They were joined by Yan Carlos Artime on piano, Alberto Pantaleon on bass, Jorge Maturell on congas and Eglis Ochoa on maracas and vocals. The song list included the choices that the audience expected - El Cuarto de Tula, Lagrimas Negras, Chan Chan, Son de la Loma etc., but some of these had more extended jams - an extended bongo solo in El Cuarto de Tula , a jazzy passage by the pianist in Son de La Loma, a long bass passage in Estoy Como Nunca - everyone contributed something extra, and a wonderful time was had by all, including this writer. Barbarito and Eliades make an excellent duo - they complement each other perfectly. Barbarito brings the added bonus of the exquisite sound of the laud, which is beginning to find other interesting uses (including Jazz) in Cuba.
Both of these gentlemen have an ample collection of award winning recordings, but two items that have been reviewed here are La canción cubana, which features Barbarito Torres together with Miriam Ramos, and 5 Leyendas de Cuba, which includes a disc by Eliades Ochoa.

New recordings will be forthcoming from each of these men. Stay tuned.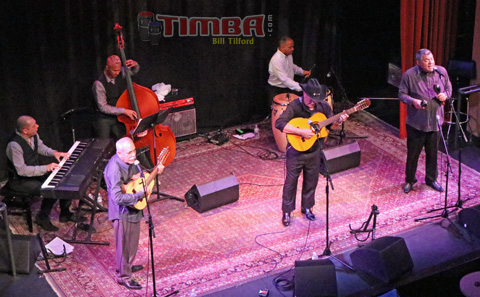 ESPAÑOL: A pesar de que de vez en cuando he lamentado las consecuencias no deseadas de los aspectos del fenómeno de marketing del Buena Vista Social Club para otros dignos artistas cubanos, nunca he negado la excelencia de los artistas asociados con ese proyecto, y me agrada que Barbarito Torres y Eliades Ochoa se vayan a seguir de gira (Eliades con su acostumbrada Cuarteto Patria y Barbarito con varios proyectos). Los dos de ellos dieron dos conciertos este fin de semana, uno de los cuales vendido y el otro bastante lleno. A ellos se unieron Yan Carlos Artime en el piano, Alberto Pantaleón en el bajo, Jorge Maturell en las congas y Eglis Ochoa en las maracas y voz. La lista de canciones incluyo las que el público deseó - El Cuarto de Tula, Lágrimas negras, Chan Chan, El Son de la Loma, etc., pero algunos de ellos habían descargas más prolongadas - un solo extendido de bongó en El Cuarto de Tula, momentos jazzeandos por el pianista en Son de la Loma, una descarga breve por el bajo en Estoy Como Nunca - todos contribuyeron algo extra, y un maravilloso tiempo fue tenido por todos, incluyendo este escritor. Barbarito y Eliades hacen un duo excelente- ellos se complementan perfectamente. Barbarito trae la ventaja añadida del sonido exquisito del laúd, que empieza a encontrar otros usos interesantes (incluyendo Jazz) en Cuba.
Ambos de estos señores tienen una amplia colección de grabaciones ganadoras de premios, pero dos que han sido revisados ​​aquí son La canción cubana, que cuenta con Barbarito Torres junto con Miriam Ramos y 5 Leyendas de Cuba, que incluye un disco por Eliades Ochoa.
Nuevas grabaciones se van a lanzar de cada uno de estos hombres. Manténgasen al tanto.
ENGLISH: Click on the images to enlarge them
ESPAÑOL: Haga clic en las imagenes para ampliarlas




















Bill Tilford - martes, 02 febrero 2016, 08:26 pm