Elito Reve at Cubadisco May 2016
Elito Revé y su Charangón at Cubadisco 2016
Carlos III, La Habana, Cuba, 20 May 2016
Photos by Patrick Bonnard (page) and Bill Tilford (gallery)
Commentary by Bill Tilford (all rights reserved)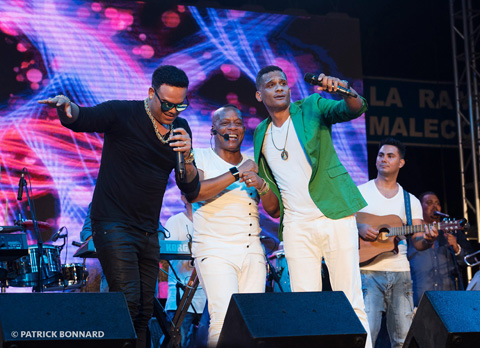 Elito Revé (center. photo Patrick Bonnard)
ENGLISH: A few months before Cubadisco 2016 took place, there had been some discussion of a possible Rueda de Casino street festival to take place at the time of Cubadisco. This did not come to pass as originally proposed, but the explosive street concert in Carlos III that celebrated the 60th Anniversary of the founding of Orquesta Revé provided an opportunity for a lot of guest artists to share the stage with the Charangón. The food and drink (including wonderful granizados for just 1 CUP) was also wonderfully inexpensive compared to what one typically finds in street festivals anywhere. Elito Revé y su Charangón also won a Gran Premio and the Premio for Música Bailable - Maestros this year, so there were a lot of things to celebrate.

Grupo Moncada played a brief set before Revé, and there was also a choral tribute. During the concert itself, a parade of guest stars ascended the stage including Paulito FG, Mayito Rivera, Maraca, Zule Guerra, Haila, Mandy Cantero and many others. Juan Carlos Alfonso joined the Charangon on keyboards. For many of them, this was like a musical family reunion of sorts. The concert lasted for approximately three hours, and a special award for valor goes to the Bucanero mascot, who bravely wore a costume that would have resulted in my death had I worn it in that heat. (Bucanero is one of Cuba's best beers.) Casineros danced on either side of the stage during the concert.

An interesting moment not normally associated with a Revé concert was a controversia between Maraca (flute) and Zule Guerra (voice) in which they traded phrases back and forth. Juan Carlos Alfonso was also very interesting to watch as he almost danced with his keyboards.

A smaller version of the annual commercial fair also took place near the concert stage. This concert was one of the highlights of Cubadisco 2016; I have seen Música Popular Bailable indoors and outdoors, and la calle adds a little something. It is worth considering something similar for this genre in future Cubadiscos.
Mandy (photo Patrick Bonnard)
ESPAÑOL: Unos pocos meses antes de Cubadisco 2016 tuvo lugar, había habido alguna discusión sobre un posible festival callejero dedicado al Rueda de Casino más o menos al mismo tiempo de Cubadisco. Esto no llegó a concretarse como propuesto inicialmente, pero el concierto explosivo en la calle Carlos III, que se celebró el 60 aniversario de la fundación de la Orquesta Revé proporcionó una oportunidad para un montón de artistas invitados a compartir el escenario con el Charangón. La comida y la bebida (incluyendo granizados maravillosos por sólo 1 CUP) también eran maravillosamente baratos en comparación con lo que uno normalmente se encuentra en festivales de la calle en cualquier lugar. Elito Revé y su Charangón también ganó un Gran Premio y el Premio de Música Bailable - Maestros de este año, así que había un montón de cosas para celebrar.

Grupo Moncada empezó la fiesta antes de Revé, y también hubo un homenaje coral. Durante el concierto en sí, un desfile de estrellas invitadas subió al escenario incluyendo a Paulito FG, Mayito Rivera, Maraca, Zule Guerra, Haila, Mandy Cantero y muchos otros. Juan Carlos Alfonso se unió a la Charangon en los teclados. Para muchos de ellos, esto fue más o menos una reencuentro familiar musical. El concierto continuó aproximadamente tres horas, y un premio especial por su valor debe ir a la mascota del Bucanero, que valientemente llevaba un disfraz que habría resultado en mi muerte si yo lo hubiera llevado en ese calor. (Bucanero es una de las mejores cervezas de Cuba). Casineros bailaron en ambos lados del escenario durante el concierto.

Un momento interesante no asociado normalmente con un concierto Revé fue una controversia entre Maraca (flauta) y Zule Guerra (voz) en la que ellos intercambiaron frases uno a otro. Tambíen era muy interesante mirar Juan Carlos Alfonso mientras que él casi bailaba con sus teclados.
Una versión más pequeña de la feria comercial anual también tuvo lugar cerca del escenario de conciertos. Este concierto fue uno de los aspectos más destacados de Cubadisco 2016; He visto Música Popular Bailable adentro y afuera, y la calle añade un poco de algo. Vale la pena considerar algo similar para presentar este género de música en Cubadiscos en el futuro..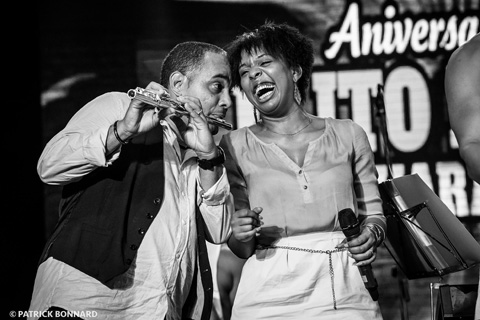 Maraca and Zule Guerra (photo Patrick Bonnard)

ENGLISH: To see more photos from the concert, click on the images below to enlarge them (the photos in the gallery are by Bill Tilford)
ESPAÑOL: Para ver más fotos del concierto, haga clic en las imagenes de abajo para ampliarlas (las fotos en la galería son por Bill Tilford)
































Bill Tilford - martes, 05 julio 2016, 07:02 am