New Stuff
[hide]
Photos of the Day
[hide]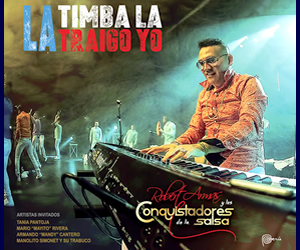 Festival Cubano 2015
Notes From Festival Cubano 2015, Riis Park, Chicago Illinois, August 14-16, 2015
Photos and commentary by Bill Tilford (videography by Amber Mohammad), all rights reserved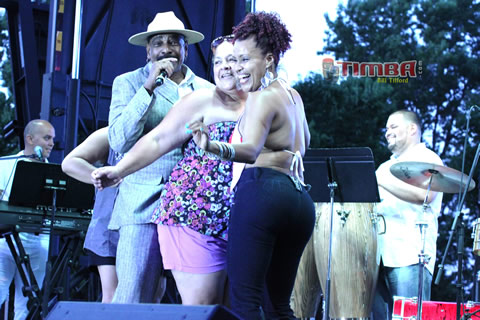 Pedrito Calvo cocinando...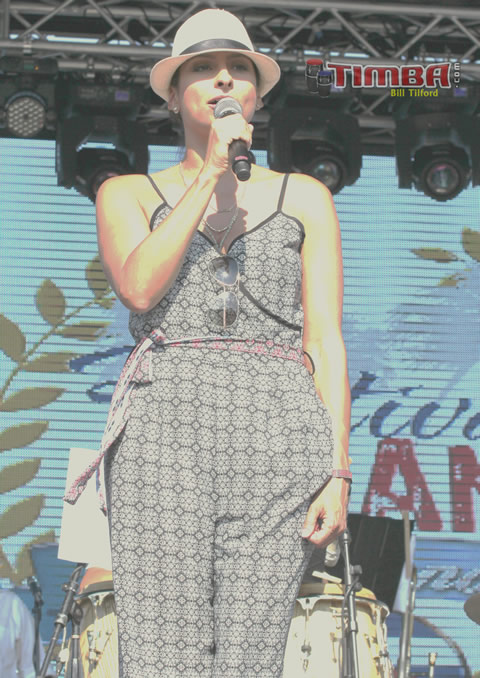 ENGLISH: It was a busy and momentous week in Chicago with the long-overdue return of Los Van Van to the city, a farewell concert by the Buena Vista Social Club artists, and Festival Cubano, all in the space of one week. Other business prevented me from attending most of Festival Cubano this year, but I was able to be present on Sunday, August 16, when Miguelito Cuni Jr. and Pedrito Calvo performed. This is the first time that Festival Cubano has featured artists directly from the island, and they are to be congratulated for this forward progress. Even though it would have been even better for the audience to experience a taste of their full bands from Cuba (Conjunto Chappottin normally has four trumpets for example, and Nueva Justicia is worth experiencing in its natural form), both Miguelito Cuni Jr. and Pedrito Calvo made very good use of the talent available to them, and both gave worthwhile and very enjoyable performances.. Miguelito Cuni Jr., who is both an accomplished singer and bongocero, gave an excellent traditional performance with songs such as Pare Cochero, and he put the substitute trumpeters, which included impressive local artist Victor Garcia, to good use with an extended descarga in Manteca. Pedrito Calvo's performance was based upon songs from his days with Los Van Van (Por encima del nivel, aka Sandunguera, Aquí el que baila gana for example), and in El Negro está cocinando, some of the ladies from the audience came up onto the stage to join him.
Lourdes Duarte from WGN was on hand earlier in the day to announce the performers, which included salsero Marlon Steven.
And of course, I ate some ropa vieja while I was there. In short, an excellent time.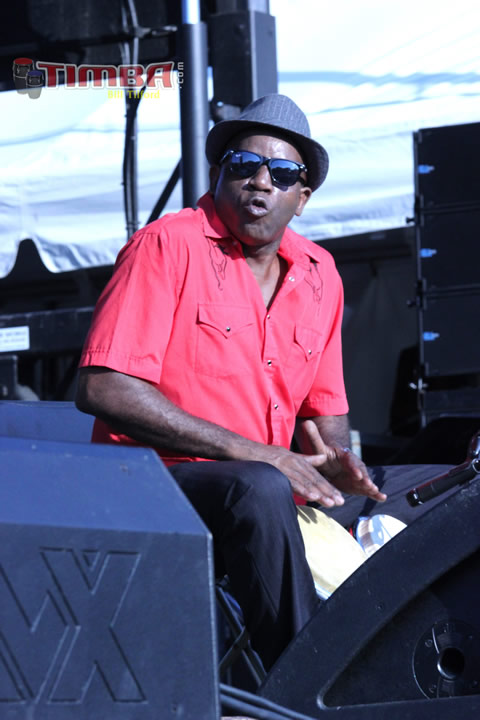 Miguelito Cuni Jr.

ESPAÑOL: Fue una semana intensa y trascendental en Chicago con el retorno a largo atraso de Los Van Van a la ciudad, un concierto de despedida por los artistas del Buena Vista Social Club, y el Festival Cubano, todo en el espacio de una semana. Otros asuntos me impidió asistir a la mayor parte de Festival Cubano de este año, pero tuve la oportunidad de estar presente el domingo 16 de agosto, cuando Miguelito Cuni Jr. y Pedrito Calvo actuaron. Esta es la primera vez que el Festival Cubano ha ofrecido artistas directamente de la isla, y ellos merecen felicidades por este paso adelante. A pesar de que habría sido aún mejor para la audiencia a experimentar un sabor de sus grupos plenos desde Cuba (Conjunto Chappottin normalmente tiene cuatro trompetas, por ejemplo, y Nueva Justicia vale la pena experimentar en su forma natural), ambos Miguelito Cuni Jr. y Pedrito Calvo hicieron muy buen uso del talento disponible para ellos, y ambos dieron actuaciones que valen la pena. Miguelito Cuni Jr., quien es a la vez un cantante y bongocero, dió un excelente espectáculo tradicional con canciones como Pare Cochero, y él puso el trompetistas suplentes, que incluían impresionante artista local Víctor García, al buen uso con una descarga extendida en Manteca. El espectáculo de Pedrito Calvo se basó en canciones de sus días con Los Van Van (Por encima del nivel tcc Sandunguera, Aquí el que baila gana por ejemplo), y en El Negro está cocinando, algunas de las damas del público subieron al escenario a unirse a él.
Lourdes Duarte de WGN estuvo presente al principio del día para anunciar los artistas, que incluían salsero Marlon Steven.
Por supuesto, mientras allí comí ropa vieja. En definitiva, una excelente ocasión.
Finally, a few words from Miguelito AND Pedrito / Al final, unas palabras de Miguelito Y de Pedrito:


Click on the images to enlarge them / Haga clic en las imagenes para ampliarlas:

Row 1: Marlon Steven
Rows 2-4: Miguelito Cuni Jr.
Rows 5-8: Pedrito Calvo































Bill Tilford - miércoles, 19 agosto 2015, 07:06 am