New Stuff
[hide]
Photos of the Day
[hide]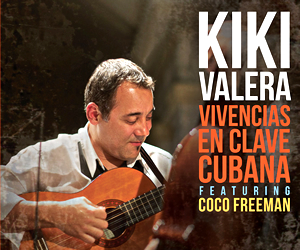 Formas at Iris Jazz Club 2015
Albertico Lescay & Formas at the Iris Jazz Club, Santiago de Cuba, 14 December 2015
Photos and commentary by Bill Tilford, all rights reserved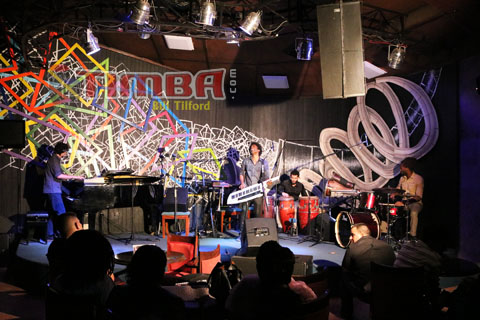 ENGLISH: Formas is one of the most interesting NuJazz bands on the scene in Cuba today. Led by Albertico Lescay of Santiago de Cuba, the members are Albertico Lecsay, Director, trumpet and keyboards; René Rodríguez, piano, Degnis Bofill, percussion, and Julio Cesar, drums. In lieu of a bass, they use beats (much like groups like Palo! in the United States). Although the group mostly works in Havana today, I had the opportunity to hear them at the Iris Jazz Club in Santiago de Cuba in December 2015 the week before Jazz Plaza in Havana. It was a very intense evening, and Formas was joined by special guests Zuleima Iglesias , whose vocal style does not imitate but evokes that of Ella Fitzgerald; Arturo O'Farrill for a brief time on piano, and the pianist from Influencia, Angel Toirac.

NuJazz is a term that describes several new groups in Cuba, each with a distinct style and sound. The common denominator is the the musicans have serious Classical and Jazz experience but also incorporate various elements of Fusion, Funk, Blues, Some groups like Formas retain a distinctly Cuban element including folkloric percussion. Electronica and other styles in their work. Some of this music is already arriving in North America via groups like Yissy García y Bandancha, but there is much more to come.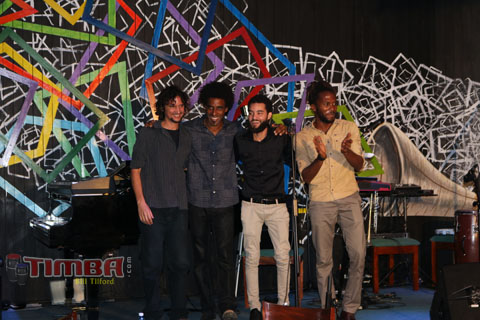 ESPAÑOL: Formas es uno de los grupos en NuJazz más interesantes de la escena en la Cuba de hoy. Dirigido por Albertico Lescay de Santiago de Cuba, los integrantes son Albertico Lecsay, Director, trompeta y teclados; René Rodríguez, piano, Degnis Bofill, percusión, y Julio César, tambores. En lugar de un bajo, utilizan beats (in la misma manera de grupos como Palo! en los Estados Unidos). A pesar de que el grupo trabaja sobre todo en La Habana de hoy, tuve la oportunidad de escucharlos en el Iris Jazz Club en Santiago de Cuba, en diciembre de 2015, la semana antes de Jazz Plaza en La Habana. Fue una noche muy intensa, y Formas estuvo acompañado por invitados especiales Zuleima Iglesias, cuyo estilo vocal no imita, pero evoca el estilo de Ella Fitzgerald; Arturo O'Farrill por un breve tiempo en el piano, y el pianista de Influencia, Ángel Toirac.
NuJazz es un término que describe varios grupos nuevos en Cuba, cada uno con un estilo y sonido distinto. El denominador común es que los músicos tienen mucha experiencia clásica y el jazz, y también incorporan diversos elementos de Fusión, Funk, Blues, la Electronica y otros estilos en su música, algunos grupos como Formas retienen un elemento distintivamente cubano incluyendo la percusión folklórica. . Algunos ejemplos de esta música ya están llegando en América del Norte a través de grupos como Yissy García y Bandancha, pero hay mucho más por venir.
Click on the images below to enlarge them / haga clic en las imagenes siguientes para ampliarlas.





















Bill Tilford - Wednesday, 27 April 2016, 09:09 PM