New Stuff
[hide]
Photos of the Day
[hide]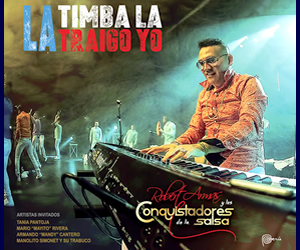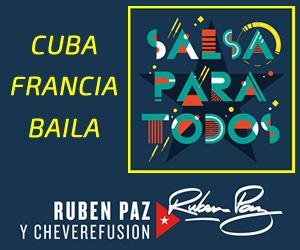 Henry Cole MS'12
Henry Cole and The Afrobeat Collective at The Mayne Stage
Chicago IL, 13 December 2012
Review and Photos by Bill Tilford, All Rights Reserved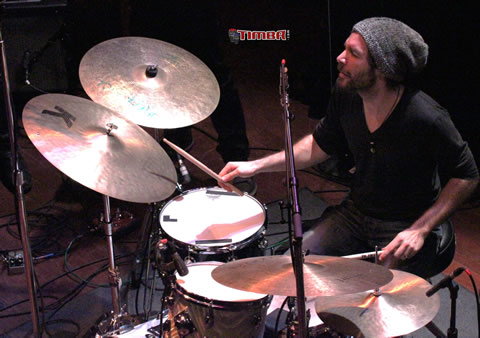 In an article by Amy Duncan in the February 22, 1988 edition of the Christian Science Monitor (Dizzy Gillespie: 'Jazz will always have its place in history'), Diz was quoted as saying "With all these different kinds of music and ethnic music, all coming together, in about 15 years, you won't be able to tell what kind of music it is. Jazz has the ability to take it all in." We are now almost 25 years out from that quote, and it turns out that Diz may have been a bit of a prophet regarding that particular point. Some of the best music being made today defies the old labels, and what we heard at the Mayne Stage the other night as part of the 2nd Annual Afro-Caribbean Improvised Music Festival is an excellent example.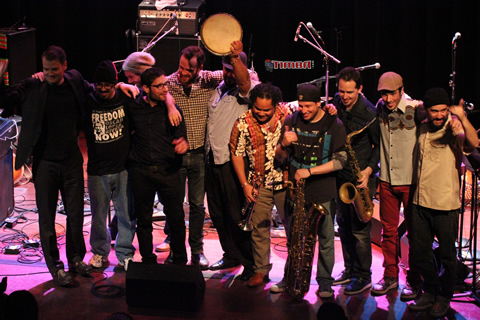 Drummer/composer/bandleader Henry Cole is the first to tell you that "Afrobeat" may not really be the best term to describe what this project does - that word conjures visions of Fela Kuti covers or the jam band output of groups like Antibalas - but that word appeared to be less wrong than all of the other terms available at the moment. There are elements of Fela's neighborhood in here all right, along with some very serious Funk (especially flying out of the bass), some traces of electronica reminiscent of groups like the UKs National Health, a lot of very solid post-bop lines coming out of the saxes and trumpet, some guitar work that lead us to flirt very briefly with the term Acid Latin before discarding it, a dash of hip hop here and there and a grounding in Puerto Rican rhythms (half the band is of Puerto Rican origin) so solid that the percussion section includes a barril de bomba and panderos de plena in addition to the trap drums. We could keep going, there's some R & B too, and, well, you get the point. So what DO you call that kind of mix, anyway? We wouldn't blame you if your first guess was "a mess", but you would be wrong. This is all woven together with great care, and this 11-piece group plays as if it has always played together. This writer, who is almost never at a loss for words, pondered the "What else could you name this" question as he drove home from a very uplifting concert, and after thinking of a dozen alternatives that sounded even worse, he gave up. Henry, we feel your pain here. It's music, man, and it's beautiful, so no worries. The "Collective" part certainly belongs, but it will probably take better minds than ours to find a better label than Afrobeat. The funniest thing is, if there were fewer ingredients and it were less danceable, people probably would already be calling it "something something Jazz" without blinking.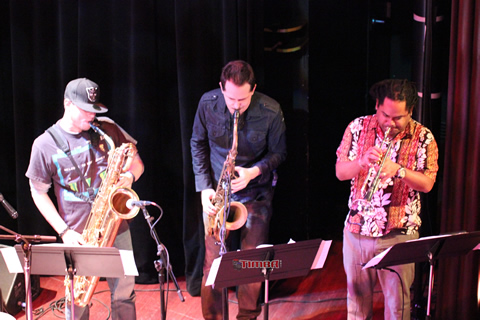 The label thing may be difficult, but one thing jumps out at you when you hear this music: The Afrobeat Collective is doing the types of musical things for the Puerto Rican wing of the proverbial bird that artists like the New Cuban Express (Manuel Valera) are doing for the Cuban wing, save that Henry's work is a lot more dance-oriented (but don't sell the Jazz content short, Henry also works with saxophonist David Sanchez, who along with Miguel Zenon made appearances in Roots Before Branches, the new CD that provided the basis for the material played at the Mayne Stage. One of the most important reasons that you can't write this off as just another jam band is that the Jazz element is very real and not just a passing flirtation.)
This music deserves really serious attention from really serious listeners. The special bonus is that most of it will make you move as well. The band's website, which includes information about the new CD Roots Before Branches (we have listened to it and highly recommend it as well) is henrycolemusic.com
Henry, bring this back to Chicago in 2013, and maybe we'll find an answer to that name thing by then. But whatever it is that you're playing, keep doing it, and DO come back soon.











Bill Tilford - martes, 15 enero 2013, 07:38 am