CIDMUC 2017
Highlights of the Simposio Internacional Cubadisco 2017
Photos and commentary by Bill Tilford, all rights reserved.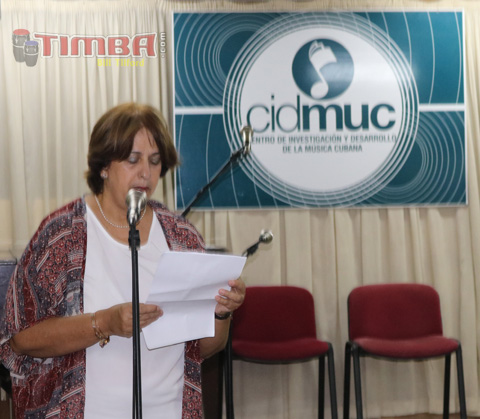 Laura Vilar, President of the Organizing Committee, CIDMUC

ENGLISH: One of the features that makes Cubadisco truly special is that there is always an academic symposium associated with the event (yours truly has presented there in the past regarding Cuba and the GRAMMY awards). .This event is directed by the Center for the Research and Development of Cuban Music (CIDMUC). This is always a combination of musicology lectures, demonstrations, roundtables and presentations related to the music industry in music. This year there were several presentations related to Nueva Trova (the theme of this year's Cubadisco) and an increased emphasis on developments in Cuba's music industry due to some interesting recent developments. For this writer, some of the most fascinating sessions were presentations about La Trovuntivitis, part of the Nueva Trova movement bases in Santa Clara; an intriguing device developed in Cuba for the restoration of old audio tapes; Primera Linea; a proposal to develop "Music Cities" in Cuba and a joint plan by the United Nations Industrial Development Organization (UNIDO), the Ministry of Culture and KOICA (the Korea International Cooperation Agency) to help accelerate the commercialization, distribution and awareness of all of Cuba's music. I went to the trouble to include some photos of some of the slides from that presentation because it is worth noting that the conversation does involve the entire island and not just Havana and Santiago; furthermore, there is a message in this exercise to those North American policymakers who believe that putting the brakes on engagement can be used to leverage policies in Cuba - Cuba will proceed to develop its music industry (more on this in later articles) with or without the involvement of the United States. If the US chooses to stay out of this process for policy reasons, once it is ready to engage, it may find that the best seats at the table are already taken by others.

You can download my copy of the official schedule here, although please not that just like with symposia almost everywhere, there were a few changes from this schedule at the actual event.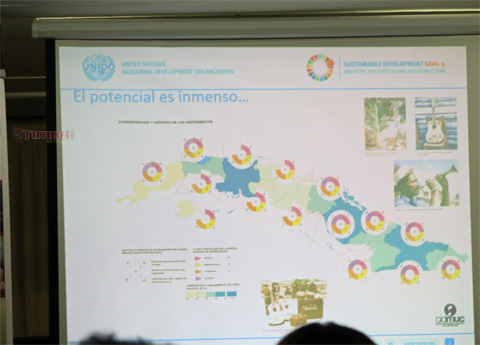 ESPAÑOL: Una de las características que hace que Cubadisco sea realmente especial es que siempre hay un simposio académico asociado con el evento (su servidor dió una conferencia en el pasado con respecto a Cuba y los premios GRAMMY). Este evento está dirigido por el Centro de Investigacionnes y Desarrollo de la Música Cubana (CIDMUC). Es siempre una combinación de conferencias de musicología, demostraciones, mesas redondas y presentaciones relacionadas con la industria musical en Cuba Este año contó con varias presentaciones relacionadas con Nueva Trova (el tema de Cubadisco de este año) y un mayor énfasis en el desarrollo de la industria musical cubana debido a algunos acontecimientos recientes interesantes. Para este escritor, algunas de las sesiones más fascinantes fueron presentaciones sobre La Trovuntivitis, parte del movimiento Nueva Trova en Santa Clara; Un dispositivo intrigante desarrollado en Cuba para la restauración de viejas cintas de audio; Primera Linea; Una propuesta para desarrollar "Ciudades Musicales" en Cuba y un plan conjunto de la Organización de las Naciones Unidas para el Desarrollo Industrial (ONUDI), el Ministerio de Cultura y KOICA (la Agencia de Cooperación Internacional de Corea) para ayudar a acelerar la comercialización, distribución y conocimiento de la música de Cuba. Yo incluyé fotos de algunas de las diapositivas de esa presentación, ya que vale la pena anotar que la conversación implica toda la isla y no sólo La Habana y Santiago; Además, hay un mensaje en este ejercicio a los formuladores de políticas de América del Norte que creen que poner freno a la participación estadounidense puede ser utilizado para apalancar las políticas en Cuba - Cuba procederá a desarrollar su industria musical (más sobre esto en artículos posteriores) con o sin la participación de los Estados Unidos. Si Estados Unidos decide permanecer fuera de este proceso por razones políticas, una vez que esté listo para participar, puede encontrar que los mejores asientos en la mesa ya están ocupados por otros.
You can download my copy of the official schedule here, although please not that just like with symposia almost everywhere, there were a few changes from this schedule at the actual event.
Click on the images below to enlarge them / haz clic en la imagenes para ampliarlas

































Bill Tilford - martes, 04 julio 2017, 02:51 pm