New Stuff
[hide]
Photos of the Day
[hide]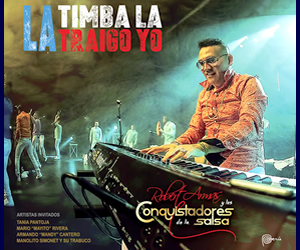 Interactivo Bertolt Brecht May 2014
Interactivo at Cafe Teatro Bertolt Brecht, La Habana, Cuba, 21 May 2014
Photos and description by Bill Tilford, All rights reserved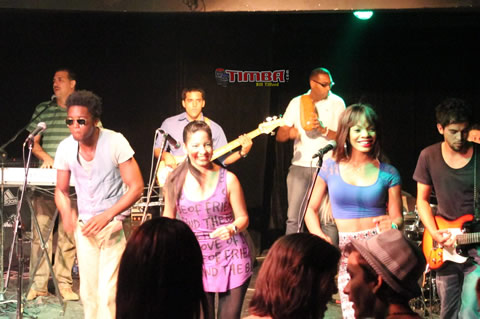 ENGLISH: These photos were taken in the smaller, more intimate performance space in the lower level of the Center. The room was quite full of listeners, and consequently getting good camera angles was often a challenge (thanks to the management at Brecht and to Interactivo for permission to photograph the concert).
ESPAÑOL: Estas fotos fueron sacadas en el espacio escénico más pequeño, más intimo en la planta baja del Centro. El lugar era bastante lleno de oyentes, y por lo tanto conseguir buenos angulos de camara era a menudo un desafío (gracias a la gestion de Brecht y de Interactivo por el permiso para fotografíar el concierto).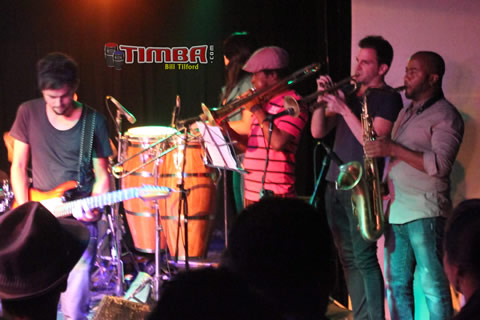 ENGLISH: Interactivo has been one of Cuba's very best Fusion bands for many years, but it sounds better than ever now, in part, I think, due to the fact that some of the Jazzistas such as trombonist Juan Carlos Marín appear to be playing a more prominent role and singers/rappers Brenda Navarrete and Melvis Santa (Brenda, who is also a percussionist and composer, has also worked with bassist Jorge Reyes) are bringing a wide range of vocal sophistication to the group. There is perhaps a little less Hip Hop in the current edition of the group, but there is a wonderful Funk/R & B element to much of the material that makes it almost incomprehensible that they aren't touring all over North America as opposed to the occasional stop in places like Miami and New Orleans.
Click on the thumbnails below to enlarge the images
ESPAÑOL: Interactivo es uno de los mejores grupos que tocan Fusión en Cuba por muchos años pero ahora suena mejor que nunca, en parte, en mi opinión, debido al hecho de que algunos de los jazzistas (por ejemplo trombonista Juan Carlos Marín) parecen estar desempeñando papeles mas destacados, y cantantes/raperas Brenda Navarrete y Melvis Santa (Brenda, quien también es percusionista y compositor, también ha trabajado con bajista Jorge Reyes) estan trayendo una amplia gama de sofisticación vocal al grupo. Tal vez haya un poco menos de Hip Hop en la edición actual del grupo, pero hay un maravilloso elemento de Funk / R & B en gran parte del material que hace que sea casi incomprensible que ellos no estén de gira por toda América del Norte además del show ocasional en ciudades como Miami y Nueva Orleans.
Haga clic sobre las imágenes para agrandarlas.














Bill Tilford - jueves, 05 junio 2014, 09:38 pm